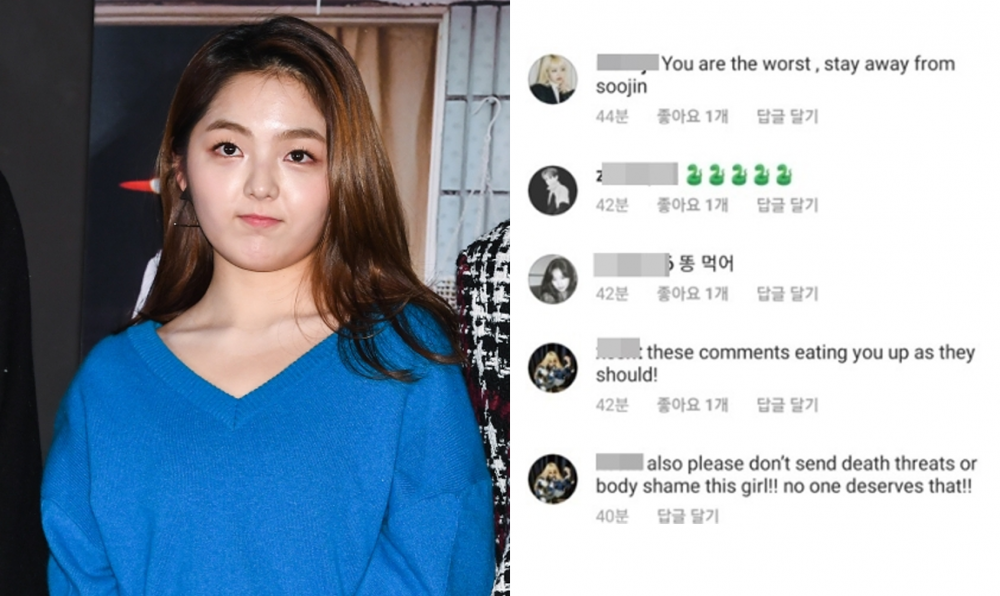 Malicious comments are pouring in on actress Seo Shin Ae's Instagram after (G)I-DLE's Soojin released a statement about the allegations of school bullying.

On February 22nd, Seo Shin Ae posted the message "None of your excuse" via her Instagram story in light of the recent school bullying allegations surrounding (G)I-DLE member Soojin. It has been well known that Seo Shin Ae had attended the same middle school as the idol group member and the controversy heightened as Soojin confirmed that Seo Shin Ae's post was about her by stating that she quarreled with the netizen who created the initial post about her bullying.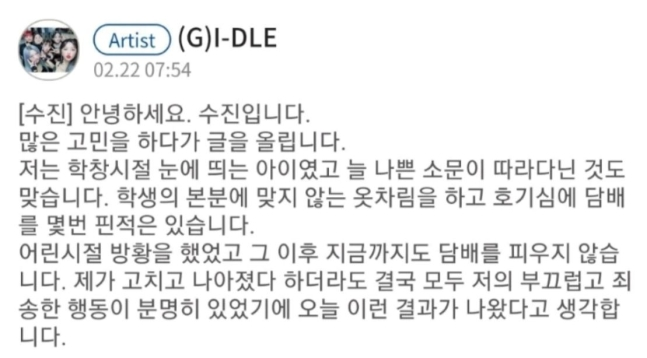 On February 3rd, an anonymous netizen claimed that they had been a victim of school bullying by Soojin. The alleged victim also mentioned actress Seo Shin Ae and stated, "Soojin had said insulting things to Seo Shin Ae - things such as 'you B****,' 'You idiot,' and 'too bad you don't have parents.'" The netizen also stated that Soojin created lies to start fights with other students.

Previously, Seo Shin Ae didn't reveal that Soojin was the perpetrator but had confessed at a press conference of a KBS drama that she was teased by her schoolmates when she appeared in the tv Show 'High Kick.' She stated at the time, "There was a time when I was teased by schoolmates when I appeared on 'High Kick.' They would make fun by saying 'Begger' and 'idiot,' so I was sad." In fact, Seo Shin Ae had completed her high school studies through homeschooling.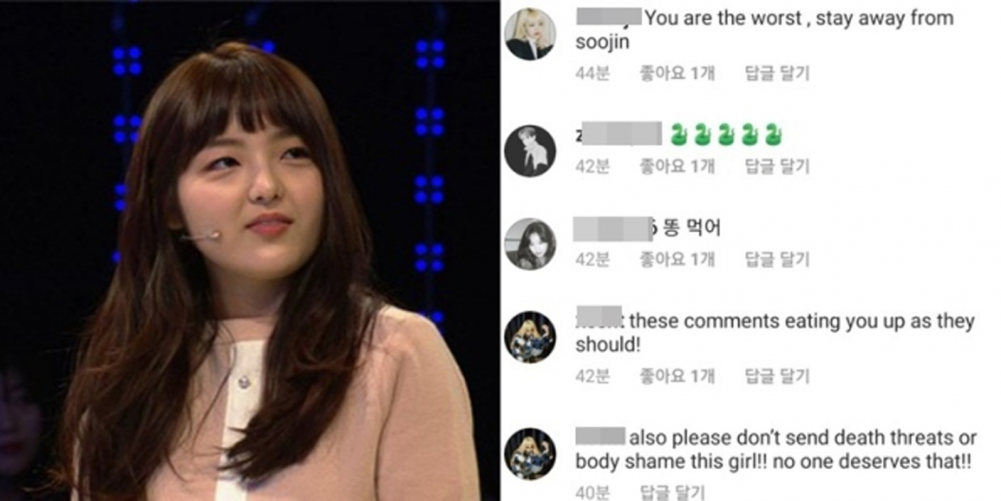 In Soojin's latest statement, she claimed that she had never talked with Seo Shin Ae and had not bullied anyone. After Soojin made her statement, many international fans of (G)I-DLE swarmed Seo Shin Ae's Instagram leaving negative comments such as "Apologize to Soojin," "Eat poop," "Stay away from Soojin," and "You're trying to ruin Soojin."
Still, some netizens support Seo Shin Ae by saying, "There are more people who are supporting you, so ignore the comments." One netizen who claimed to have attended the same middle school as Seo Shin Ae and Soojin stated, "Seo Shin Ae transferred to our school during the second year and received a lot of attention. I heard Sooji say rude things to Seo Shin Ae. Soojin, who wanted to be a celebrity, would say things like 'I could be a celebrity if you can too with that face,' and 'aren't you embarrassed to appear on TV with that face?' So it's true Soojin didn't talk with Seo Shin Ae since Soojin just insulted her one sidely," and posted a photo of their middle school yearbook photo.