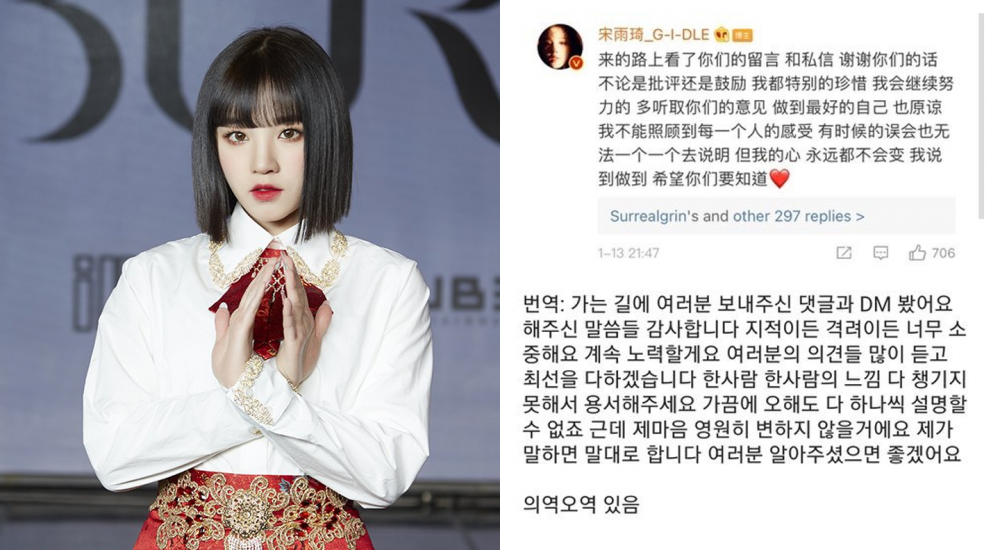 Various online communities have been filled with messages encouraging (G)I-DLE member Yuqi recently.
On January 13th, Yugi posted an apology on her Chinese social media, saying, "I read everyone's comments and direct messages that were sent to me. Thank you for all the messages. Whether it be criticisms or encouragements, they are all important to me. I'll keep putting forth the effort. I will do my best after taking into consideration everyone's opinions. I apologize that I cannot see everyone's feelings. Forgive me. I can't always explain every misunderstanding, but I will never change. I do what I say, so I hope everyone can understand that."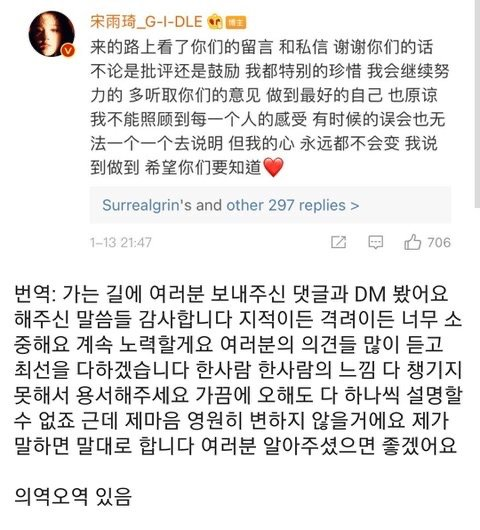 One Korean netizen posted the message in an online community and explained, "The Chinese fans were sending a ton of hate comments towards Yuqi. They were like that when she was an MC for Running Man. And there was an ad that a Chinese actress was in charge of, but Yuqi ended up replacing her and got cursed at again. So she did a VLive saying how happy she was to come to Korea to promote, whereas it was mentally and physically hard for her when she used to be in China and that she wishes to be forever with (G)I-DLE."
The netizen asked others not to make any assumptions about Yuqi, saying that she will run away back to her country one day. The netizen also worried that Yuqi seemed more dispirited than usual when she's usually energetic and bubbly. The netizen also added that Yuqi wrote the apology because she received so many direct messages of hate and apologized that she couldn't please everyone and will work harder to be more attentive to everyone.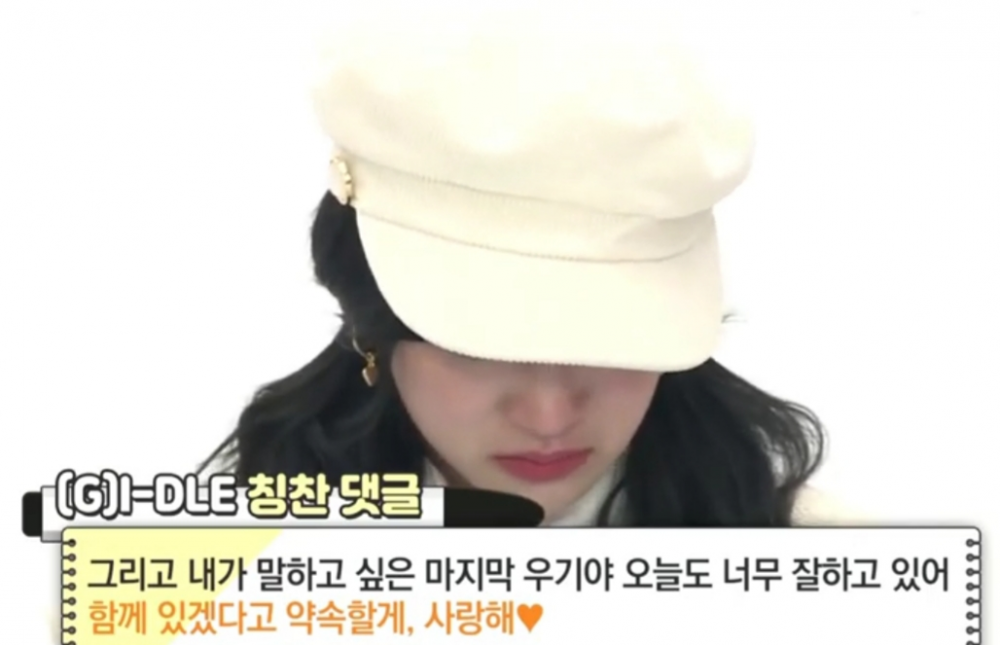 Other netizens gathered to the online community to leave messages of support and encouragement to the singer. Netizens commented, "The Chinese netizens are hilarious, why do they make her write an apology like that?" "I heard Yuqi kept saying how much she missed her members when she was in China by herself," "We love you Yuqi," "I thought she apologizes about some Chinese flag controversy, lol," "She really said she would stay in Korea and continue to be an idol, please don't say she'll run away after the covid ends," "She's so sweet," "Yuqi gets so much hate in China, it's incomparable to Shuhua. She always said she loved being in Korea," and "I was so touched when she read all the fans comments and replied to all of them."