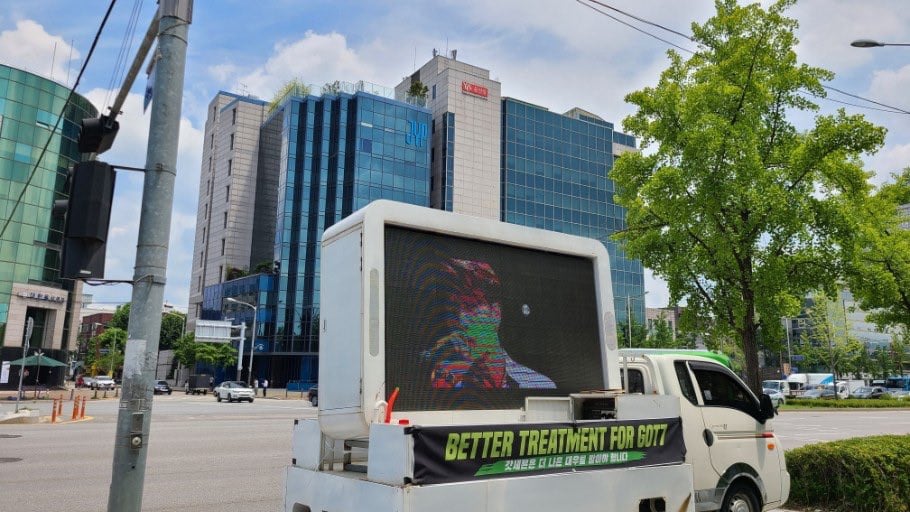 Ahgases (GOT7's fanbase) all around the world has been doing an online protest for GOT7's mistreatment by JYP Entertainment. The hashtag #FairTreatmentForGOT7 trended #1 Worldwide and in 20 countries with almost 1 million tweets. Aside from trending hashtags and mass emailing the company, Ahgases had sent a truck circling around the JYP Building, listing the fandom's demands to the company.
GOT7 has been under Division 2 of JYP Entertainment since 2015 and has been handled by the said division since then, from comeback concepts, distributions of albums, to group and individual's promotions. But seeing how the other divisions from JYP are better at handling other artists, this led to dissatisfaction of the Ahgases and had witnessed the different treatment given to GOT7. Ahgases claimed to mass emailed for years and trended weekly hashtags demanding Division 2 and JYP Entertainment to improve their treatment towards the group, but to no avail, there has been no response given by Division 2 and the company.
Some of the mistreatments GOT7 had undergone for the past years are as follows:
1.No protection from Sasaengs. Bambam, Mark, and Jackson had their addresses leaked causing them to move houses. Meanwhile, Jackson had a minor accident for the same reason. Youngjae, on the other hand, has been constantly posting on his Instagram account pleading with sasaengs to stop following him around up until to this date.
2. No proper tour promotions and booking for public appearances. Ahgases are the ones who had contacted Dingo, Knowing Bros, Good Day New York, etc. for GOT7 to be invited. They also paid Youtube and Billboard Ads during comebacks and spent money on posters to promote the Keep Spinning Tour in America. The company also failed to promote GOT7's individual activities on time if none at all.
3. JYP Entertainment failed to include GOT7 Albums to be sold at Target, Amazon, and Walmart.
4. JYP Entertainment continued to give short notices for pre-order of their albums and 2 short weeks for album promotions.
5.JYP Entertainment failed to give GOT7 the full freedom to produce their own songs. GOT7 had said themselves that they had created songs but were rejected by the company for the reasons that "it is not their color", limiting their creative freedom and revising the song up to 10 times that will match the company's own preference.
These are just some of the mismanagement and mistreatments that JYP Entertainment did to GOT7, as a senior successful group, Ahgases believed that the group was being capped by the company to their fullest potential. Through this protest, Ahgases all around the world hoped that Division 2 and JYP Entertainment would soon address their demands.