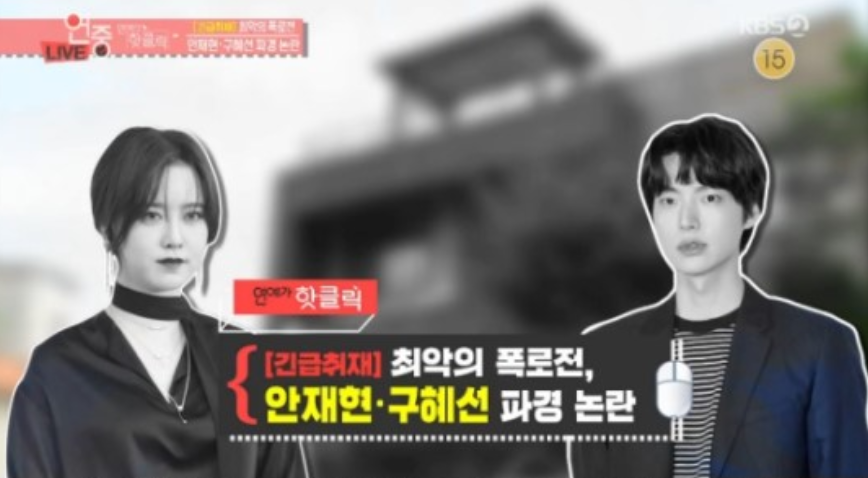 Goo Hye Sun's neighbor described her past encounter with the actress.

KBS's 'Entertainment Weekly' aired an interview with Goo's neighbor who said, "I took my dog out for a walk one day, and I saw him arrive at the house driving the agency vehicle."

Another neighbor said, "Goo Hye Sun always came by our store often but she always looked unhappy. I could feel that celebrity life was really hard on her. She was always wearing a mask. They never came together. They would always come and go separately."

Regarding Ahn Jae Hyun, the neighbor said, "He was a regular customer and often bought beer. When neighborhood guys his father-in-law's age asked he would always go for drinks. He drank well with the neighbors but Goo Hye Sun rarely did. They were complete opposites.


[+1,160, -69] Was this neighbor trying to hook up with Goo Hye Sun? And what kind of husband loves drinking with the old ahjussis from the neighborhood?ㅋㅋㅋ
[+1,023, -15] This is so creepy. What kind of neighborhood is this? Seems like a den for criminals.
[+476, -6] You were hoping for more right?
[+263, -3] Goo Hye Sun doesn't seem normal? Who would go drinking with their neighbors like that?
[+106, -5] What kind of woman and a celebrity at that would go drinking with the local neighborhood ahjussi ㅋㅋ
[+170, -78] Ahn Jae Hyun got along well with the neighbors but Goo Hye Sun didn't...hmm~
[+77, -3] I don't go drinking with the neighborhood ahjussi's either. Is that normal?
[+75, -4] The criminals are usually the ones that act all friendly and normal. What does this neighbor know?...so pathetic~
[+62, -0] Wouldn't it be more shocking if Goo Hye Sun went drinking the neighborhood ahjussis?
[+50, -11] Even Jung Joon Young's friends have hit rock bottom ㅋㅋㅋ.