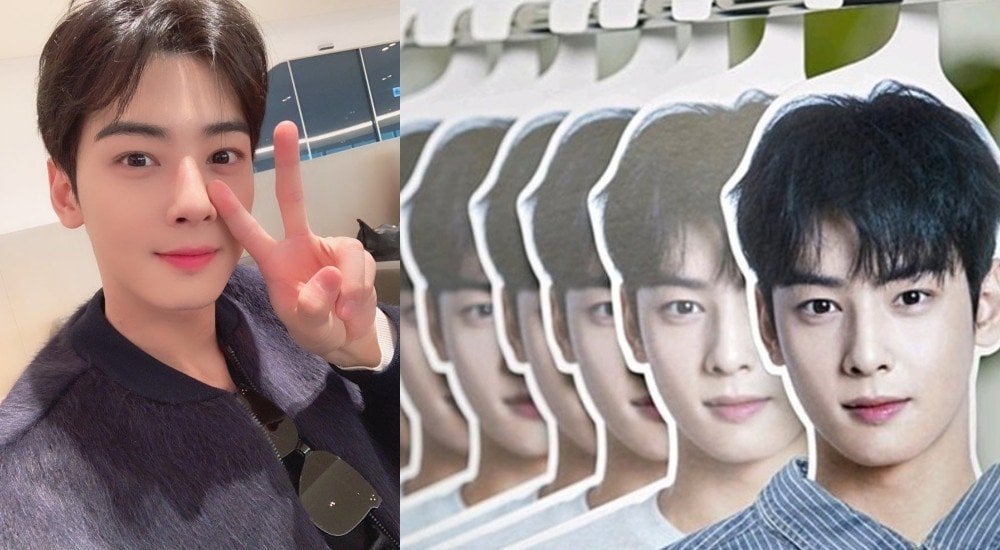 Cha Eun Woo's reputation as a good-looking 'face genius' is getting him some pretty unique endorsement deals!
The ASTRO member is currently the official spokesmodel for Cleantopia, a major Korean dry cleaning and laundromat chain, and as part of promotions, will temporarily have his face featured on a special 'Cha Eun Woo clothes hangers' given out to customers using at least 10,000 won (approximately $9 USD) of their services.

The hangers feature Cha Eun Woo made out of triangular cardboard, where his image is so lifelike that any clothes put on the hanger will make it appear as if he was wearing it himself.
The 'Cha Eun Woo clothes hanger' became a top search in Korea's real-time search engines, with many fans both confused and delighted by the unusual product.
In response to the unusual offer, ASTRO's leader Jinjin posted on the group's official Twitter account with a picture of them.

"I wasn't given any Eun Woo clothes hangers," he wrote with a playful sad face. "Aroha [ASTRO's fan club name], take a picture [of yours]! I'm curious."
Fans following the account, including Cleantopia themselves, began sharing silly photos of their hanger wearing a variety of clothing - from flower crowns to winter scarves.
Check out the tweet, as well as some fun 'Cha Eun Woo clothes hanger' pictures below!