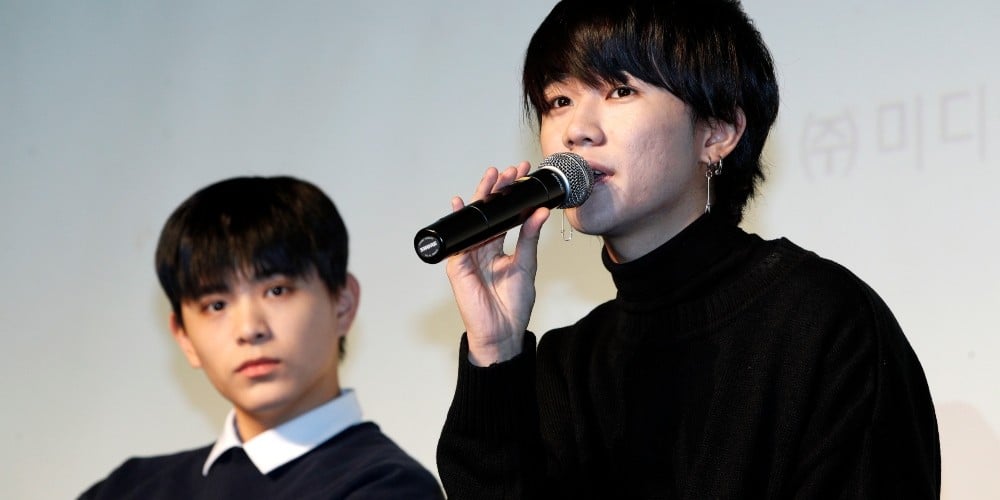 On December 26, Media Line Entertainment CEO Kim Chang Hwan, representative Lee Jung Hyun, and The East Light members Jung Sa Kang and Lee Eun Sung held a press conference, as reported.
Jung Sa Kang first shared he decided to attend the press conference to reveal the truth and said, "I don't understand and I'm also angry at how such incident occurred suddenly."
He continued, "I felt betrayed seeing Lee Suk Chul hyung holding a press conference. Suk Chul hyung obeyed the CEO for the past 3 years and voluntarily called him his second father on SNS but he suddenly turned around," and said, "Suk Chul hyung talked like he was speaking for the group. I didn't understand and felt angry. I was frustrated and I'm still upset."
Lee Eun Sung agreed and said it was upsetting how the public only listened to one side of the story. He stated, "It was sad and unfortunate how the people I treasure became bad people to the public," and added, "They had the chance to decide on their dreams but we had to endure the sorrow of losing the group overnight."
Lee Eun Sung added that Lee Suk Chul never discussed the issue with the members but pretended like he was speaking for the entire group. He also shared, "He claimed we received threats with guitar string wrapped around our necks but Suk Chul was the one who wrapped and pulled the strings around our necks after watching the movie 'Whiplash.' Our joyful time of playing around has been exaggerated as a time of hell."
Lee Eun Sung continued, "We did receive (physical) punishment during our trainee days and our early debut days but we have never been locked up or abused like how Suk Chul and Seung Hyun claimed."

The two members and the CEO also claimed that Lee Suk Chul received additional physical punishment from his father. Lee Eun Sung said, "I often heard it from Lee Suk Chul that he has been hit with a belt." Jung Sa Kang also said, "They often told us that they've been hit. They went home after causing trouble and they were hit with a golf club until 4 am."
Meanwhile, producer Moon Young Il has been jailed ahead of the trial.