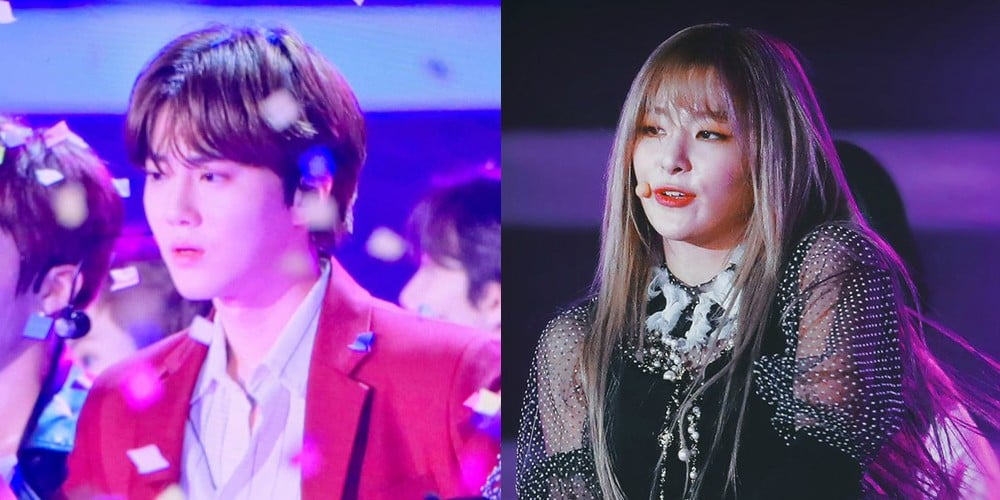 Netizens found this little sibling-like moment from the '2018 SBS Gayo Daejun' ending back on December 25 to die for!
As a signature for the ending stage of most large-scale events, all of the attending artists stood on stage together as confetti petals rained down on them from above, bringing the 'Gayo Daejun' to a close. Members of EXO and Red Velvet stood toward the front of the main stage side by side, and Seulgi could be seen collecting the confetti petals in her palms.
However, when Suho saw what Seulgi was doing, he decided to go and blow all of Seulgi's precious confetti petals away! You can catch Seulgi's "HOW COULD YOU" reaction below, as well as Suho's smug smile.
The above netizen commented as they shared the fancam moment, "What is this kekekeke. Junmyun (Suho's real name) is seriously too cute. Seulgi caught the confetti petals in her hand but when Seulgi looked away, Junmyun blew them all away kekekekekekekeke. Both of their expressions just had to be too cute."
Others also compared the little moment to a common cat and mouse moment between an older brother and younger sister, and said, "They're playing around like cute children hehe", "Suho's smug smile afterward blew a hole in my heart!", "It's like when the older sibling plays a prank on the younger one by blowing out the younger one's birthday candles first TT", and more. Do you see the sibling dynamic between Suho and Seulgi?
You can also find a lengthier fancam below!