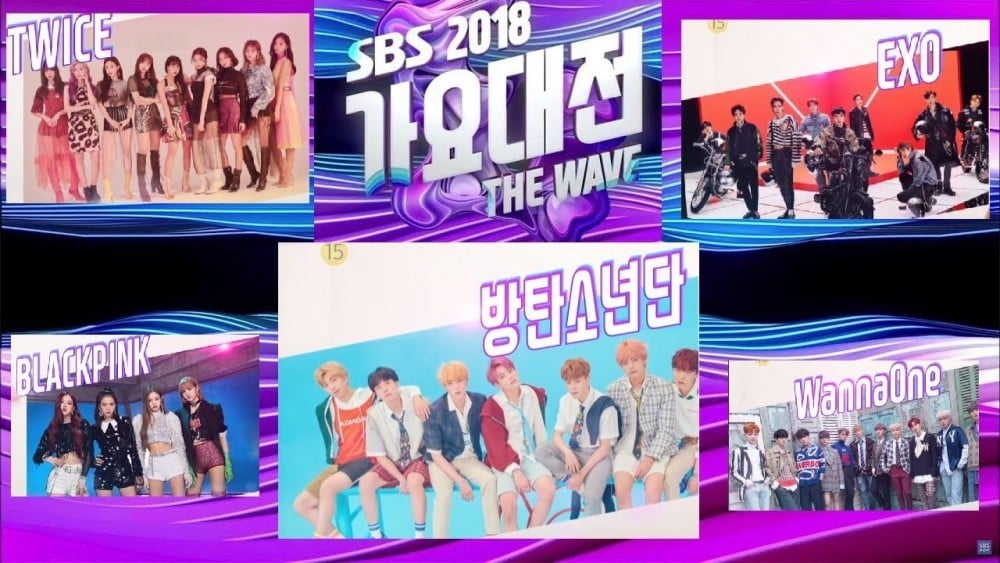 The first year-end music festival of 2018, the 'SBS Gayo Daejun' has just concluded. Watch below as your favorite K-Pop artists perform to celebrate Christmas at the '2018 SBS Gayo Daejun'.
Stray Kids x (G)-IDLE x The Boyz - New Wave Opening Performance
Woojin, Jinyoung, Hoshi, Migyu, Shownu, Wonho - Again & Again
Jennie "Solo"

TWICE "Dance The Night Away", "What Is Love?"

MAMAMOO "Windflower", "Starry Night"
Song Min Ho "Fiance", "Trigger"
MOMOLAND "Bboom Bboom"
iKON "Killing Me", "Love Scenario"
MONSTA X "Shoot Out"
WINNER "Millions"
Kai Intro
EXO "Love Shot", "Tempo"
Black Pink "Ddu Du Ddu Du"
Wanna One "Boomerang", "Light"
BTS "Boy In Luv", "No More Dream", "Fire", "DNA", "IDOL"
GOT7 "Look", "Lullaby"
Red Velvet "Bad Boys"
Sunmi "Siren", "Heroine"
TWICE x Red Velvet "Dreams Come True"
Bomi x Moonbyul x Eunha x Dahyun - Flower Road
JB x Seungyoon x DK x Doyoung x Jaehwan - Don't Stop Me Now
NCT - Boss, We Go Up, Regular