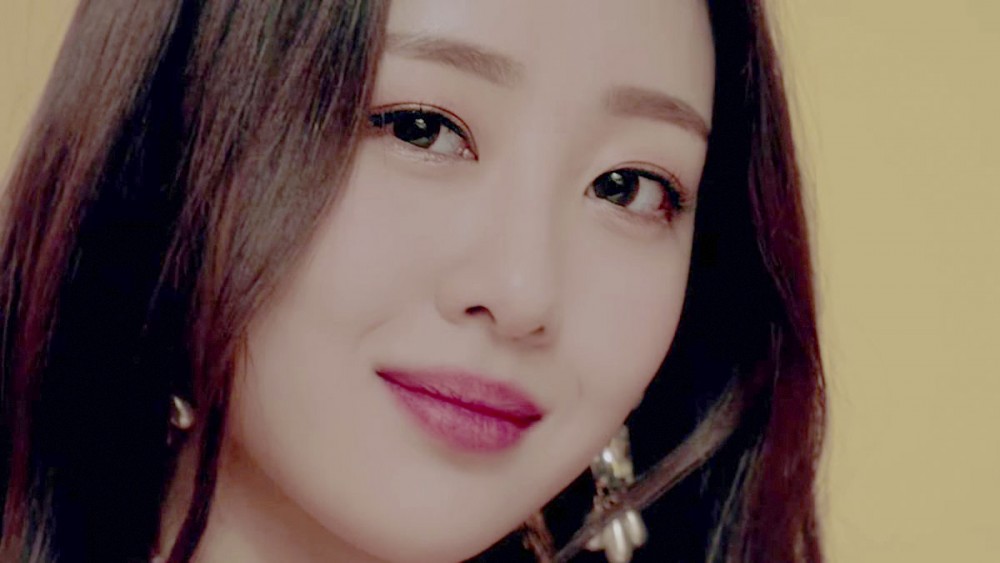 Back in December of 2017, LOONA revelead her 10th member, Chuu. With this release, all the jaw drop because her solo music video "Heart Attack" portraits what it seems a LGBT+ character and story.

BBC (Block Berry Entertainment) explains:
"The new single lets the fans take a peek into what JiWoo, who has already been a popular trainee among fans, had to go through to become 'Chuu', and her desire to be loved by Yves, who also has said in her lyrics, "my heart that wants to be like you gets colored, filled with you." The titled track "Heart Attack" does not interpret the feelings of being in love in a serious way, but with Chuu's own adorable emoticon-like ways."

Staying Chuu's feelings towards the other member Yves as "desire to be loved by", "being in love but Chuu's own adorable emoticon-like ways". This became a hot topic among netinezs since it's not usual to see a girl group with so many young members and about to debut going directly into a LGBT+ topic, because of the backlash they could receive as Holland has gone through since his debut.

Seoul Pride Parade made a pool to vote for your favourite song to being played at the parade. Chuu's solo single top the pool over clearly other LGBT+ icons as Troye Sivan or Holland.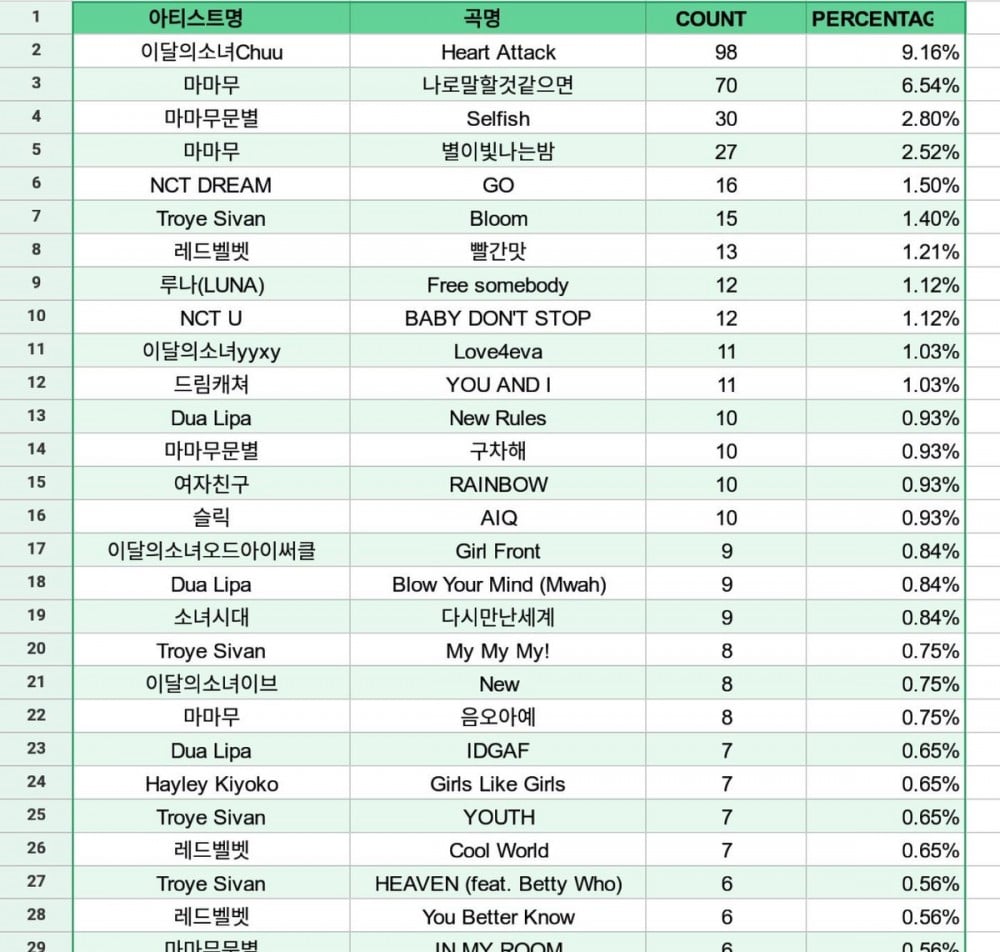 After Chuu's release, Orbits (LOONA's fandom) starts to interprete the story of LOONA's predebut MVs and for their surprises, Yves' solo has also a LGBT+ relationship between her and the 5th member, Vivi.

The story of LOONA'S MV is elaborated, but for begginers: LOONA members live in three fictional worlds called Loonaverse (normal-realistic world with 5 members; a world between Earth and Cosmos with 3 members; and an "utopia/inverse" world, with other 4 members). This three dimensions collapse among them and the girls can travel through them.
After analyzing LOONA's videography, fans discovered with the help of the DIGIPEDI Director, Moon Seok Ho, that Vivi story talks about a girl who was human and turn into a robot after an accident (related to the last member, Olivia Hye), all his memories are re-creation of her life as human, changing where she is placed in the Loonaverse.




Ver esta publicación en Instagram
비비 이야기 1. '지금, 좋아해' 뮤직비디오는 안드로이드 비비 자신의 정체성과 사랑에 관한 이야기이다. 달리기 후 숨을 몰아 쉬며 힘들어하는 다른 소녀들을 보며 비비는 생각한다. '나는 왜 친구들처럼 힘들어하지 않을까? 왜 심장이 더 빨리 뛰지 않을까? 나도 가슴이 두근두근하고싶다.' 가슴이 뛸 때까지 달리고 달리던 비비는 결국 낯선 길 한 가운데 멈춰 선다. 2. 'Everyday I Love You' 뮤직비디오의 이야기는 비비가 안드로이드로 개조되기 전, 인간 시절 비비의 기억을 복원해 만들어졌다. 3. 네 번째가 아닌 다섯 번째. 탈색한 머리. 빛나는 왼쪽 눈. 초원을 달리는. #이달의소녀 #이달의소녀1Δ3 #비비 #지금좋아해 #loveandlive #everydayiloveyou #loona #loona1Δ3 #vivi #오드아이써클 #oddeyecircle #디지페디 #digipedi
Una publicación compartida de Moon Seokho (@soulbriz) el

On Vivi's MV we can see her falling in love with a boy in a bowling alley. She plays member's last releases in a cassette tape. All this imaginary references are also presented in Yves' debut. So, Vivi's memories with boy are just a re-creation of her feelings for Yves, displaying they both were a LGBT+ couple in the inverse part of the Loonaverse.

Before LOONA's debut the meme "Stan LOONA" became viral, and netizens started to use it in LGBT+ Pride Parades, calling out attention of every K-Pop fans in the events.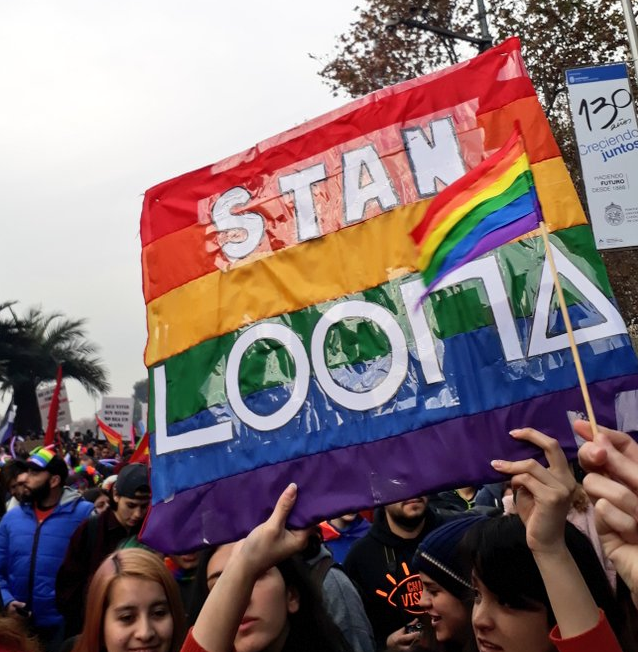 With the release of their third unit,
LOONA yyxy it was revealed they collaborated with the singer Grimes for the song "Love4eva".
The Canadian singer is also well known for being a great LGBT+ supporter and being bisexual.
So, little by little LOONA is turning into a LGBT+ icon in the K-Pop community, because it seems Block Berry Entertainment is not afraid to talk about LGBT+ topics or portrait their artist as LGBT+ characters. Other examples for LGBT+ supporters in the K-Pop industry are SISTAR, Red Velvet, Nine Muses, EXO's Sehun, Sunmi, and the list goes on.

What do you think about LGBT characters appearing in K-Pop music videos? Is really LOONA gaining the tittle of LGBT+ icon? Let us know in the comment section with a respectful mindset.