Kim Eun Suh
 apologized for the actions of an SNS account that she shared with friends.
Kim Eun Suh is a former JYP Entertainment trainee who had been on 'Sixteen' and 'Idol School'. Recently, her Facebook account commented on Jeon So Mi's cover of Sunmi's "Gashina", writing, "For the first time, I realized that Sunmi is a good singer." The comment was aimed at both Sunmi and Jeon So Mi, implying that neither were good singers.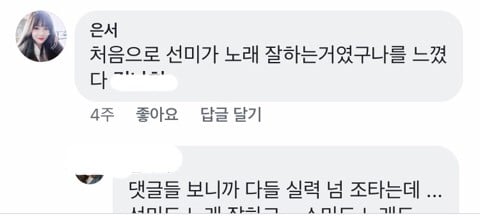 After the controversy, she wrote:
Hello, this is Kim Eun Suh.
I realized what was happening through a screenshot I was sent through DMs, and I also saw the community post. I'm writing late because I had to check everything.
I want to first say that the account that made that comment is not an account I use by myself. My friends made a side account to use together with me because I had come up to Seoul as a trainee, and could not contact people who did not have phone numbers. I used the account sometimes to message a few friends who live back home.
My friends are not trainees, but they could not use SNS accounts due to personal reasons so they changed the name on the account or used images that were on my Instagram.
I think the problematic comment was written not by me, but by a friend while the account had my name and photo. I know a lot of people don't know me, but I was on broadcast, so I know I have to be careful, and making that kind of comment in a public place is like committing suicide.
After talking with my friends, we've decided to delete the problematic account. I will no longer be using Facebook or its Messenger, and I will be more careful and reflect to make sure something like this does not happen again.
It was a situation where it was easy to misunderstand, and it's my fault for not being able to prevent something like this from happening. I want to apologize to Sunmi-sunbaenim, Jeon So Mi, who I trained with, and everyone who was hurt by what happened.
I'm sorry.


What do you think about her explanation?