BTS
's
Jungkook
and
Shinhwa
's
Minwoo
were all smiles after reuniting at "
Inkigayo
" this weekend.
[SEEALSO]https://www.allkpop.com/article/2018/09/bts-wins-1-on-inkigayo-performances-from-sf9-stray-kids-shinhwa-nct-dream-and-more[/SEEALSO]
On September 2, both Minwoo and Jungkook took to social media to share the big reunion with fans. 
"It was so good seeing Minwoo after such a long time,"
Jungkook wrote on BTS's official Twitter account.
Minwoo also shared an image of BTS's latest album that Jungkook autographed for him. "The songs are all great," he wrote. "Do well during your activities in America, and let's eat some meat when you get back to Korea."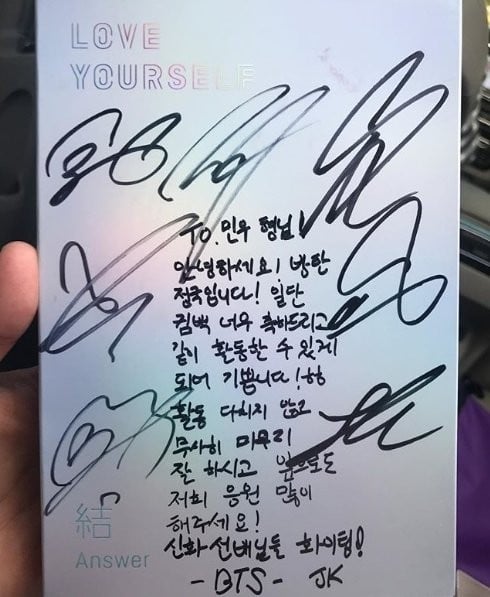 The autographed album reads, 
"Hello! First, lots of congratulations on your comeback, and I'm so glad that we can be promoting at the same time. Don't injure yourself during activities, finish them safely, and please continue to cheer us on a lot! Shinhwa fighting!"