BLACK PINK – SQUARE UP
---


Track List:

1. DDU-DU DDU-DU

2. Forever Young

3. Really

4. See U Later
It's been a long time but they're here now,
Black Pink
's long-awaited comeback is finally here. '
Square Up
' is a four-song EP, and the antidote to several fans thirsty for new music from the talented foursome. The hype and excitement surrounding this one have paid off, with lightsticks and a chart-topping single. They started slaying ever since their debut and this one will likely be no different.
"
DDU-DU DDU-DU
" starts with a synth whistle, the tune reminiscent of both "
Boombayah
" and
Yezi
's "
Watch
Your
Mouth
." It's classic
Black Pink
: loud and in-your-face, with some awesome staccato in the chorus and buried beats alongside loud synths and a breakneck tempo. It's got those wonderful bridges and a dance break to boot. If this was a car, it would be sleek and stylish, tricked out with the latest gadgets, and breaking land speed records.
Jennie
belts out a soulful intro on the prosaically-titled "
Forever Young
." And when the rest of the girls join in, a synth line dances behind them. This particular one is slower and showcases the girls' vocals well. Each member has their own unique charms, whether rapping or singing.
"
Really
" is a middle-of-the-road composition that really needs some more elements to make it stand out. There are some stabs at it, and the switched-up adlibs and
Lisa
's raps prevent it from being too bland. But I think I was expecting more. It's like bitter coffee, you might add a bit of sugar and cream but there's still something missing. By contrast, "
See U Later
" is a real bop. It's got repetitive, easy hooks, and the devil-may-care attitude that we're accustomed to hearing from this quartet. I've never heard
Lisa
do better than on this track. And the lyrics seem to indicate that she probably won't see the guy later.
All the girls had a hand in making me love this EP, from
Rose
's belts on see you later, to
Jennie
and
Lisa
's sharp raps, and
Jisoo
's easy on the ears honeydew voice. This is just one of those EPs you have to play again, just to have these memorable tracks ringing in your ears one more time. They've lost none of their spunk, and that makes for an awesome trip when giving this a spin.
MV REVIEW
Black Pink
has dropped their new MV. And what an MV it is! From dancing in front of various backgrounds, to smoke exploding from
Lisa
's hands to
Jennie
sitting on a stairway inexplicably on a chessboard, this video has no shortage of eye-popping scenes. Including
Rose
on a chandelier.
They saturate this piece with various colored lighting, from blue to vanilla, to ever-prevalent pink. They also pull out every trope they can, and dress it up
Black Pink
style, like a glitter-festooned tank, and dancing in front of video screens showing fire. But there's nothing wrong with that, and it comes off as awesome, not distracting.
The dancing is quite well done, although we're missing some of the standout scenes like in the floor-sliding, girl-carrying "
Boombayah
." They synchronize nicely, and there's something to be said for that. They're also very confident with their moves.
Best scene ever.
Three guesses as to whether I enjoyed this, and the first two don't count.
Score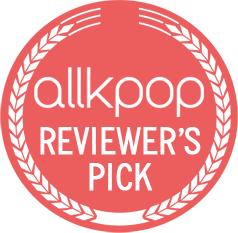 MV Relevance
...........10
MV Production
..........10
MV Concept
..............9
MV SCORE: 9.7Album Production
.....8
Album Concept
.........9
Tracklisting
...............9
ALBUM SCORE: 8.7
OVERALL................9.2