EXO-CBX – BLOOMING DAYS
---
Track List
:
1. Monday Blues
2. Blooming Day
3. Sweet Dreams!
4. Thursday
5. Vroom Vroom
6. Playdate
7. Lazy
The first official sub-unit of
EXO
,
EXO-CBX
, has just dropped their eagerly anticipated new EP.
Chen
,
Baekhyun
, and
Xiumin
give you 7 new tracks on their '
Blooming Days
' release. They have some hitmakers crafting their second mini-album, including
Yoo Young Jin
, t
he Underdogs
, and
MZMC
.

The EP starts out quietly with the smooth R&B track "Monday Blues." The boys show off their harmonies on this track, along with some rawer confessional vocals. The track is well apportioned, as not just one member handles the chorus, though the main verses are mostly Baekhyun and Chen. "Blooming Day" is the title track and an unabashed club-banger. With a whip-smart beat and a disco sensibility, this track is pretty damn good. It's nice to hear some energy after "Monday Blues."
"
Sweet Dreams!
" strikes the balance between dance track and soft pop, and it has those amazing vocals and harmonies on the chorus. I like the beat here, and how it gets harder at the end. "
Thursday
" is a return to the softer R&B that introduced this mini-album, but albeit a different tune, with much more falsetto. It's an emotional song, and the falsetto aids with the feels here.
"
Vroom Vroom
" is another club banger, in case you were lulled into complacency by "
Thursday
." I like the synth stabs here, which are what makes this pop. The synths almost drown out the beat. I like the rap in the middle too -- it's not cool, but it's cute. No longer just a weekday like the previous track, this is Friday. The playful "
Playdate
" has its tongue firmly planted in its proverbial cheek, and you can almost see the boys smiling as they sing this one. The song's no less emotional for this, and I like the harmonies as hooks that they pull out in this tune. They return to near-banger territory on "
Lazy
." It has a pounding beat and is definitely, unapologetically R&B. It's a great finisher and leaves you with a good feeling.
This is well-packaged and you can tell they placed these tracks very deliberately, especially evident on "
Thursday
" and "
Vroom
Vroom
." And really, this mirrors the days of the week, including the final track about a lazy Sunday. They keep the balance of ballad and banger that we've come to expect from
EXO
, and lush productions with superb vocals. It's a different sound, much softer than '
Hey Mama
!' But I think the fans should embrace it just the same.
MV REVIEW
This is another largely plotless MV, but wonderfully stylish and fun to watch. Here, the boys are wracking their brains, trying to figure out how to express their love. But the environments they do this in is varied, ranging from cramped hallways to spartan rooms to strange display shelves on the walls. Some of the locales are colorless, others painted in brilliant hues. And sometimes, flowers rain down on them. Aside from fooling around (I like the slingshot scene), they also dance.
And that's where the MV starts to really pick up. You thought it was good before, but when the three members unleash their dance moves, that's something to see. They rock back and forth, gesture, sway, and burst into a flurry of synchronized movement. They circle around each other and even b-boy. The dancing is excellent, as is the choreo, and it perfectly fits the rising and falling moments in the tune.
Different lighting effects, as well as dynamic sets, create the mood for an exciting time. And that's what you get here, along with a kickin' track. This one is blooming good.
Score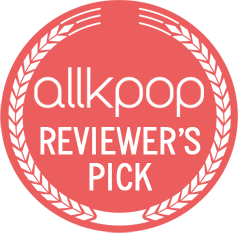 MV Relevance
...........9
MV Production
..........9
MV Concept
..............9
MV SCORE: 9

Album Production.....9
Album Concept.........9
Tracklisting...............9
ALBUM SCORE: 9


OVERALL................9.0