The first piece of news regarding MBC's 'Great Temptation' I have is... that as of episodes 9 + 10 aired on March 26, 'Great Temptation' managed to record its lowest rating ever, at just an average of 2.2% for episode 9, and 2.5% for episode 10. 
Really, I don't think it's that bad a drama at all. It's the kind of drama I expect females in their 10-20's to watch. Apparently, my tastes are just soooo not the norm these days.
Regardless of whether the drama does well in terms of viewer ratings or not, rest assured, I will be reviewing it until the very end. Now, with that in mind, the first topic I would like to jump on this week is just going to HAVE to be: Lee Se Joo. A.k.a Kim Min Jae. 
The last drama I reviewed was tvN's 'Revolutionary Love'. Man, if I thought the second male lead syndrome in that drama was bad, I AM SERIOUSLY in trouble with Lee Se Joo.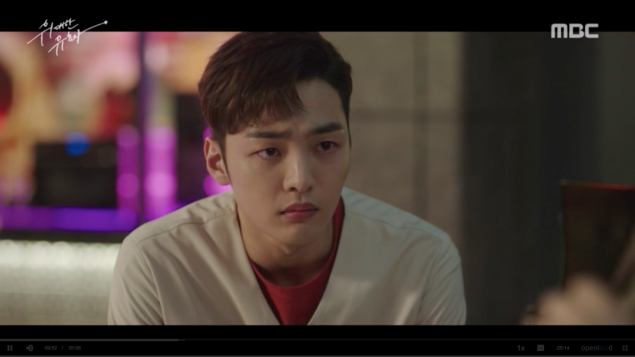 One of the most notable scenes in episode 9 was most definitely the scene where Se Joo arrives at the trio's secret lair. His arms full of dim sum, which is Choi Soo Ji's (played by Moon Ga Young) favorite food to eat when it snows. While the two chow down on dim sum, waiting for Kwon Si Hyun (played by Woo Do Hwan) to show up, Soo Ji comments on the humidity of the room they're in. And that's more than enough of a cue for Se Joo to jump right up and give Soo Ji's cello some anti-moisture treatment. Okay, now, I know nothing about cellos and how to take care of them in moist conditions. Like, who the hell does, right? Lee Se Joo, that's who! 
Clearly, this is just one of a billion examples we've already had in this drama series, where Se Joo is there for Soo Ji whether she needs him or not. Supporting her like... the softest cushion in the world. Literally, we all know at this point that if Soo Ji falls, Se Joo would be there to make sure not a hair on her head gets hurt. (Can you hurt a strand of hair?) I mean, this guy is literally the walking, breathing definition of the phrase "unrequited love". The one thing I would like to discover about Se Joo's character right now, is whether or not he has admitted his feelings toward Soo Ji to himself. He said it in episode 9: "If I act serious, then you wouldn't be friends with me." Se Joo never acts seriously. Never? Not even to himself and his romantic feelings? That's what we viewers desperately want to find out! If he knows how much he cherishes Soo Ji, or if that's a journey we all will have to take with him in this series... /sobs/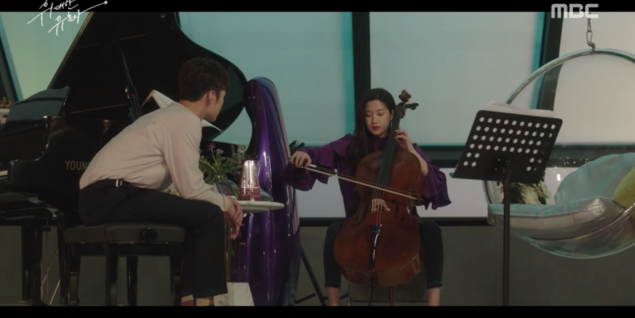 Literally, how does one make sound with such big, heavy, oh-gawd-its-too-hard, instrument. 

So that was a big 'ol intro about Se Joo. Let's make sure we don't forget the main character here, before it's too late. Our great seducer, Kwon Si Hyun. In episodes 9 and 10, especially after his first little smooch with Eun Tae Hee (played by Red Velvet's Joy), he's been pretty much like... whipped over her, basically. He catches himself thinking that she's pretty, he catches himself worrying about her over Soo Ji, yeah the love bug's got him good.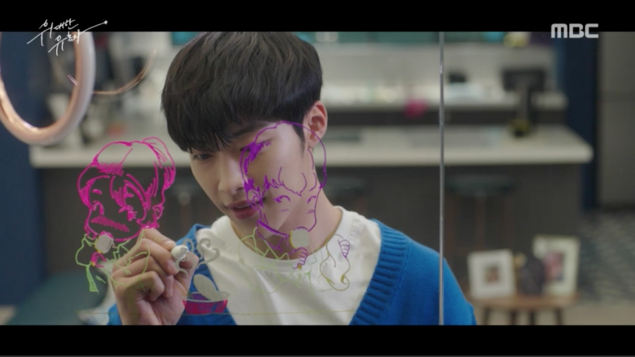 Yeah you guys weren't actually so innocently eating your ice cream bars in that convenience store...

With Si Hyun, I do feel a little confused about how his character is "supposed to" act. The only real comparison we've had in regard to how he normally acts around the women he "seduces" was with Go Kyung Joo's mom, the model. From that scene, we found out that Si Hyun comes to the rescue of unhappy women to try to make them a little happier while he's around. Fundamentally, the way he acts around women stems from watching his mother neglected at home, yearning for his father's attention. So when it comes to Tae Hee, I'm still not quite seeing the full picture of how she differs from other women he's encountered in his life, and how their relationship can progress into something different than his past flings. So in that area, we'll have to wait and see what happens.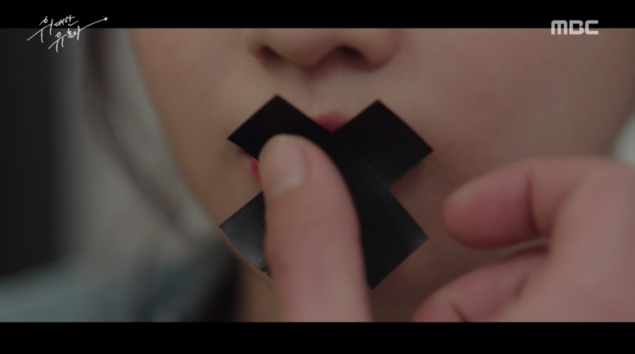 Does he even realize how bad tape is for lip care. 
A brief question about the triangle romance happening between Si Hyun's dad Kwon Suk Woo (played by Shin Sung Woo), Tae Hee's mom Seol Young Won, and Soo Ji's mom Myung Mi Ri. So this is a situation where Si Hyun's dad Suk Woo is just... openly having an affair with Tae Hee's mom, because he's already promised marriage with Soo Ji's mom. And his kids are off in la-la land, knowing nothing of this, involved in just as complicated a love triangle themselves. Is this really... okay for an MBC drama? Parents who have no shame being involved in affairs, and parents who are apparently way more interested in their own lives than their children's. This concept might be the only thing I point out as potentially problematic with this drama's progression so far. The drama has been fun and entertaining so far but these parents, I'm worried that they're going a bit too far, and I can't predict where it will lead.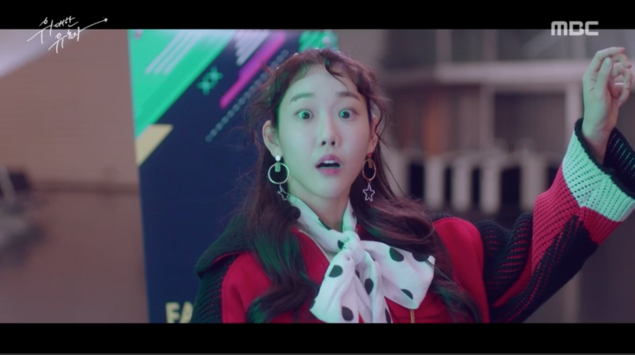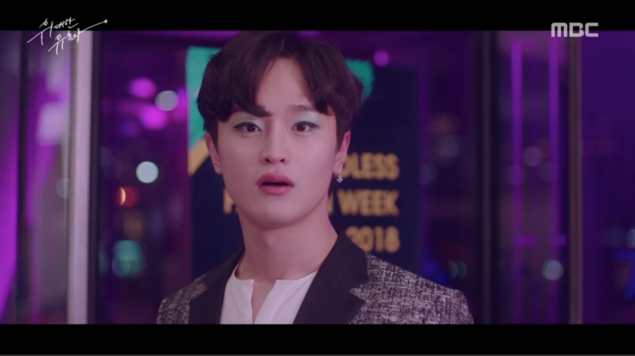 Btw... who the heck is this guy and what the heck just happened with these two? Did anyone get this scene?

Last thoughts for episode 9 and 10, and undeniably the most important observation as we move forward. Our trio's fleeting, fragile friendship, has officially shattered. Yes, I very much declare so, by the end of episode 10. And all it took was a little vacation getaway. Where Soo Ji, unable to trust in Si Hyun's actions and blinded by her fiery emotions, more or less attacks Si Hyun and Tae Hee right in front of everyone.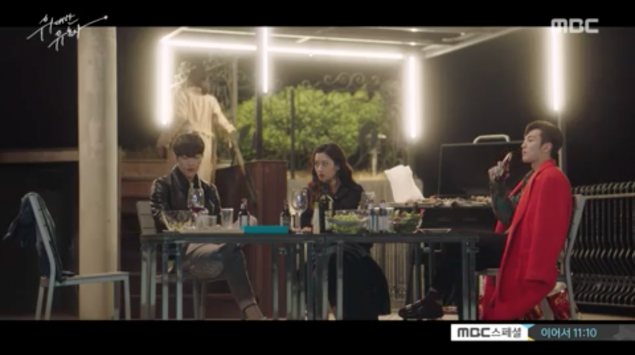 You can tell that Se Joo more or less recognized this. Their friendship, slowly but surely, is crumbling to pieces. And yet, he doesn't quite blame Soo Ji, because Se Joo will always be on Soo Ji's side. But a clear and very big rift has formed between Soo Ji and Si Hyun. Soo Ji no longer trusts Si Hyun, because she can tell that he likes Tae Hee, even before anyone else can. As for Si Hyun, he's obviously going to need some time to figure out that his friends are not the same, he's not the same, and Tae Hee is a big variable in his life.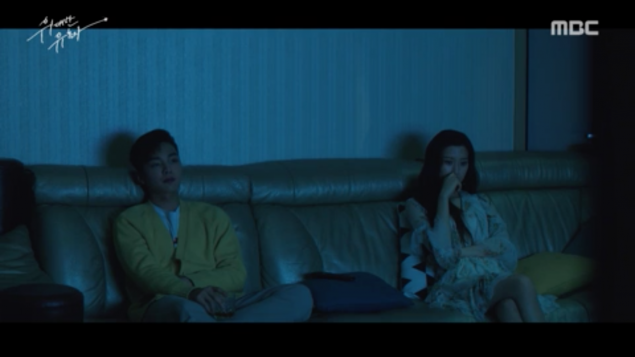 Let's watch tv in the dark so we can damage our corneas~
Now that leaves us with the question: what are Si Hyun and Tae Hee going to do in the pool at night? Another smoochy smooch scene? Or something a bit more risque?
Score


Plot..........................8
Performance............8
Pacing.....................8


OVERALL..............8