We're now already at episodes 11 & 12 of the series, and it seems a lot like the only thing people are really interested in is criticizing Red Velvet Joy's acting.
So I'm just going to take this review and this review alone, to contribute my piece on Joy. After this review, expect me to only discuss the drama in relation to plot, pacing, and the overall performance of the cast, not just Joy as an individual.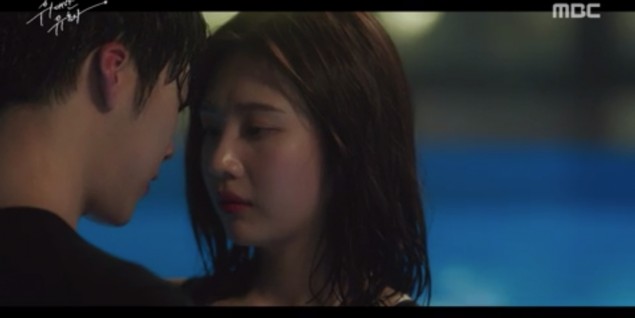 I'm not saying this about everyone, but I honestly think that a lot of people are just, almost irrationally blinded by the entire notion of Joy landing her second ever lead actress role in a drama - her first on a public broadcasting station. And I really do believe it plays a role in why this drama has been suffering low viewer ratings, in the 2% range.
I personally do not want to pretend like I'm an expert in the field of acting. Because I'm far from it. I am simply a consumer of K-dramas, like most K-pop fans are. I don't know the extreme nitty gritty details of what acting is, like voice, tone, accent, facial expressions, gestures, etc. Yes, back in the review for episodes 5 & 6, I did recognize a mind-blowing scene by Kim Min Jae, when he almost managed to make me choke up in a mere 2-3 minutes with his performance. When actors deliver, even simple consumers like me can recognize and commend excellent acting. And similarly, yes I've watched drama scenes where I just went, "What face is he even trying to make?" or "Why is he talking like that?" But as you can see with Kim Min Jae's case, those occurrences where even a normal consumer can notice something amazing or problematic, happen 1 in every 12 episodes or so. And so far in this series, I don't recall losing focus on the story to notice Joy making an odd expression, or her even making me recall that she's Joy instead of her character Eun Tae Hee.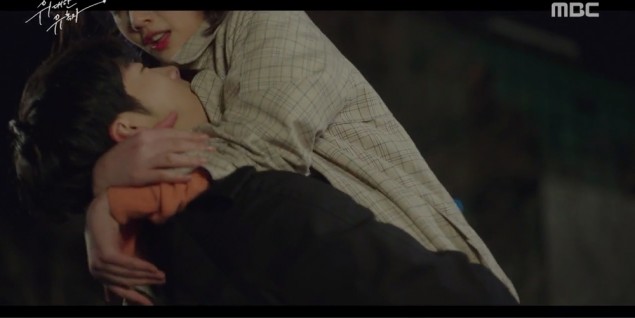 But the REAL question is... why do K-dramas insist on creating scenes like this that are logistically IMPOSSIBLE?

Secondly, outside of questioning Joy's abilities and skill level as an actress, I personally see a lot of personality similarities between Tae Hee and Joy. I can't help but feel that this may have been a contributing factor when the drama's director decided to cast Joy as Eun Tae Hee. I mean, seriously, the director had his reasons for casting the actors and actresses he did in 'Great Temptation'. He said before the drama's premiere, that he was proud of his casting. So why can't people trust a professional when he says, he chose the actors he did for his own reasons?

Of course, everyone is free to have their own opinions. And if there are people out there who genuinely gave this drama a chance, watched the first 3-4 episodes seriously, and felt afterward that Joy's acting truly was too much of a disturbance for him/her to focus on the story at all, then it's perfectly fine that he/she give up watching. Everyone should watch dramas they can enjoy comfortably. But if there are people who just can't stand to see Joy - still a fairly rookie idol - acting as the main female lead of a major broadcasting station drama, then I can only see that as a waste of time and energy. Because it's clearly not like this drama is, a major success or anything like that. And another thing is, you know, currently, the viewer ratings for the Mon-Tues evening drama time slot between the major 3 public broadcasting stations is divided into the 11% range for SBS's 'Shall We Kiss First?' and the 2% range for MBC's 'Great Temptation', because the newest KBS2 Mon-Tues drama has yet to premiere. In fact, KBS2's 'The Miracle That We Met' premieres next Monday, which means even more viewers may choose to watch that rather than 'Great Temptation'. (FYI, EXO's Kai is a supporting character in 'The Miracle That We Met'.)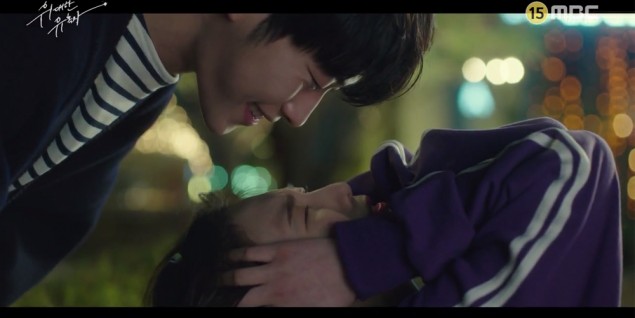 BLAH BLAH BLAH I'M NOT LISTENING/READING!!!... That's not what you guys are thinking, right..?
So just, let's wrap this topic up and not waste any more time, energy, or words on the matter. As far as I can tell, there's nothing overtly wrong with Joy playing Tae Hee's role. She's done a good job so far. I apologize if I seemed to go on a tangent for too long; again, this subject is not going to come up in any more reviews from here on out. Now then, I'll quickly address a few key pointers I noticed in episodes 11 and 12 before next week comes rolling around.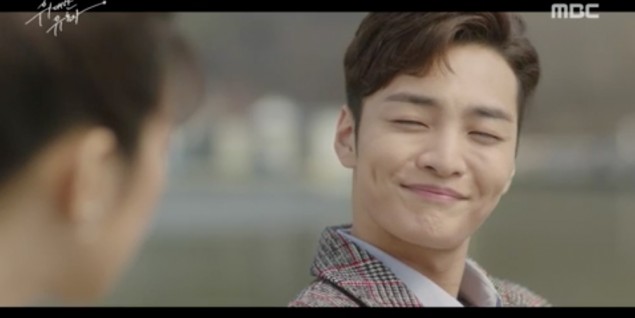 The most important scene of episodes 11 and 12, I felt, was Lee Se Joo's fishing scene. Here, we can come away with three really important realizations. The first is that Se Joo openly admits, more or less, that the trio's friendship is on the verge of shattering. He admits to Choi Soo Ji (played by Moon Ga Young) that Kwon Si Hyun's (played by Woo Do Hwan) true feelings are questionable. Next, he tells Soo Ji a made-up story of a fisherman who send out a piece of bait to catch fish, but the bait ends up betraying the fisherman to join the fish in the water. This story is an analogy, and Soo Ji is the fisherman, while Si Hyun is the bait. Se Joo not only understands that Soo Ji and Si Hyun have decided to start a game he's not involved in, but also potentially, that Soo Ji will eventually end up as the loser of this game.
Lastly, Se Joo comments at the fishing dock that he actually never catches fish, even though he comes fishing often. He's content to remain on the dock, while the fish stay where they are, underwater. AND OMG THIS IS SO METAPHORIC GUYS. The statement alone was literally the picture perfect description of Se Joo as a person. He's someone who chooses not to take action in order to obtain what he wants. He would rather, not have anything at all. Now, in relation to Soo Ji, it'll be really interesting to see how his character decides to change, or not. But we all want him to take some decisive action and make Soo Ji his. Am I right or am I right?!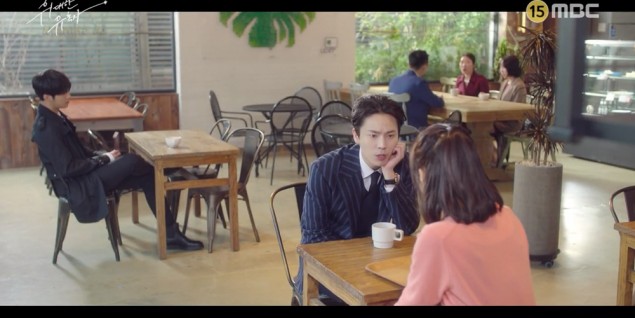 Is there a creeper sitting behind me?

Yeah and once again, I'm still confused on Lee Ki Young's stance. I'm completely confused as to what he really thinks of Tae Hee. The only thing we plainly saw in episode 12 was that he did treat Tae Hee differently from the way he mistreated Soo Ji. But it's still too early to tell whether or not Lee Ki Young sees Tae Hee as a different source of gaining power or status, or if he actually sees Tae Hee as a romantic interest...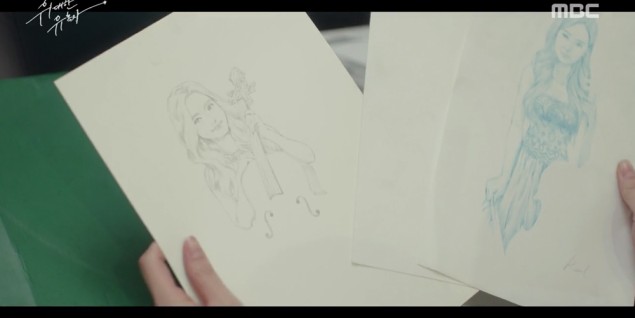 Oh sureeee, draw Soo Ji all gorgeous and realistic in pencil on fancy paper, and draw ME on walls with a big caricature head.
We end episode 12 with Tae Hee calling off her love game with Si Hyun, after realizing that she is repeating the exact same steps that her father took with her mother. At this point, I think that each of the characters have a good handful of individual and external obstacles to overcome in order to find their happiness. And it's going to be dramatic and difficult, but worthwhile to watch because so. I hope to be back next week with a better analysis of the story!
Score
Plot..........................8
Performance............8
Pacing.....................7
OVERALL..............7.6