The world of K-dramas has been so heavy on the genre-side lately! Popular productions that led the very beginning of 2018 included deep, content-driven dramas like 'Mother', 'Return', 'Misty', 'Cross' (of course there was 'Welcome to Waikiki' too, which was on a whole new level in itself...); dramas more or less targeting older audiences who look for richness, profundity, and also probably things like blood and gore. With March rolling around, younger drama viewers with our tastebuds rooted in K-Pop finally have something with a more classic mood! MBC's new Monday-Tuesday drama 'Great Temptation' marks MBC's very first drama of 2018, since the station decided to halt most drama broadcasts for the Olympics. 

A light summary of the drama before we dive in: a seduction romance centered around youths in their twenties, who jump into a dangerous love game not knowing that it will involve putting their lives on the line. 

Well that sounds kind of... dangerous. I hope when they say "dangerous love game" and "putting their lives on the line", the drama's production staff and writer mean it really in a... figurative sense. Since the drama is just getting started with the first two episodes now aired, I'd like to start with a brief character analysis of the faces we've seen so far.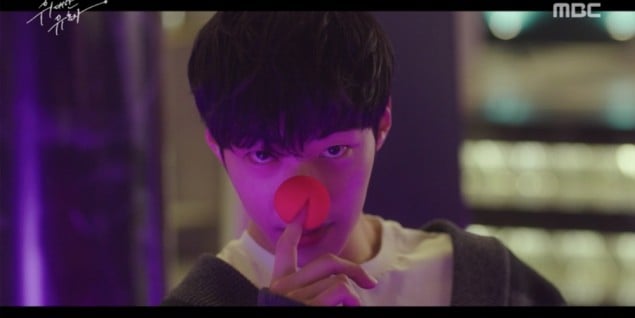 Kwon Si Hyun, played by Woo Do Hwan. 
Si Hyun is the heir of the JK Group, assumably a large and rich company. He's been gifted since birth with drop-dead good looks, topped with a deep, romantic voice and the smoothness to seduce anyone, man or woman. Now here come the family issues. (Oh man, be prepared to see ALL KINDS of family issues imaginable in this drama, friends.) It seems one reason Si Hyun seduces women is to make women feel loved, because of how lonely and unloved his mother was by his father. You can see a glimpse of this in how Si Hyun chooses to spend time with the elderly model Jung Na Yoon at the club in episodes 1 & 2. The other beautiful, young girls leave the elderly model out and use her to get free drinks, but Si Hyun makes sure to choose the model over any of the other shallow girls. Now you can imagine Si Hyun's relationship with his father is crap. But add on the fact that Si Hyun isn't actually the father Kwon Suk Woo (played by Shin Sung Woo)'s biological son. In a nutshell, episodes 1 & 2 cover how Si Hyun gets chased out of the house by his father, forced to live "quietly" the rest of his life with funds from the JK Group as long as he does as his father orders.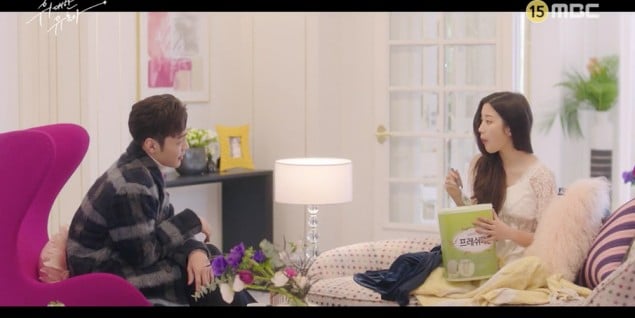 Choi Soo Ji, played by Moon Ga Young.
Soo Ji is the heiress of Myung Jung Hospital, operated by her mother. Her father is in prison for business-related crimes. Soo Ji is slightly more obedient when it comes to following her mother's "orders", compared to Si Hyun. Soo Ji dates the people her mother deems appropriate for business marriage relations, and even when her mother forbid her from dating older her art teacher, Soo Ji chose not to harbor all her hatred toward her mother. In episodes 1 & 2, Soo Ji gets dumped by Lee Ki Young, a lawyer whom Soo Ji's mother wanted her to date. But things don't work out and Soo Ji is humiliated in front of Lee Ki Young and his friends, so naturally, Soo Ji isn't going to sit back and just sulk. (Although she did for a little bit, as you can see above with the ice cream tub.) She's going to take revenge.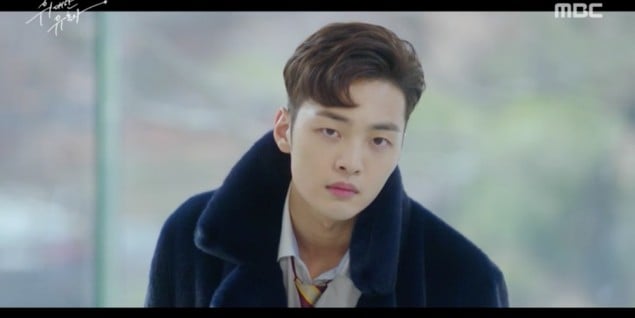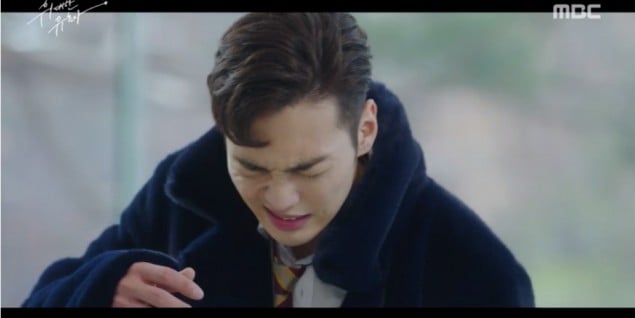 Lee Se Joo, played by Kim Min Jae. 
Se Joo has yet to show us some deeper facets. Currently, he's just a simple rich and handsome player, living it up. What's clearest about him is that he, Si Hyun, and Soo Ji have this unique, three-way friendship, where each of them share a bitterness to living a chaebol life, and they comfort one another by trying to see who can cause more trouble. But the friendship is a fairly fragile one, you can definitely tell even from the first two episodes. Soo Ji and Si Hyun seem to be having a hard time keeping things in the just-friends zone, and Se Joo doesn't seem like he'll be able to handle being in between them and/or being sidelined by their awkwardness for very long.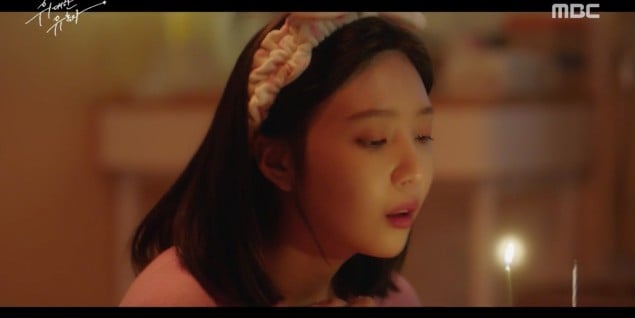 Eun Tae Hee, played by Red Velvet's Joy. 
The loneliest, lonesome female wolf... the kind of person who fends for herself and never relies on others for help. Despite being the female lead, Tae Hee has yet to play a key role in the story. Tea Hee isn't quite a chaebol; her parents are divorced. Her mother is a busy, famous pottery artist, and her father is a professor overseas, and so Tae Hee refuses to rely on either of them for support. Tae Hee enters university by taking the GED rather than going to high school. In episodes 1 & 2, it's revealed that she somehow has ties to Lee Ki Young, likely through her father, which is why Soo Ji mistakes Tae Hee as Lee Ki Young's first love. Tae Hee is about to be seriously victimized in Soo Ji's grand revenge scheme...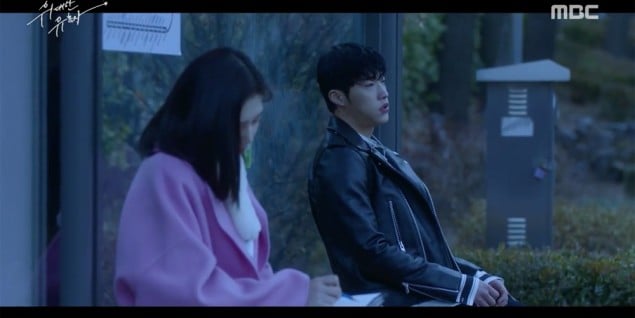 That about wraps up a summary of the main characters as we've seen them so far. My favorite part of episodes 1 & 2 was this scene in the shot above, of Si Hyun and Tae Hee's fateful encounter before any of the scheming and the "love games" begin. I'm under the impression that there's going to be a lot of heart breaking and misunderstandings, miscommunication, all kinds of very complicated relationships, and LOTS of drama in this series to come. So it was nice to see this moment between them, that fate-ties-people thing that only happens in dramas and movies. In an inexplicable, emotional way, these kinds of storytelling devices help viewers attach to the main characters. I can't wait to see how this scene comes back later on in the story.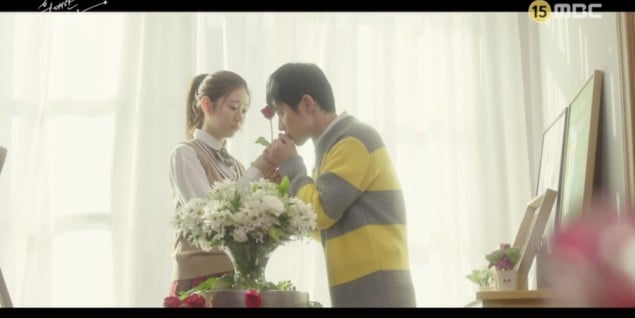 Finally, a brief pause with this part. Soo Ji's first love with her art teacher... This part was a slightly uncomfortable part, considering the circumstances in the K-entertainment industry right now with the #MeToo movement. Depicting these types of unconventional relationships in a drama production, and even the two teachers who were having an affair early in episode 1 - it can't be helped that dramas shed an accepting light on such topics when portrayed in such casual ways. Not to draw too specific lines on what's acceptable and what's not, just more of a yellow flag when considering the current situations. I feel a drama like this may need to especially pay attention to what may or may not seem sensitive in relation to the #MeToo movement in the future episodes to come. 
So there you have it, some of my first thoughts on 'Great Temptation'. In terms of scoring, I really didn't have anything to nitpick on. I think we'll need to see what happens in episodes 3 & 4 to really decide what kind of content is going to drive this entire drama forward. The performance of every character so far has been very good. The chemistry between the three chaebol friends was stellar. I'm looking forward to tomorrow!
Score


Plot..........................6
Performance............9
Pacing.....................8


OVERALL..............7.6