A 19-year-old man has been arrested for severe physical assault on his girlfriend of the same age.
On March 23, Busanjin Police Station revealed they've arrested the boyfriend identified as 'A' for severely beating his girlfriend identified as 'B'.
The girlfriend told Insight an argument fired up between the two back on March 20. 'A' then took 'B' to a mountain nearby and started hitting her in the car; slamming her head on the steering wheel and slapping her face.
After the violence in the car, 'A' took the girlfriend to his home and locked her up for a day. 'B' was able to escape by promising her boyfriend that she will be back after attending her classes.
However, 'B', deeply terrified by his violence, could not return to his home. Instead, she sent text messages demanding they break up. 'A' refused to do so at first but later seemed to be giving up as he told the girlfriend that he'll be putting her belongings in his mailbox for her to pick up.
'B' waited over 5 hours to go pick up her stuff as she was still terrified. After taking her time, she decided to go get her belongings. However, she found her boyfriend right in front of her house when she opened the door. 'A' immediately started beating 'B' by punching and kicking her.
SEE ALSO: A cougar that escaped a zoo in Daejeon ends up getting killed
'A' also told his girlfriend to change into white clothes because he's planning to hit her until her whole body is covered in blood. The girlfriend asked to have a talk at a cafe but 'A' took her to his home instead, where he knocked her unconscious. He poured water on 'B's face to wake her up and strangled her, asking, "Why did you say you want to break up with me?"
Neighbors who heard the girlfriend scream made reports to the police and 'A' was arrested.

Following the terrifying incident, the girlfriend posted photos of her injuries on Facebook and wrote, "I'm giving up my education, dreams, home, friends, and everything to go live in another region." And added, "I will be brave. I hope other victims in similar situations can overcome and be courageous."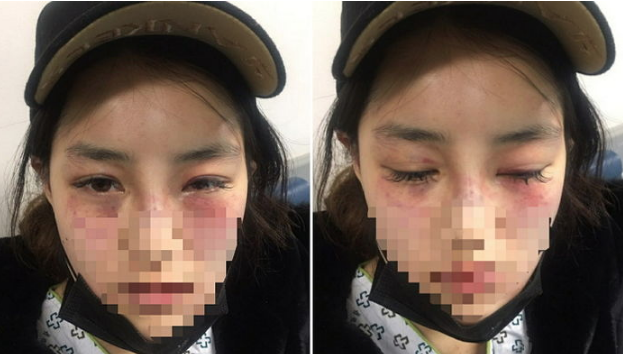 Meanwhile, her boyfriend sent text messages to her begging for help. He said, "You're gonna help me right?? Seriously, this is too much. What are you doing not picking up my calls? I don't have batteries... You are gonna testify well for me, right?" And "I've been detained. I hope you get better. Don't meet other guys ㅡㅡ I'm sorry."