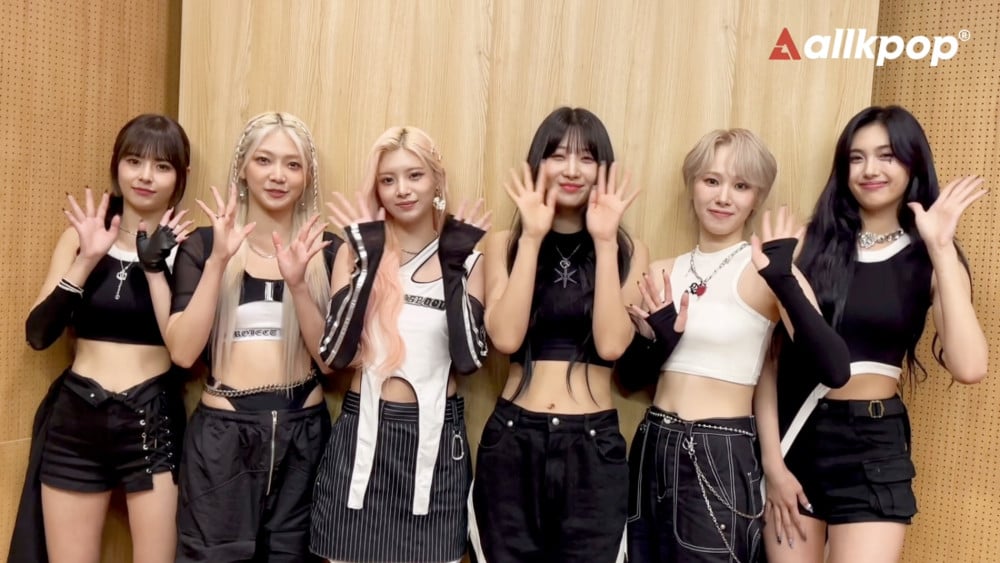 The highly-anticipated comeback from one of the empowering and powerful girl groups has finally arrived after 1 year and 8 months of hiatus, and they're here to slay. The six-member group under Yuehua Entertainment, EVERGLOW is back with a single album, 'ALL MY GIRLS,' that conveys their message to all girls who have lost themselves and have been confined by social norms.
EVERGLOW — composed of members E:U, SIHYEON, MIA, ONDA, AISHA, and YIREN — debuted back in March 2019, and since then, they've been known for releasing hits with their signature girl crush concept, such as "DUN DUN," "LA DI DA," "Bon Bon Chocolat," "Adios," and their recently released title song, "SLAY."
The sextet's 4th single album contains the electronic hip-hop/pop song "SLAY," as well as the B-side tracks "Oh Ma Ma God" and "Make Me Feel."
"It's a comeback we've all been waiting for. Thank you, FOREVER, for waiting, and we want to repay your love with great performances!"
To commemorate their long-awaited comeback, the girls of EVERGLOW sat down with allkpop to talk about 'ALL MY GIRLS,' their signature girl crush concept, wanting to release a full-length album, and more. Keep reading to learn more about EVERGLOW!
EVERGLOW shout-out video to allkpop readers: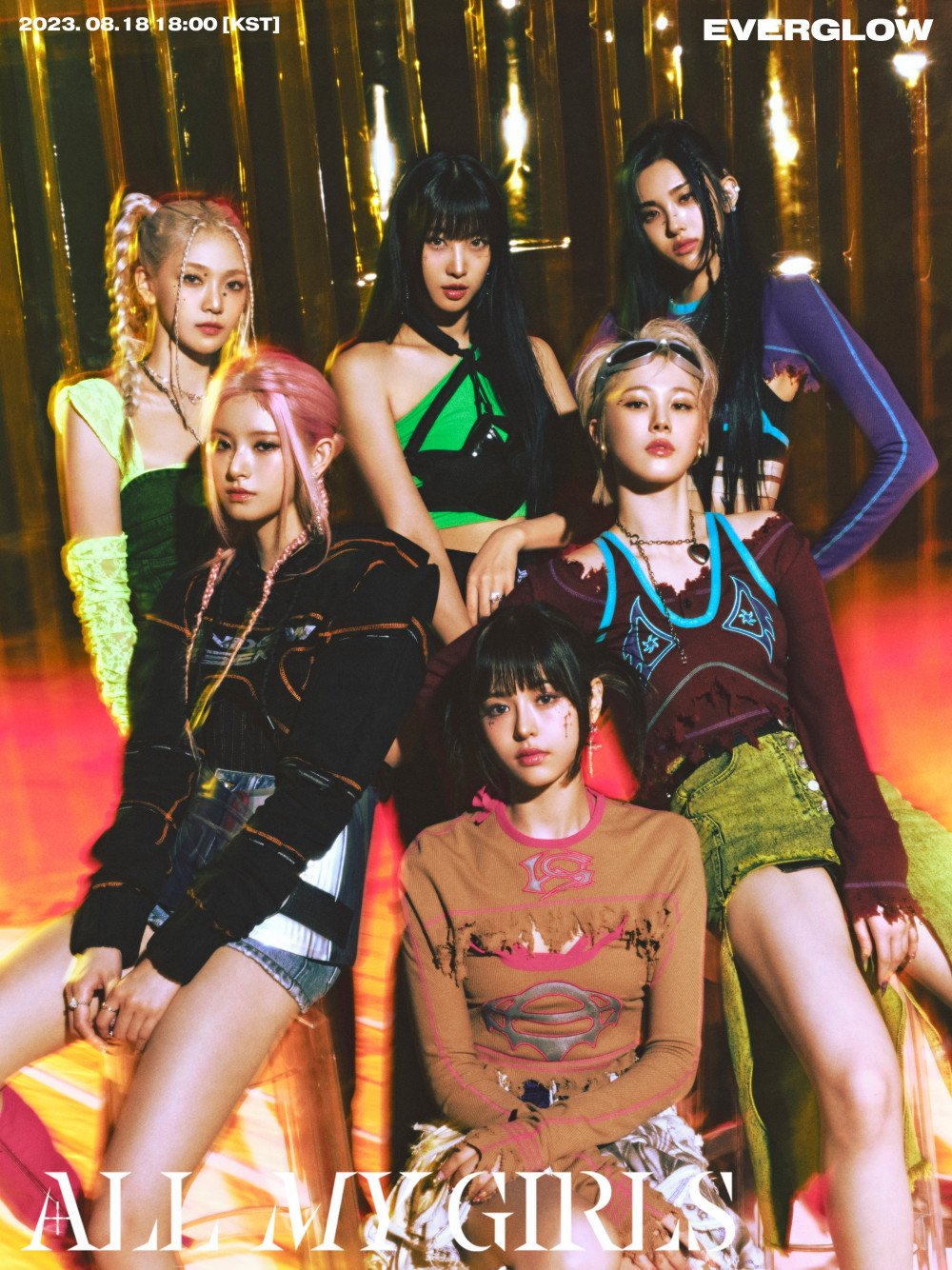 allkpop: Hi, EVERGLOW! It's such an honor to interview you about your return! First and foremost, it's been a while since you released new music, so congratulations on your comeback! Your past releases are all well-received by the public. Have you ever worried or felt the burden every time you drop new music, or you've been confident all the time that EVERGLOW will always "slay" every comeback?

E:U: First and foremost, I'd like to thank you for this interview! I must admit that it was something I didn't fully understand when we were consistently releasing albums, but there was indeed some pressure as we made a comeback after such a long hiatus. This comeback felt exceptionally significant for EVERGLOW, so we dedicated a lot of effort to it. Please support EVERGLOW so that we can "SLAY" even more than we do now.
YIREN: We have not made a comeback in such a long time, so we were very nervous and had a lot of thoughts going on in our heads. However, receiving all the support from our fans as we performed in front of them after such a long time really encouraged us and allowed us to perform with even more confidence and energy.
allkpop: Finally, after almost 2 years, you're back! You've always been known for powerful title tracks with girl-crush concepts. Now, it seems like "SLAY" is of the same concept. This kind of concept really suits you well — something like EVERGLOW owns already. Have you ever thought of wanting to change the concept, or is this EVERGLOW's brand that you never want to leave? At first, were you confident going with this concept, and do you have any music styles in mind you'd like to try in the future?

SIHYEON: Our goal is to maintain EVERGLOW's girl crush concept, which has become our identity as a group. From the moment we debuted with "Bon Bon Chocolat," we felt that this concept suited us perfectly, and we've been working tirelessly to enhance our skills with each comeback. If we were to explore a different concept in the future, I think it would be interesting to try something bright and dreamy.
MIA: I'd like to showcase a bright and refreshing side in some of our B-side tracks while maintaining our girl crush identity in our title tracks. When we first ventured into the girl crush concept, we were confident that no one could do it quite like EVERGLOW.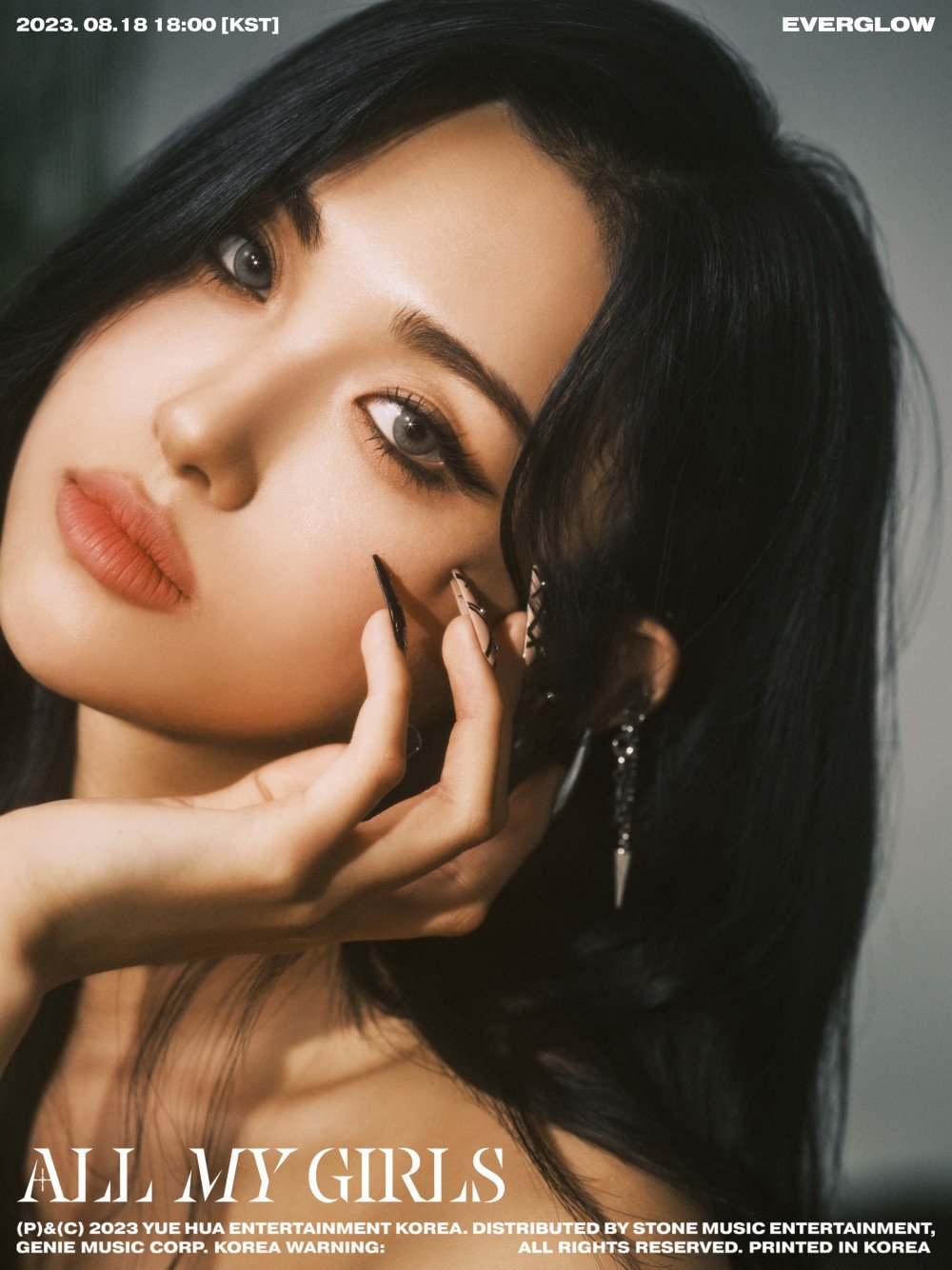 allkpop: Hearing only the name of the song and album already gives EVERGLOW vibes. The title song, "SLAY," is such a creative name and according to fans, it already sounds like your best title track. When you first heard the title of the song, after listening to the demo version and the whole album, what were your thoughts?

MIA: When I first heard the demo of this song, I had some doubts about whether we could pull it off. However, I also realized that we must choose this song for our comeback, so it motivated me to work even harder. Interestingly, there were other strong candidates for the title track, all of which were excellent. Still, I was very happy when this song was selected. I couldn't let FOREVERs down, so I poured all my passion into it. Seeing the completed album, I felt a sense of pride and hoped that the audience would enjoy it as much as I did.
ONDA: When I first heard the demo version, I immediately recognized that it had that distinctive EVERGLOW sound. It got me so excited that I wanted to start working on it right away. When I learned that this song was chosen as the title track, I thought, "This is the one!" When the album was finally completed, it felt like we were truly making a comeback, and I couldn't wait to share it with FOREVERs. I also thought that because it's a single album, I wished there were more songs included.
allkpop: Tell us more about the single album 'ALL MY GIRLS.' How would you define or describe this album, and what message do you want to deliver with the record? What is it that made these three different tracks perfect for 'ALL MY GIRLS'?

ONDA: The album 'ALL MY GIRLS' is a message from EVERGLOW to all the girls out there! With this album, we aim to send a message to those girls who may be feeling lost and confined by societal expectations and encourage them to be confident and true to themselves. Since this comeback marks a significant return for us, we wanted to showcase a variety of aspects of EVERGLOW, which is why we included three songs with different vibes.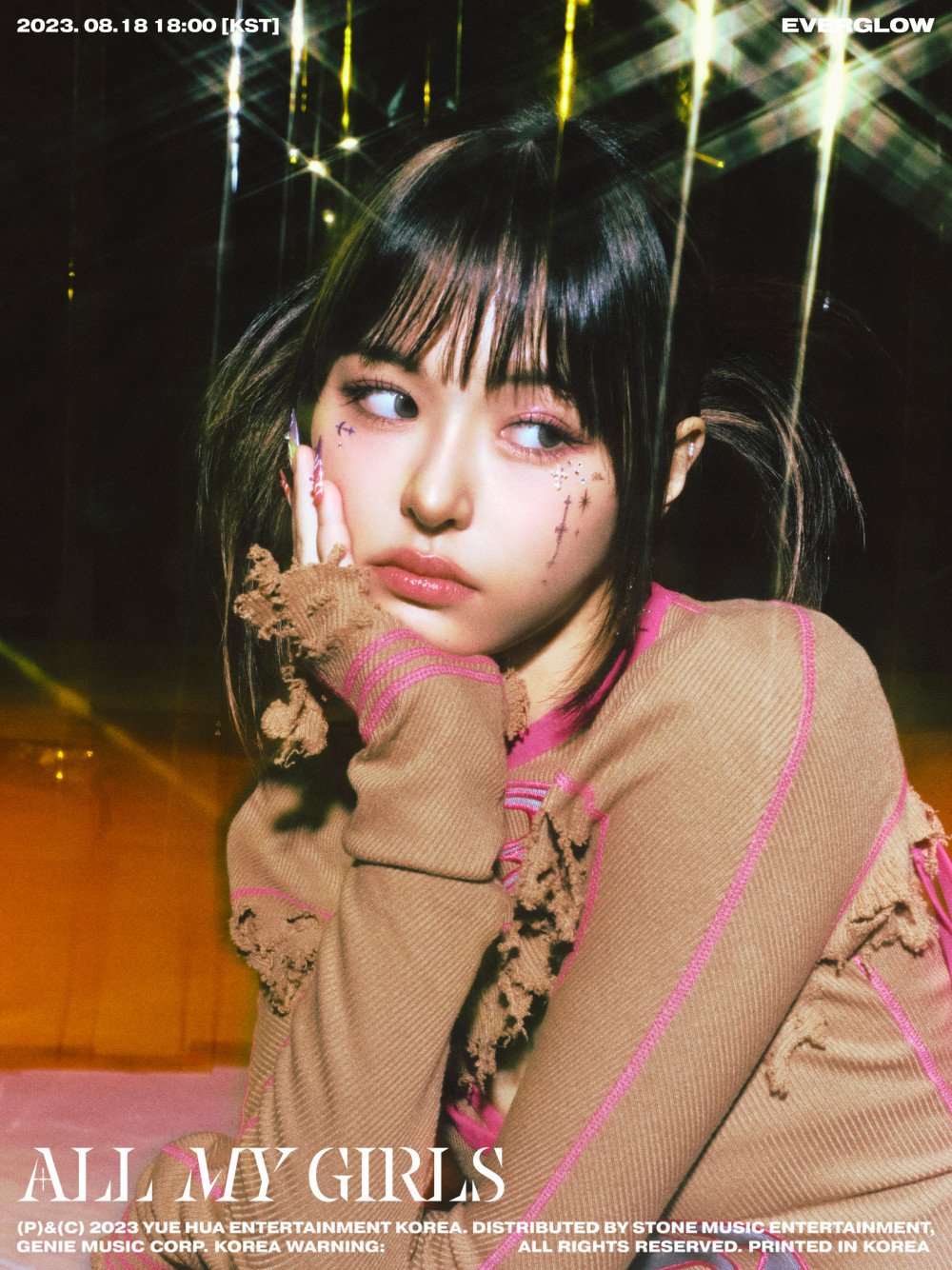 allkpop: Which song from the album is your favorite?

SIHYEON: "Oh Ma Ma God"
E:U: "SLAY"
AISHA: "SLAY"
YIREN: "Oh Ma Ma God"
MIA: "Oh Ma Ma God"
ONDA: "Oh Ma Ma God"
allkpop: E:U participated in writing the B-side track "Oh Ma Ma God." How was your experience working on it with the other writers and producers? Are you satisfied with how the song went?

E:U: I conceptualized the overall framework for the lyrics and wrote them. This song came together with the contributions of other lyricists and producers who filled in the missing parts along the way. I'm happy with how well "Oh Ma Ma God" turned out, and if the opportunity arises in the future, I would love to create my very own song from start to finish.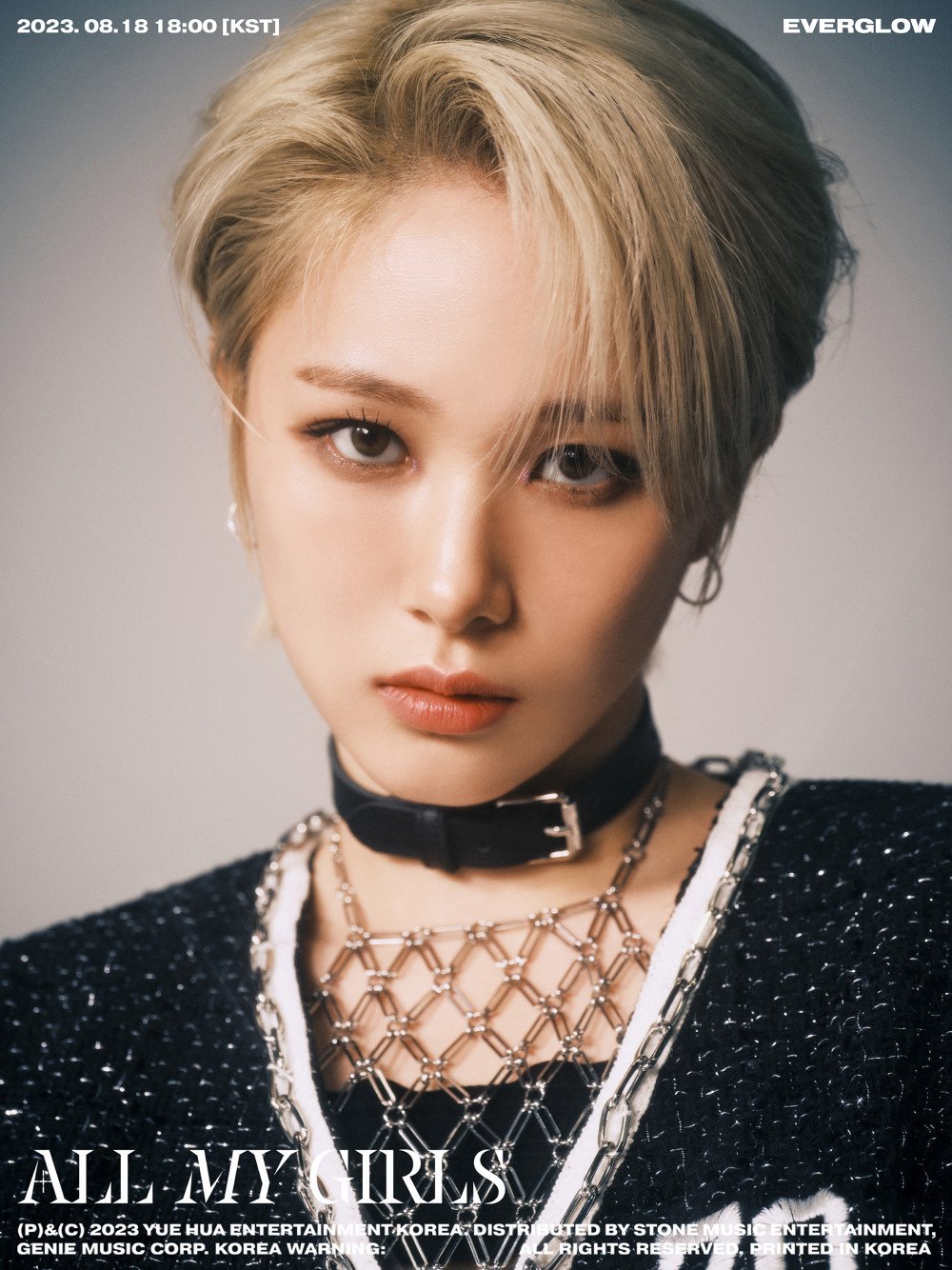 allkpop: EVERGLOW is known for such powerful title tracks, coupled with powerful choreography! I was wondering how everything went for this comeback. Did you have a difficult time "perfecting" the dance choreography? How long did it take you to master it?

AISHA: It actually only takes a day to learn the choreography. However, because the choreography had such a strong and distinct style, it was challenging to infuse it with the right feel and make it my own.
YIREN: For our title song "SLAY," it was crucial to not only master the choreography but also the facial expressions. We kept monitoring each other's expressions before the choreography was completed, and once the choreography was finalized, we practiced it every day, so it didn't take too long for us to fully master it.
allkpop: Most of EVERGLOW's tracks revolve around the message of self-empowerment and women empowerment. I wanted to ask how you empower yourself and the people around you, particularly women. What are your thoughts on breaking down barriers you deliver through music?

AISHA: I make a conscious effort to love and encourage myself. I firmly believe that self-love is a prerequisite for receiving love from others. The messages we convey through our music are actually things that we'd like to say to ourselves. We want to give strength to FOREVERs through our songs, sincerely hoping to help them progress and thrive.
YIREN: I frequently encourage people around me to be self-confident, acknowledge their achievements, and practice self-love. I believe that by focusing on self-awareness and self-acceptance, one can grow a greater love for themselves and radiate positive energy to others.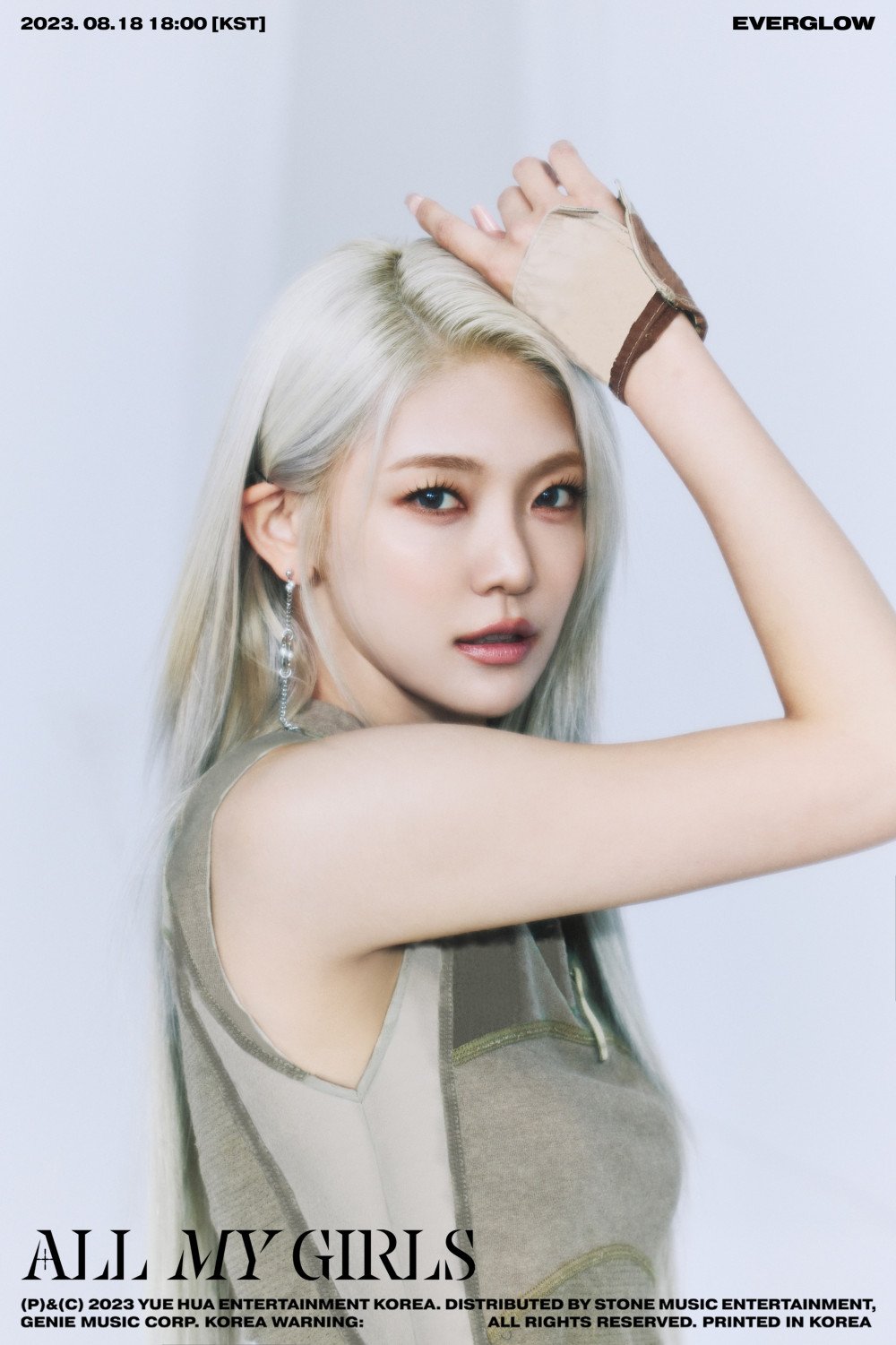 allkpop: With the nearly 2-year break, what are the things you did to maybe prepare for this moment and show improvements compared to your past comebacks? How did you spend the time in between? Did you spend the break practicing and preparing for your next return, or were you able to at least relax and enjoy yourself a little bit?

E:U: I wanted to show a side of myself that people have never seen before, so I researched things that would suit me the best. My focus was on perfecting facial expressions and gestures, which I practiced really hard. I'm glad that I was able to show that to the audience. I also want to emphasize the importance of taking breaks and allowing myself time to rejuvenate. I personally think that taking adequate rest is crucial for personal development.
SIHYEON: Throughout the hiatus, I went to the practice room almost daily to practice and monitor myself, so that I could present a fresh and improved version of myself to the fans who are waiting for our next comeback. During moments when I get exhausted, I would give myself breaks to recharge, often spending quality time with my cat and dog.
allkpop: Aside from female empowerment, your music also tackles self-love. What do you love most about yourself? What's something that you can share about self-confidence that you can pass on to people for them to be confident and feel empowered as well, especially your fans?

SIHYEON: One of the things I like the most about myself is that I'm honest with myself. I've made a conscious effort to forge a closer relationship with my inner self. I frequently engage in self-talk, offering motivation, comfort, and recognition of my circumstances. This practice has allowed me to accept myself for who I am and maintain my self-esteem. I want to send this message to my fans, that they are their own lifelong friends in this world!
ONDA: We love ourselves when we always give our best and enjoy the performance, regardless of whether it's a dance practice, on stage, times of injuries or troubles. I think this is achievable because we have faith in ourselves. Therefore, I want to send the message to people, including our fans, on the importance of believing in what they are doing or the choices they make and persevering. Regardless of the outcome, remember that you are valuable, so have faith in your decisions and actions.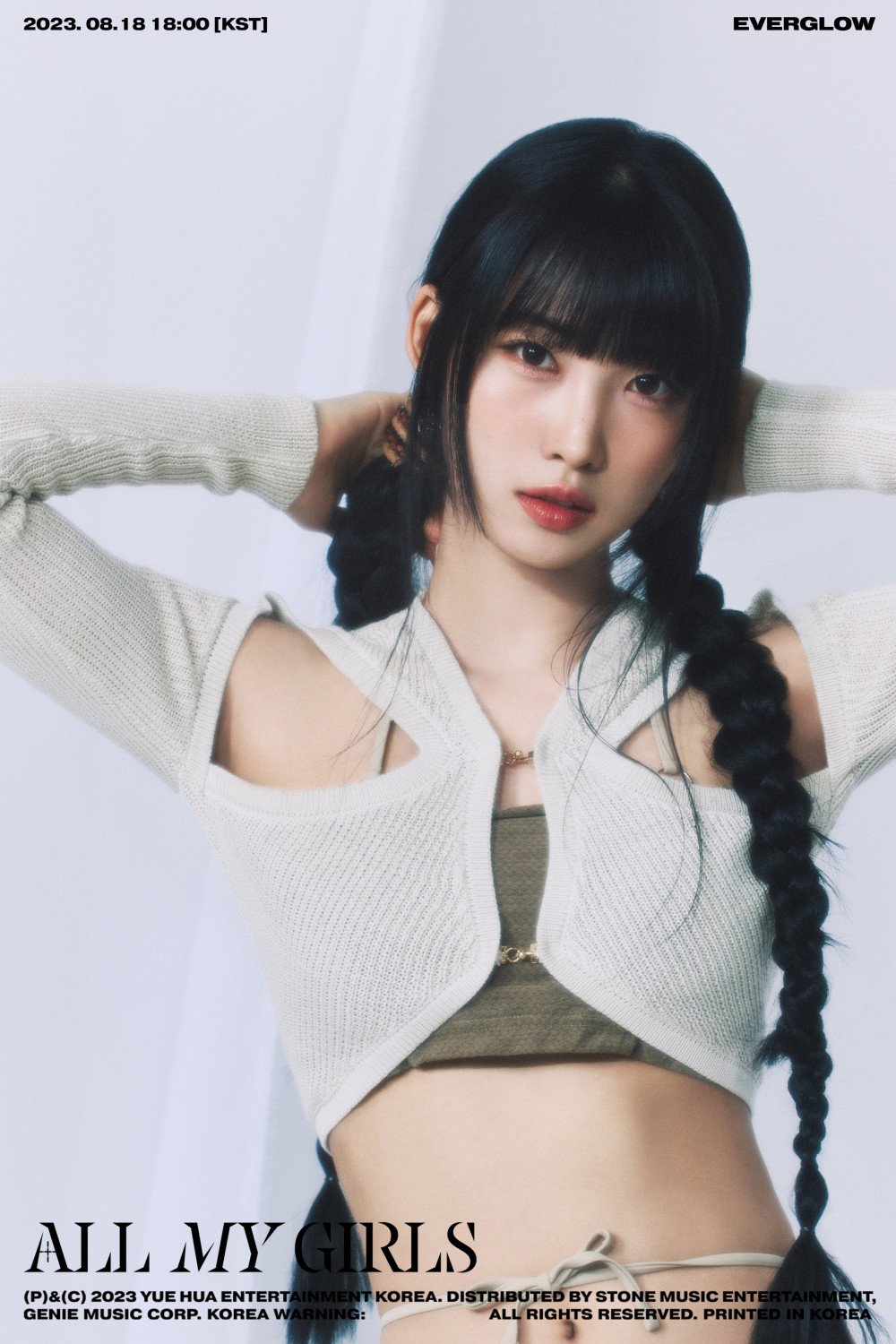 allkpop: In an interview, you said that your performance is one of the most important keys to your success. Speaking of performances, your fans, FOREVERs, have been waiting to see you perform on stage! Do you have any plans to meet your fans in different countries in person, perhaps on your highly-anticipated world tour?

MIA: We are planning to go on a U.S. tour, starting this November. With this as a start, I would love to meet more of our fans when the opportunity arises!
ONDA: First and foremost, we have our U.S. tour scheduled for November! We're eager to travel and meet with FOREVERs wherever they are, and perform for them! If the opportunity arises, I would absolutely love to embark on a world tour.
allkpop: Time flies so fast. Next year will mark your 5th anniversary! How would you describe this rollercoaster journey of yours in the K-Pop industry so far? What changes, improvements, or growth have you seen in each other during this journey?

AISHA: I've actually become a bit more composed. I believe our team, EVERGLOW, has solidified its identity as a unique genre, so I'm excited to present even more of our music in the future. Our members have also been dedicating a lot of time to personal care, for both inner self and outer looks, and it feels like we've grown together. We're eager to see what the future has in store for us.
YIREN: Until now, I believe EVERGLOW has consistently conveyed the concept of confidence and fearlessness, and I hope that many people will find strength through listening to our songs. I think the members have truly grown since our debut, and our teamwork has improved. We also value each other more now compared to when we first debuted.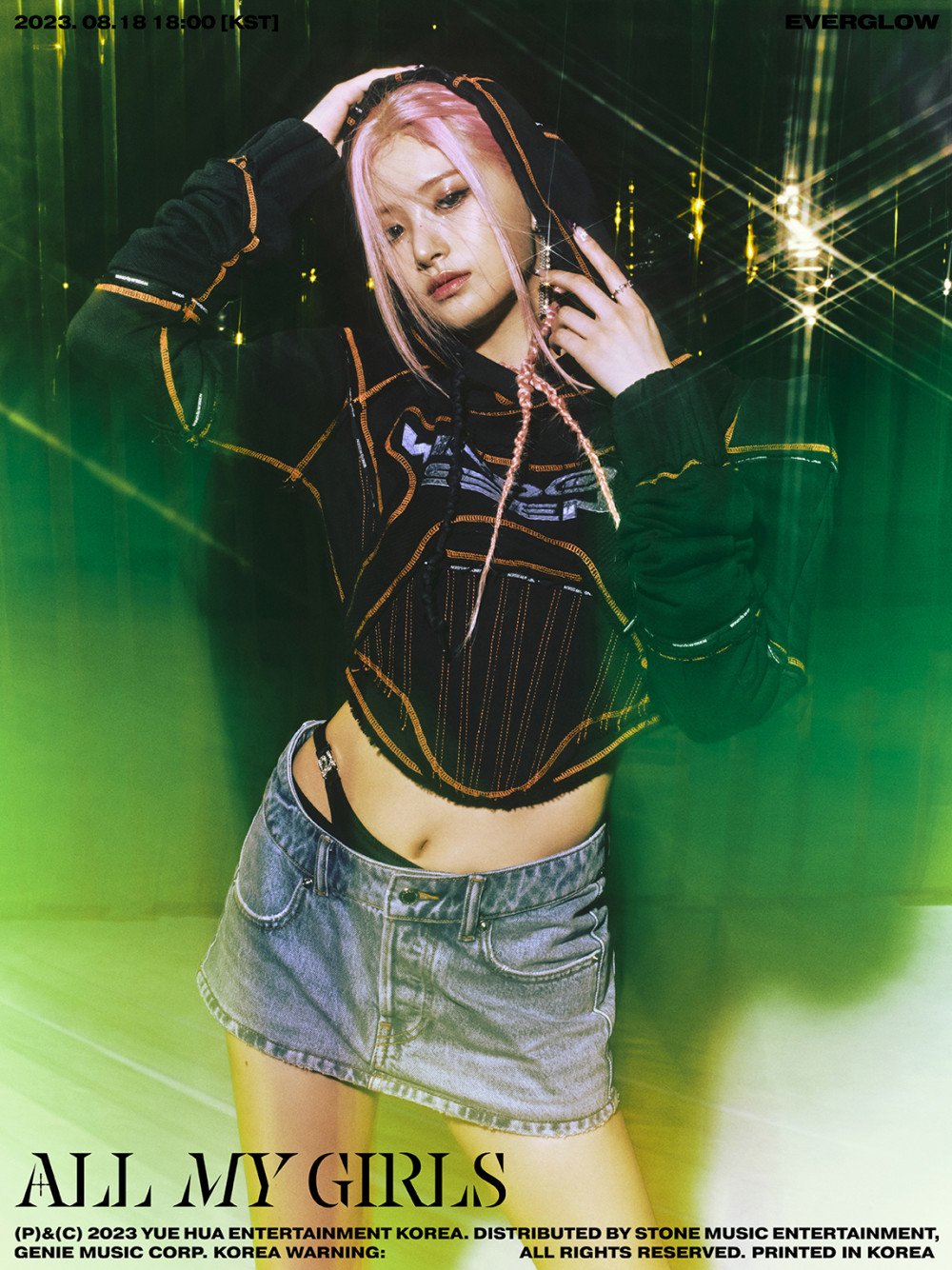 allkpop: After almost 2 years of hiatus, you came back with a single album. Many of your fans are anticipating either a mini- or full-length album. Is there anything all of us should expect from EVERGLOW in the future, perhaps a full album?

SIHYEON: I really, really want to release a full-length album! With the continuous love and support from FOREVERs, I believe we can have discussions with our company to make it happen. Until then, EVERGLOW will continue to work hard.
MIA: We all are eager to release a full-length album. We will strive to present more amazing albums and concepts through discussions with our company, so please stay tuned.
allkpop: To wrap up this interview, do you have anything else to say to allkpop readers and FOREVERs all around the world who are going to read this story?

E:U: EVERGLOW is always by FOREVERs' side, and I hope everything comes up roses for us and FOREVERs. I love you so much!
AISHA: To all readers of allkpop, thank you for your love and support for EVERGLOW. Just as you have loved the music that we have presented to you so far, I hope you will love the future EVERGLOW even more. EVERGLOW will keep moving forward until the day we can meet all FOREVERs around the world. Thank you!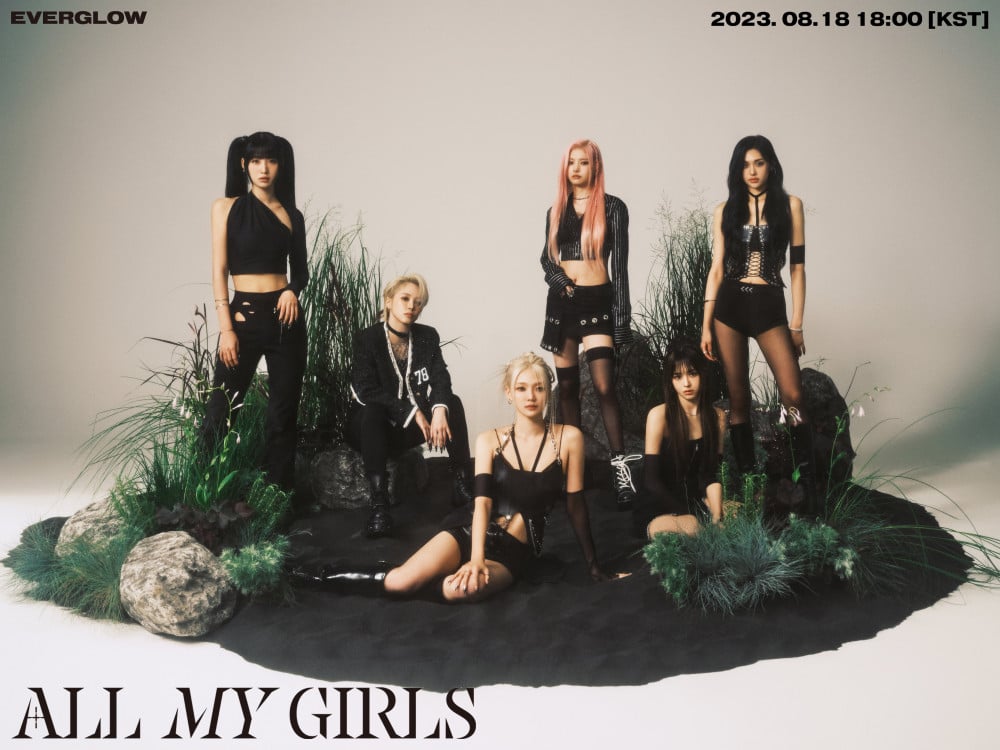 Socials:
Twitter: everglow_twt
Instagram: official_everglow
YouTube: EVERGLOW
TikTok: everglowofficial
Twitch: everglow_official
Weverse: EVERGLOW