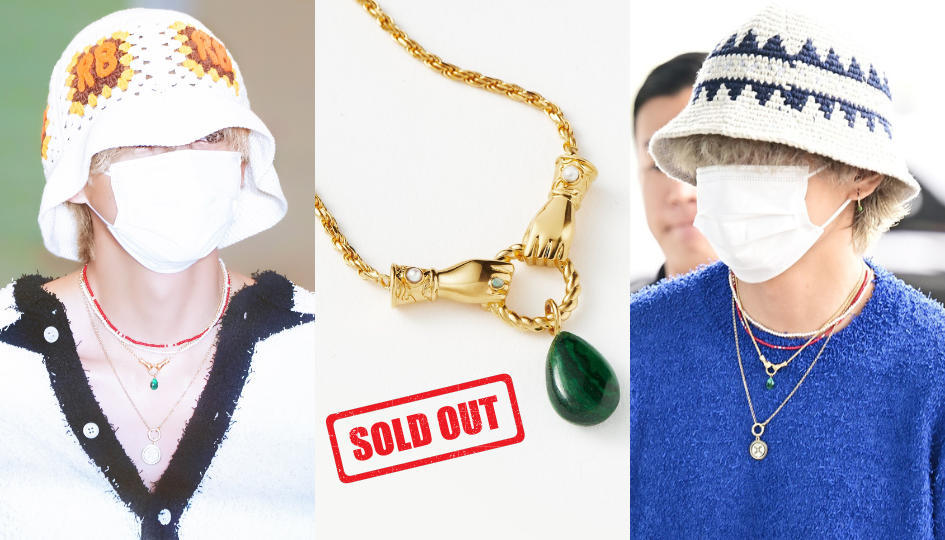 Kim Taehyung, also known as V of BTS, is known to have the Midas touch, and whatever he wears sells out in no time. Another fashion designer has recently experienced the "V Effect" firsthand.

In the past two weeks, Taehyung has been spotted twice at the airport while traveling to and from Madrid, Spain for a filming schedule for a mystery project.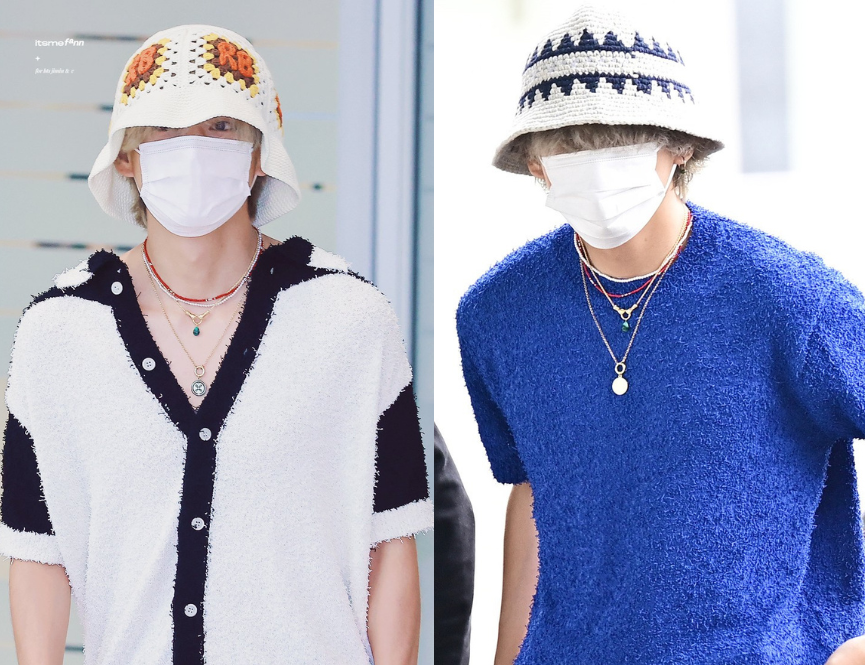 On both occasions, Taehyung wore the green "In good hands" pendant necklace by Harris Reed x Missoma, which retails for $256.

Harris Reed is the youngest creative director of the French fashion house Nina Ricci. The collaboration between Harris Reed and Missoma is a landmark moment in their fight for gender fluidity.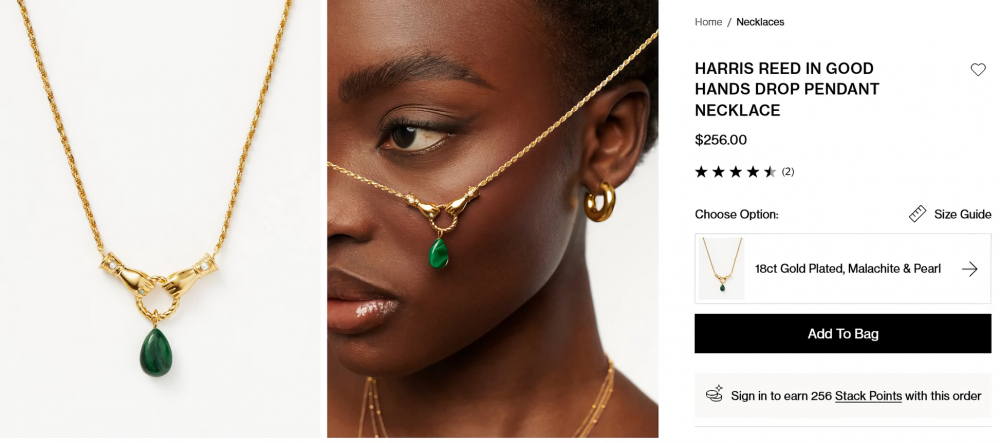 After learning that Taehyung had worn his product, Harris Reed made several posts on Instagram sharing Taehyung's photos and linking to their store. Fans who wanted the item quickly rushed to make purchases, and the green pendant sold out globally in less than 10 minutes.

"Insane! Sold out globally in less than 10 minutes," Reed posted in surprise. "Only a few left in other colors."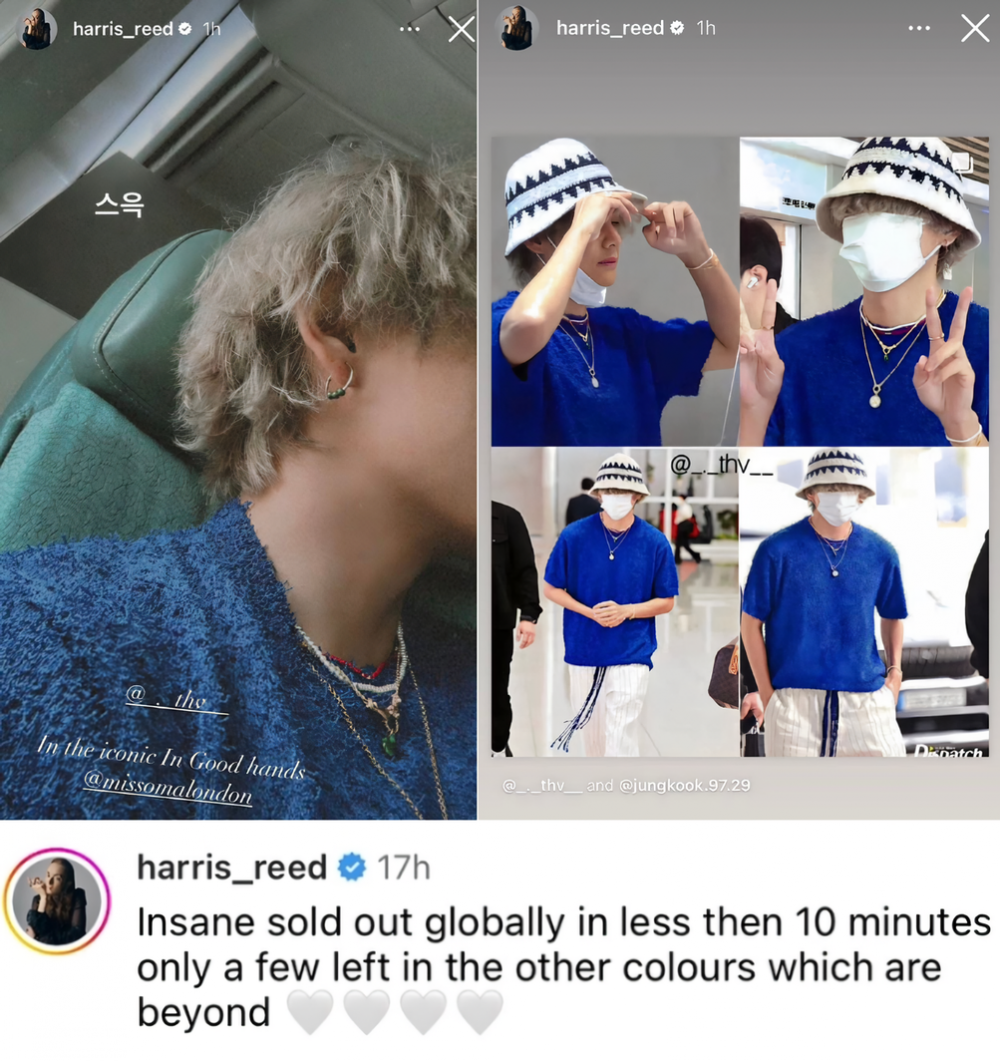 Harris Reed also revealed that the "In good hands" drop pendant necklace sold out for the second time after they restocked it on their website, proving Taehyung's massive influence.
It's not the first time fashion designers have spoken out about the positive impact Taehyung has had on their sales after he wore their brands.

When BTS released their hit song "Butter," Taehyung's stunning teaser photo went viral on social media, causing huge interest in the Ruslan Baginskiy hat he wore.

Ukrainian designer Ruslan Baginskiy posted on their Instagram story that the $340 Straw Boater Hat Taehyung wore had sold out on all global stores within 30 hours.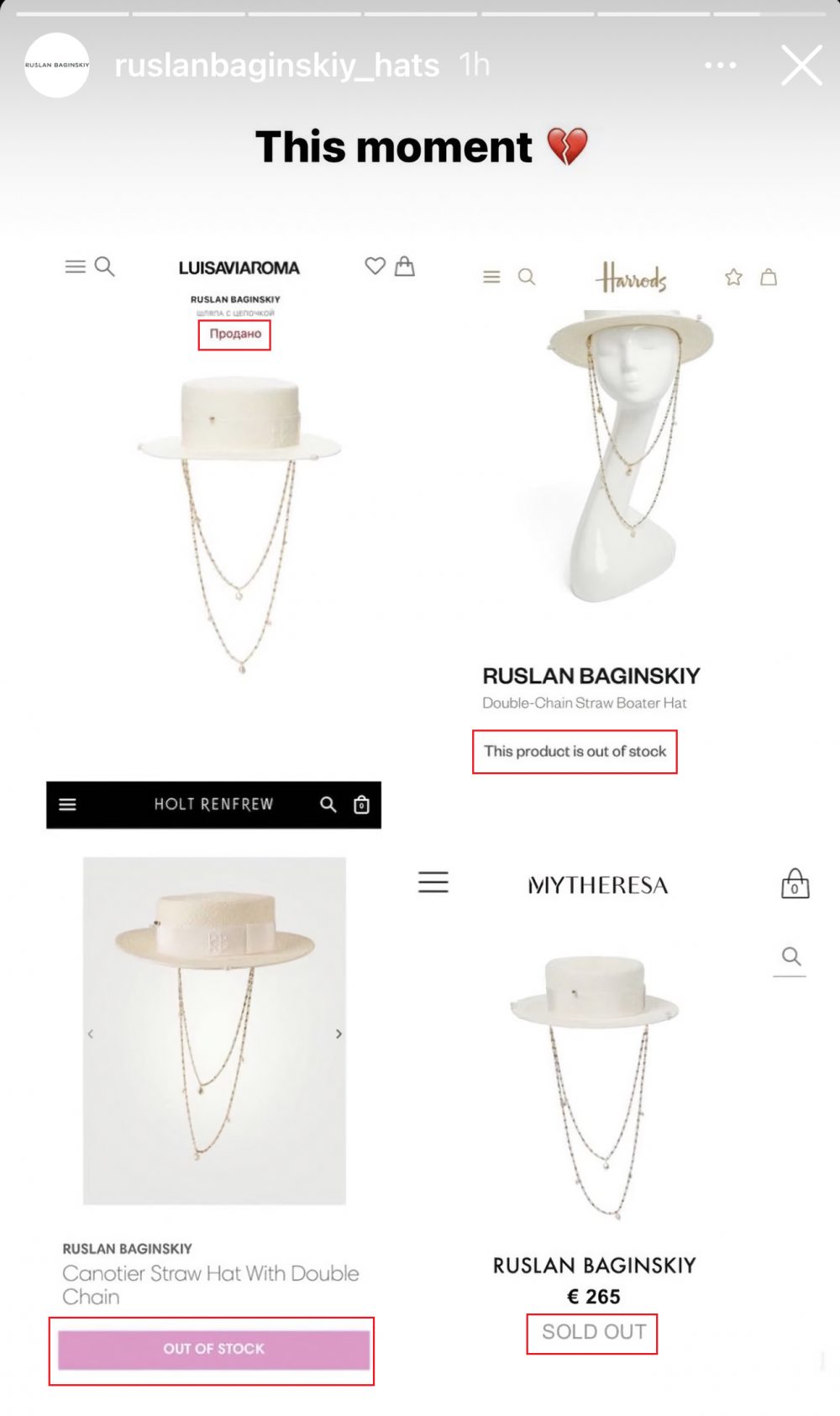 He later spoke to InStyle magazine about the surge in sales that his brand experienced due to Taehyung's influence.

"We were speechless, because in one moment our Instagram blew up. We realized what happened in one second thanks to all the comments from ARMY (BTS fans) members," he said.
The "V Effect" is a testament to Taehyung's star power and influence on fashion. He is a trendsetter who is not afraid to experiment with his style.
The clothes and brands he wears are always a subject of discussion among fashion enthusiasts and his style has been praised by critics and fashion publications for many years.