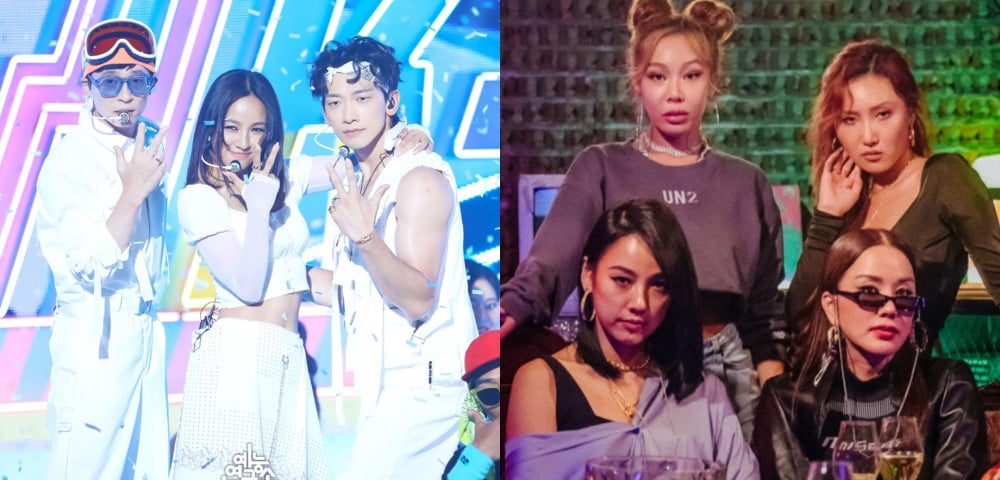 While survival programs are a well-known source of K-pop talent, South Korean variety shows have also formed some popular groups. Variety shows are a very popular form of entertainment in South Korea. Groups created as a result of such shows quickly gain popularity among netizens.
Here, we will look at some of the groups formed through variety shows.
1. GIRLS NEXT DOOR

Girls Next Door was a project girl group that was created in 2017 as a result of the KBS variety show "Idol Drama Operation Team." The group was composed of seven members, each hailing from various renowned girl groups. The show was created to bring these seven artists together and make a drama. The group officially formed ten days after the drama's conclusion, and they debuted with the single "Deep Blue Eyes," which also ended up being their last.
2. SSAK3

SSAK3 was a seasonal project group that was formed through the variety show "Hangout With You." Three famous figures from the South Korean entertainment industry, Lee Hyori, Rain, and Yoo Jae Suk, who went by the stage names Linda G, B.Ryong, and U-Doragon, came together and formed this co-ed group, which made its debut in 2020. The group released their debut single, "Beach Again," on July 18, 2020, and was active until August 15 of the same year.
3. REFUND SISTERS
Refund Sisters is a popular K-pop supergroup consisting of four veteran singers: Lee Hyori, Uhm Jung Hwa, Jessi, and Hwasa. The group was formed in 2020 through the MBC variety show "Hangout with Yoo" and gained widespread popularity with their debut single "Don't Touch Me." Their unique blend of personalities and musical backgrounds creates a dynamic and energetic performance that captivates audiences.
4. MSG WANNABE
MSG Wannabe is a project boy group comprised of eight members that made their debut in 2021. The group was formed through MBC's variety show "Hangout with Yoo," also known as "How Do You Play?" The group takes its name from the iconic male vocal group, SG Wannabe. Remarkably, on February 11, 2023, the sub-group of MSG Wannabe, known as M.O.M., made their comeback after a year-long hiatus with the new track, "Confessing My Love."
5. WSG WANNABE
WSG Wannabe is a twelve-member South Korean project girl group that was formed through the popular MBC variety program "Hangout with Yoo." The group made their debut last year, releasing "WSG Wannabe 1st Album" on July 9, 2022. The group was named after their male predecessors from the same show, MSG Wannabe. Furthermore, the sub-unit of the group, Gaya-G, is set to return to the music industry on March 17, 2023, after an eight-month hiatus.
In conclusion, variety shows have been instrumental in forming some of the most popular and successful K-pop groups.