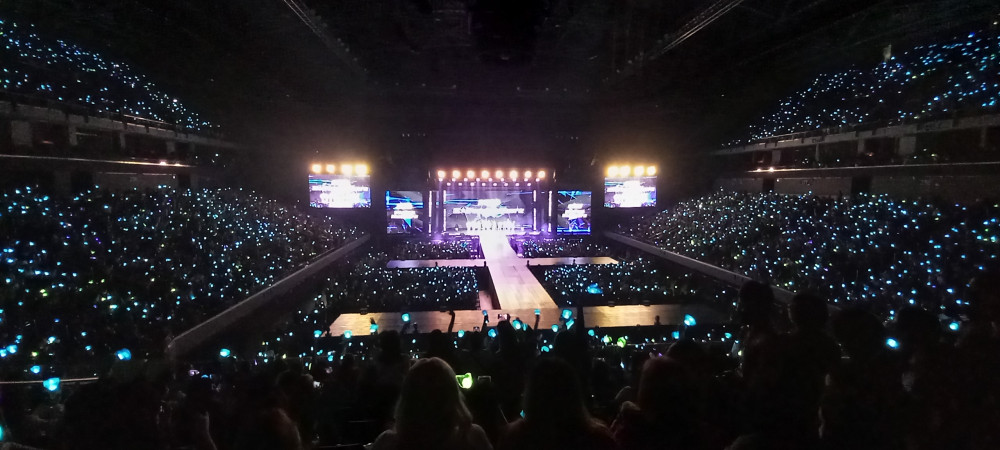 On July 29, an event for which TREASURE and GOT7 fans had been waiting finally came to fruition. With a 15,000 seating capacity, hundreds of thousands of fans flock to the SM Mall of Asia (MOA) Arena to see all of the artists perform live. Organized by PULP Live World,'2022 K-Pop Masterz in Manila' featured a star-studded lineup, from the hottest and promising fourth-generation boy group, TREASURE, to members of the world-class boy band GOT7, BamBam, and Jackson Wang — the audience was ecstatic to finally see their favorites perform on stage in front of them.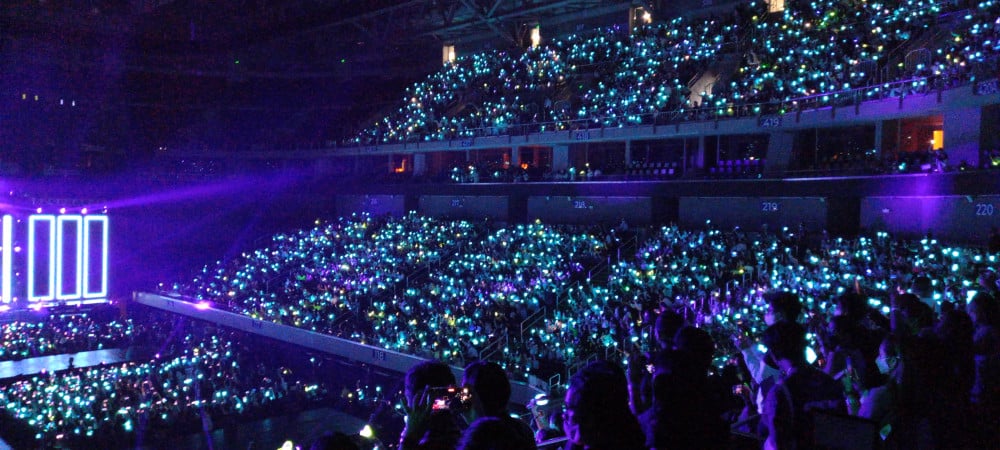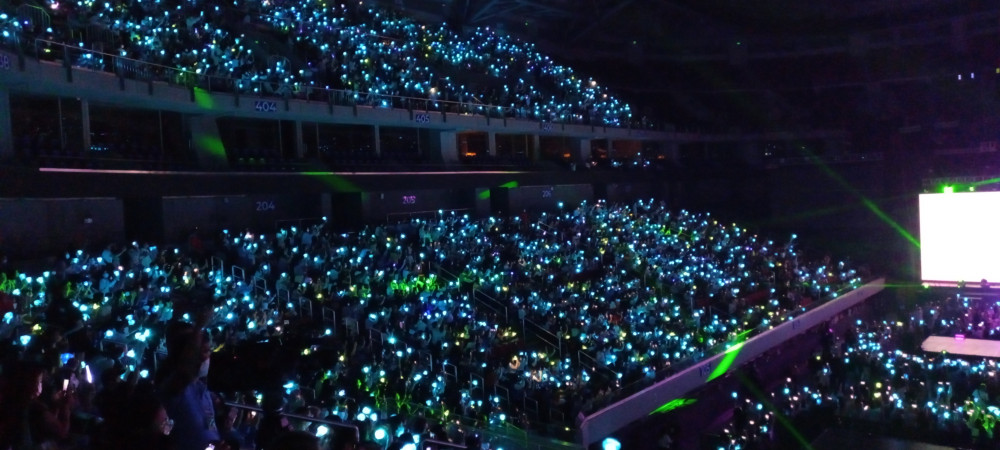 This was a special event for TREASURE as 'K-Pop Masterz in Manila' is their very first overseas concert, but only ten members of the group, Hyunsuk, Jihoon, Yoshi, Junkyu, Jaehyuk, Asahi, Doyoung, Haruto, Jeongwoo, and Junghwan, headed to Manila to perform, as Mashiho and Yedam are currently in hiatus from group activities until the end of the year.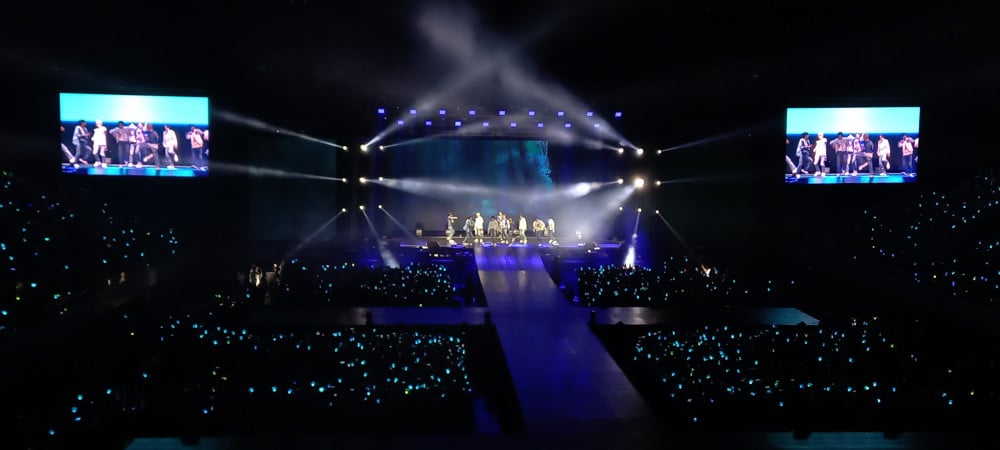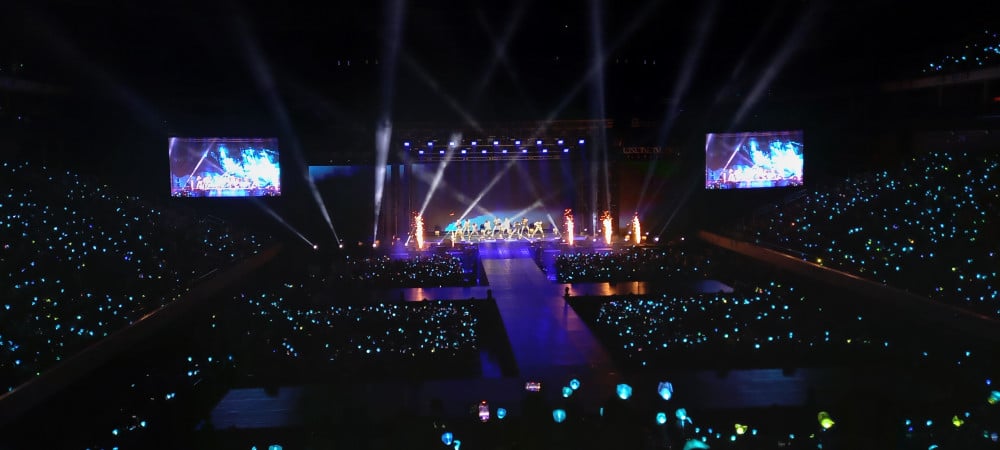 Clad in eye-pleasing classy jeans outfits, TREASURE first took the stage with "JIKJIN," the title track from their latest mini-album 'THE SECOND STEP : CHAPTER ONE,' where they rocked the stage and went straight into the hearts of the audience. The boys then performed "I LOVE YOU," which, combined with their limitless energy and dominant dance moves, had the audience pumped up to the max.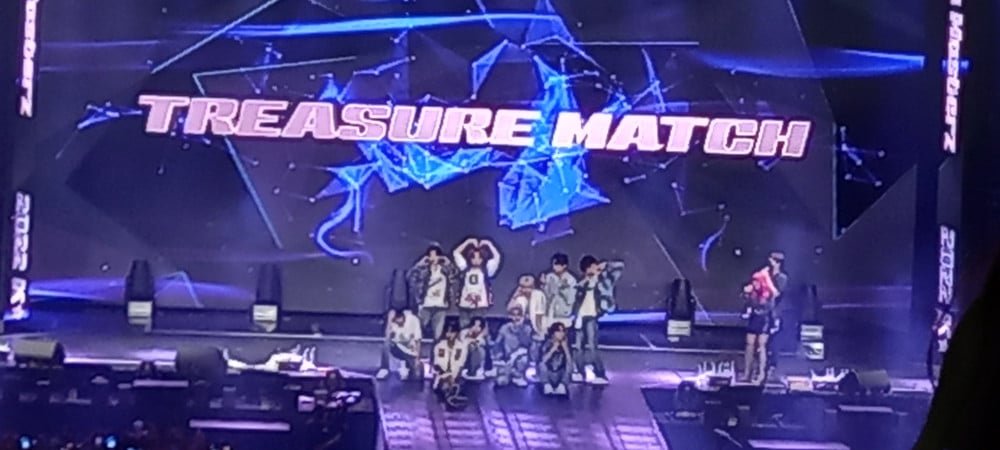 Following their two incredible performances, TREASURE introduced themselves one by one, with fans screaming their hearts out as each member said their name. Last week (July 23), Jaehyuk celebrated his 21st birthday (international age). Though it was too late to greet him, fans still sang "Happy Birthday" to him to make the day even more special. An arena full of their fans wishing him a happy birthday was a mesmerizing moment for everyone, especially Jaehyuk, who said, "I'm very, very happy that I was greeted by Teume (TREASURE's fandom name). Thank you so much, everyone. Mahal kita (I love you)!"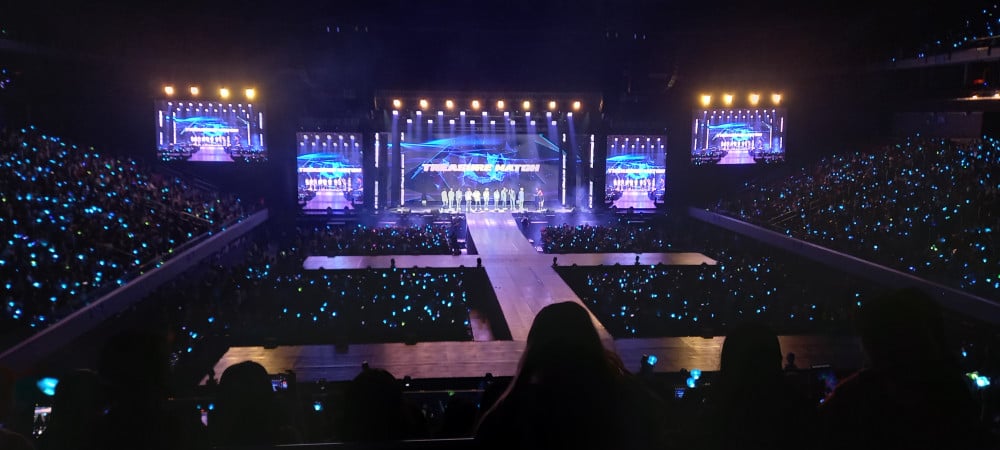 TREASURE shared their gratitude for all their fans who waited for them and promised that they will come back soon, "First of all, thank you so much. Actually, there were a lot of Filipino fans watching our V Live, so we talked about [coming here] ourselves, TREASURE, and hope to come here and meet our fans in the Philippines. And, finally, we're here," the group relayed.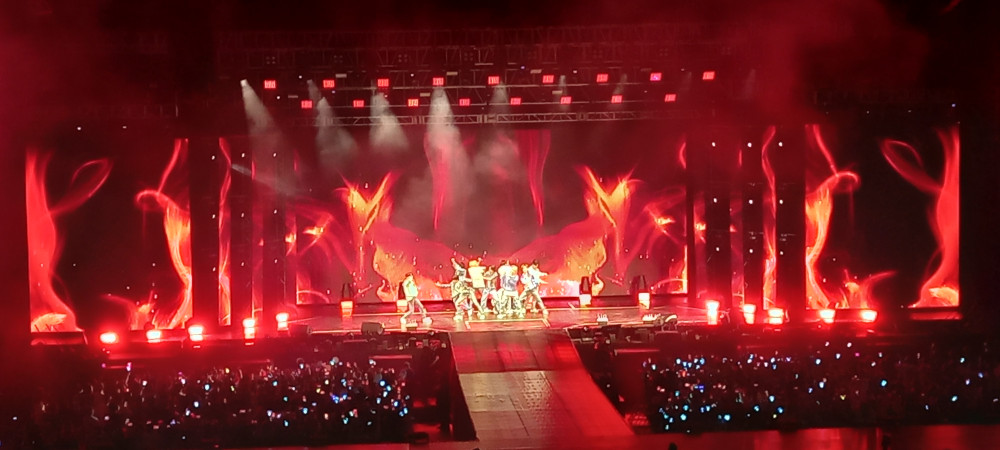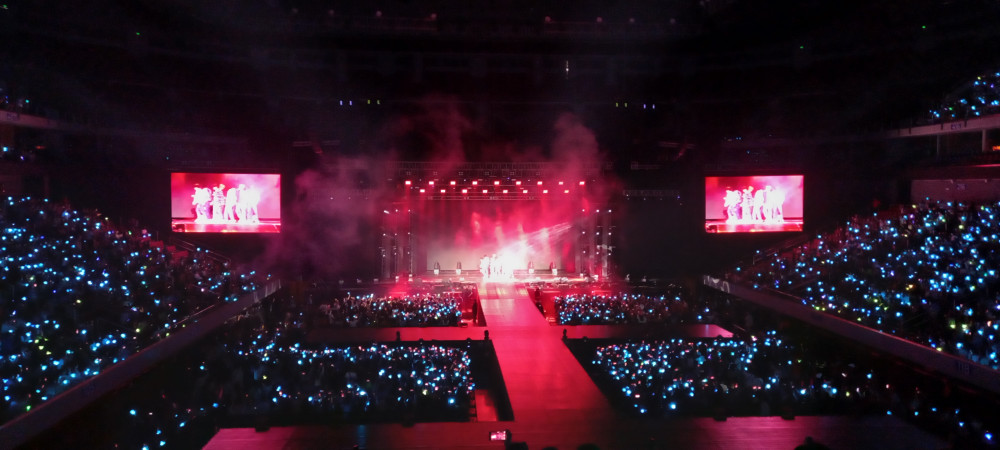 Following the segment, TREASURE continued to captivate a sea of fans with the performance of "MY TREASURE." The show even elevated to the next level as Jihoon effortlessly belted the song's high note. The boy band got playful on stage, performing "MMM," dancing in perfect synchrony and harmony.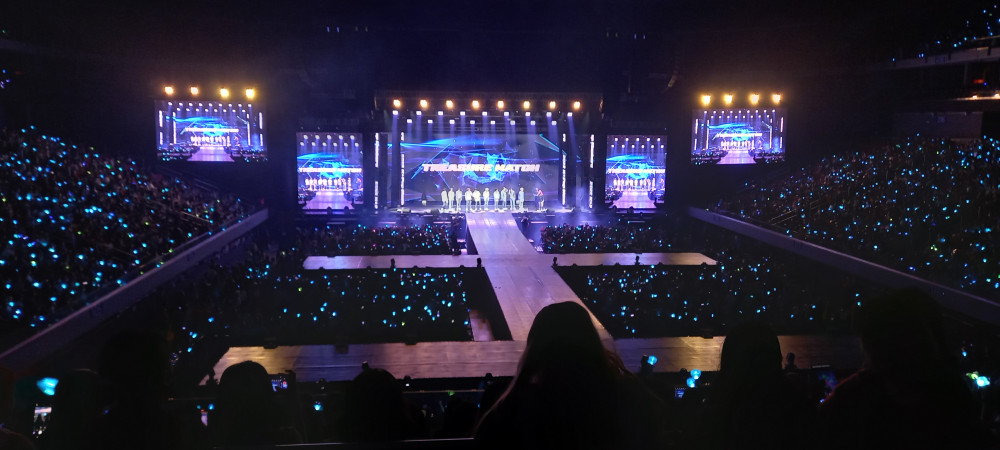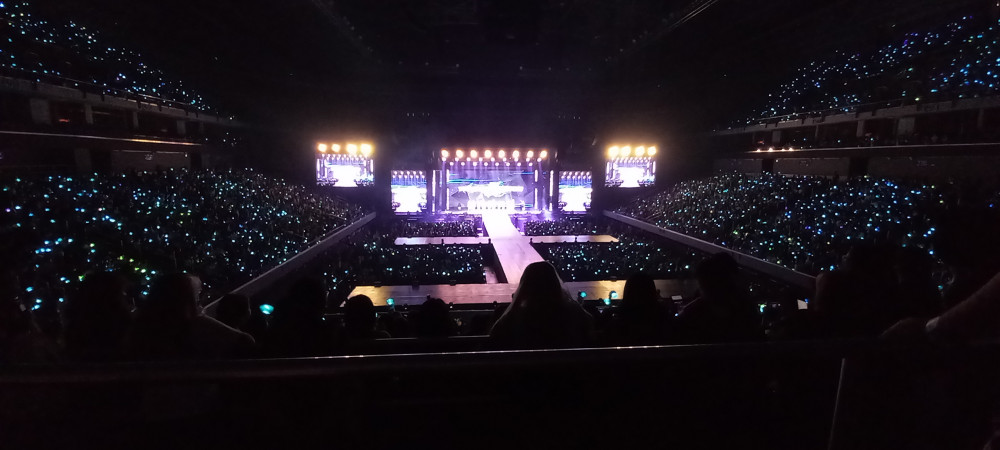 TREASURE returned to the stage after playing games to perform the final songs. The group's performance of "BOY," which began with a compelling electro beat and a forthright melody, had the audience hyped with the song's catchy beat drops. TREASURE closed out the set with the remix version of their viral song "DARARI," showcasing their serene vocals as they sang the catchy melodies, attracting fans and non-fans alike and getting them to sing along with the beat.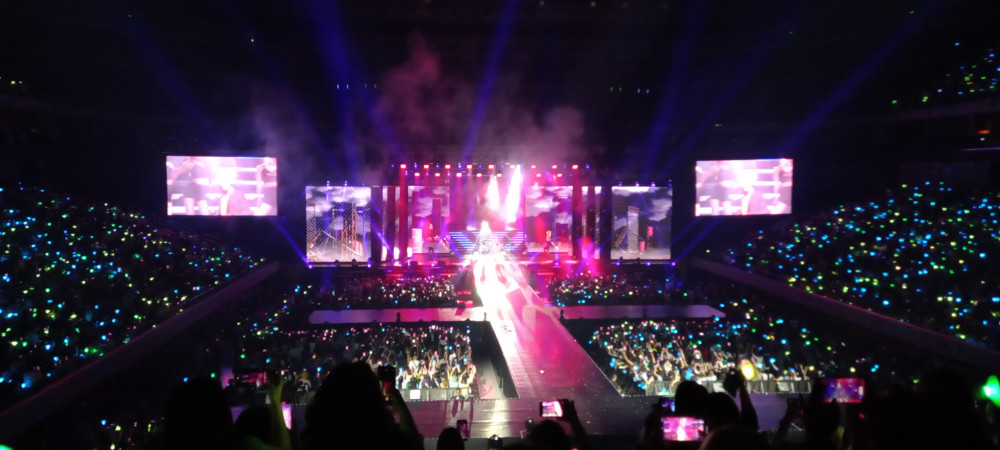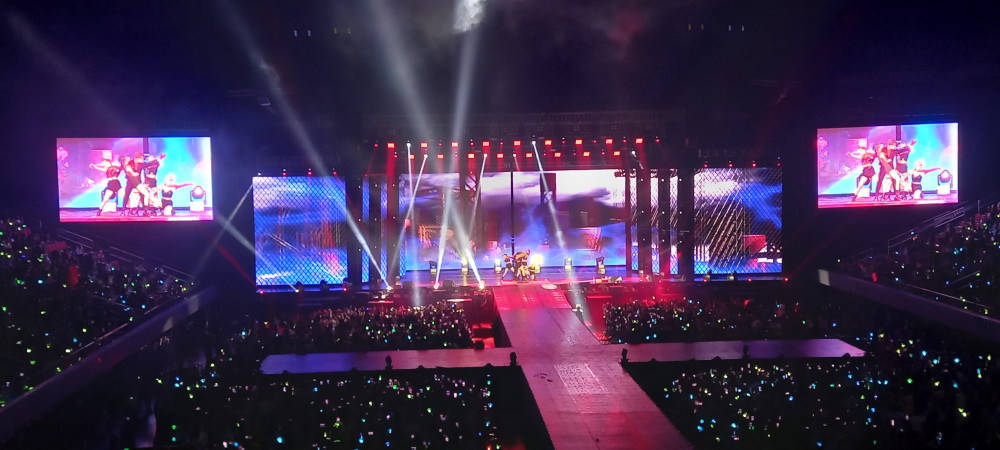 Dressed in a glittery all-black ensemble, BamBam lit the stage up next. The idol first performed his collaboration single "Wheels Up (featuring Mayzin)" with his backup dancers, showing off his fancy moves and his unprecedented vocals. Following that is his graceful performance of the pop-rock track "Ride or Die," which continues the bang he began with. BamBam then performed the youthful and springy track "Look so fine," with his relaxing voice filling the entire venue with thrill and chill.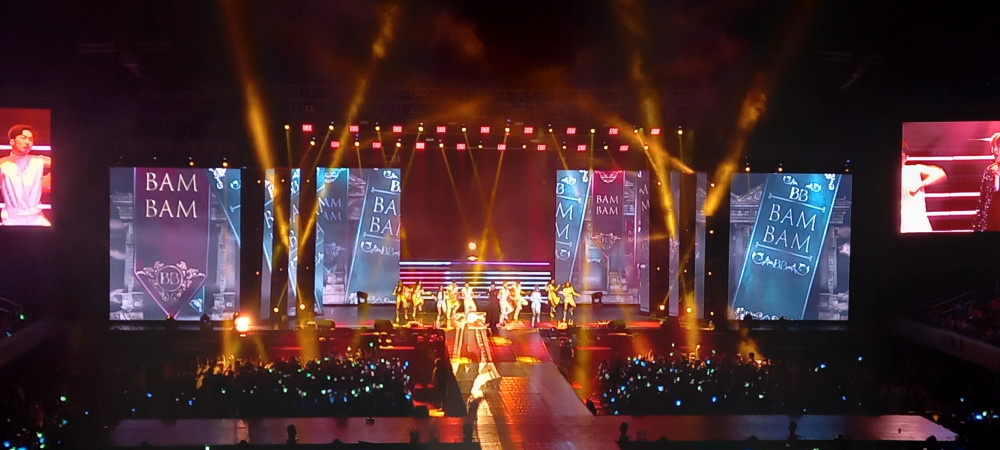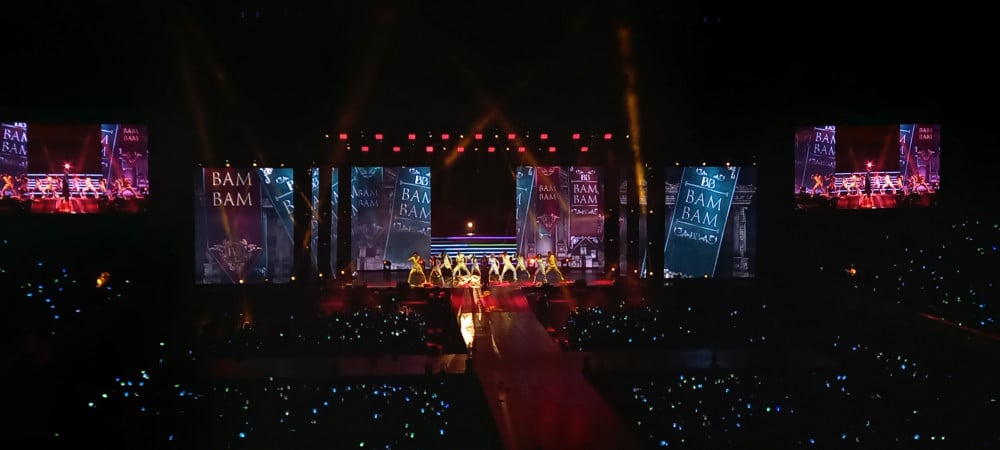 Before continuing with his set, BamBam stated that he would like to visit the Manila Night Market. He also made the audience chant the iconic signature "skrrt skrrt." Following the short segment, BamBam played a "Yes or No" game in which he was asked what he would do if he won the lottery. BamBam stated that he will not spend it on travel first but rather on the construction of a night market called "BamBam Shot Puno." The idol also said "I Love You" in six different languages, including Korean, Japanese, Chinese, English, Thai, and Tagalog. BamBam also shared that his favorite home appliance is the aircon. He relayed that his favorite nickname is "Baby BamBam," but that his current nickname is "Bangus (milkfish)," which elicited laughter from the audience. When asked if he'd like to be born again, but with a different face, BamBam replied, "I'm not trying to be someone else. I'm happy [with myself]."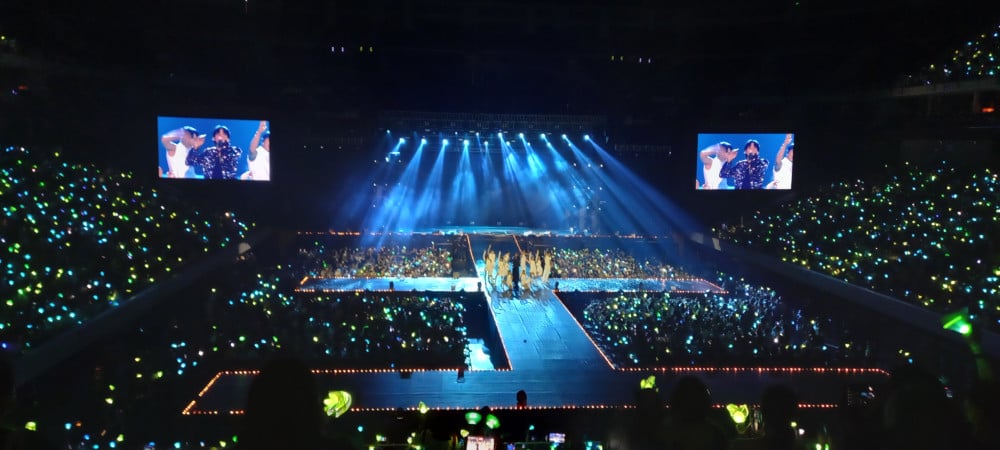 BamBam explained the story behind the next song, and he promised to perform it live in front of his Filipino fans again. He then serenaded the audience with the ballad Tagalog song "Ngiti," which he first performed in 2015 at GOT7's first fan meeting in the country, earning the loudest cheer from the audience. Filipino fans were over the moon with his sweet, heartfelt vocal prowess as he sang the feel-good track.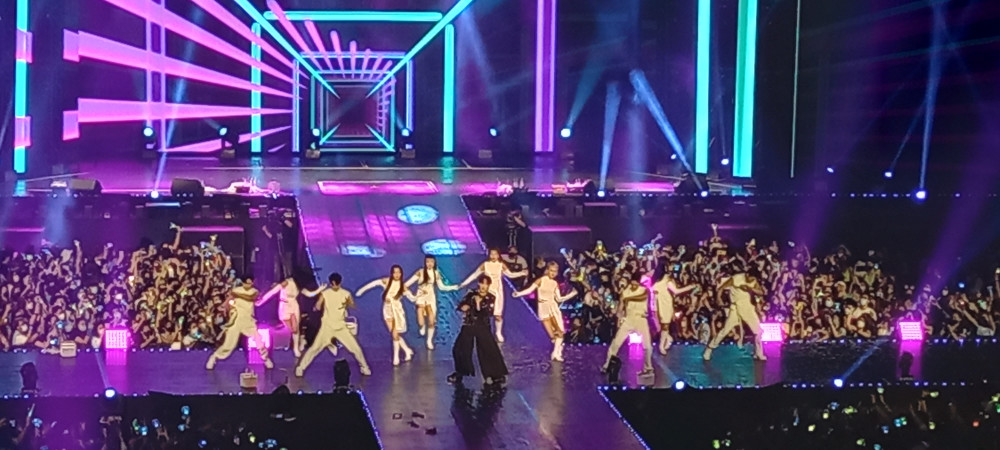 Next, BamBam squared off in a striking "Who Are You (featuring Seulgi of Red Velvet)" performance with a female dancer, showcasing his smooth, fancy moves, as well as his soft and raspy vocals. He then gave a hypnotizing and intriguing performance of "Pandora."
During his run, the crowd had no idea that BamBam had a surprise for them in the form of his female friend, who is a member of the world-renowned K-Pop girl group, Sandara Park (Dara), who flew out to the Philippines just to watch the show and support them. BamBam then called up his friend and sister 2NE1's Sandara to the stage, surprising the audience with her unexpected appearance. She was surprised when BamBam asked her to sing on stage. Sandara performed an acoustic rendition of her group's hit single "I Don't Care."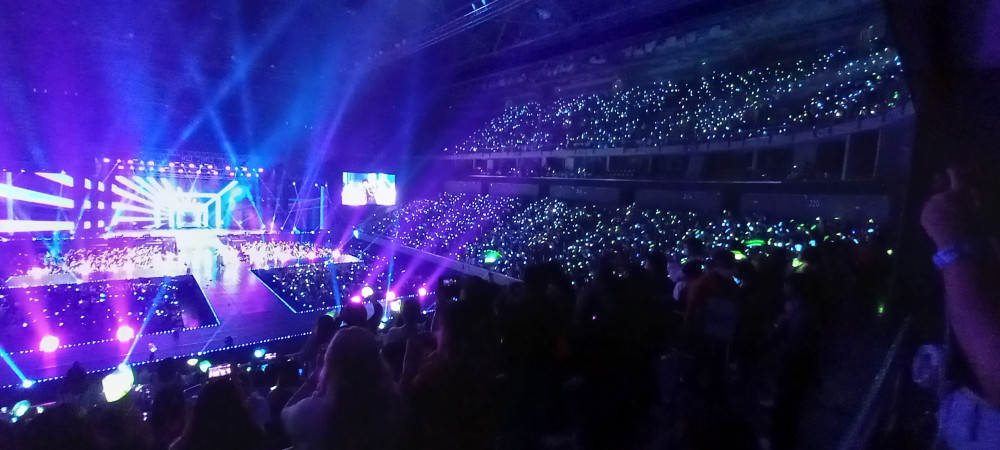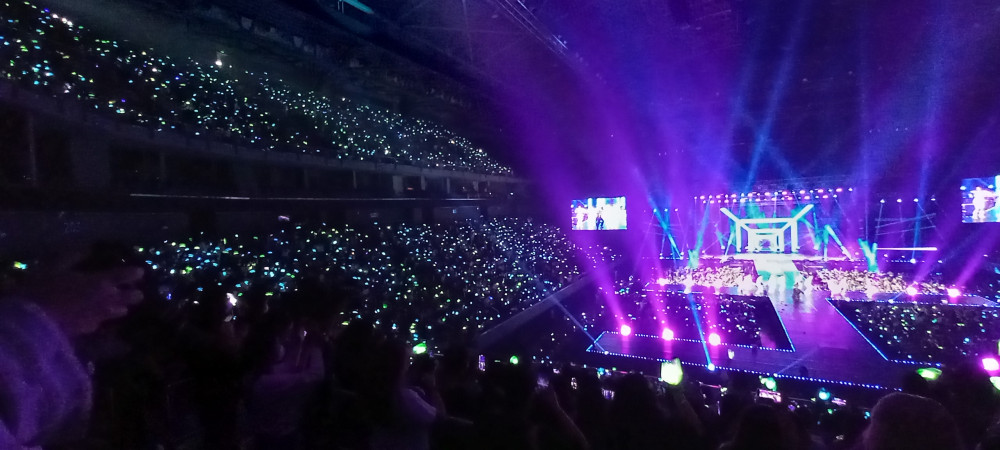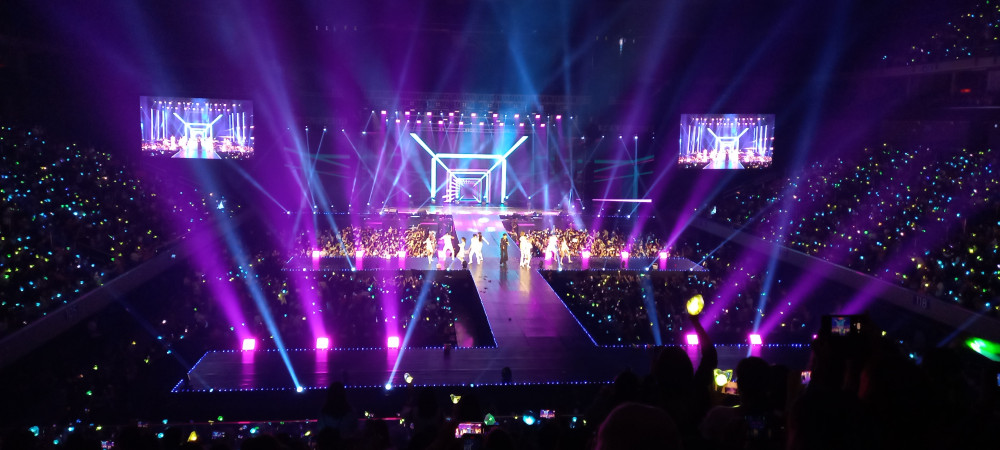 BamBam then concluded his set with a fun and lively performance of his debut title track, "riBBon," in which he demonstrated his stunning vocal prowess and youthful charisma.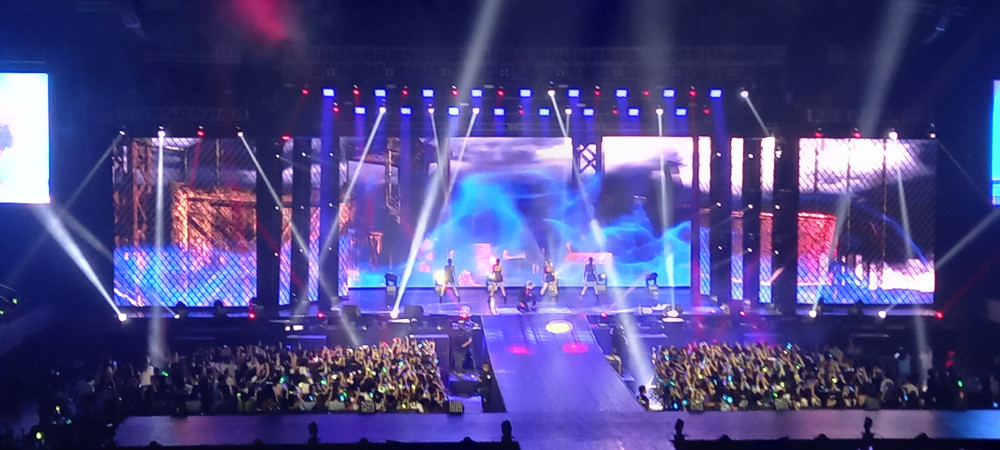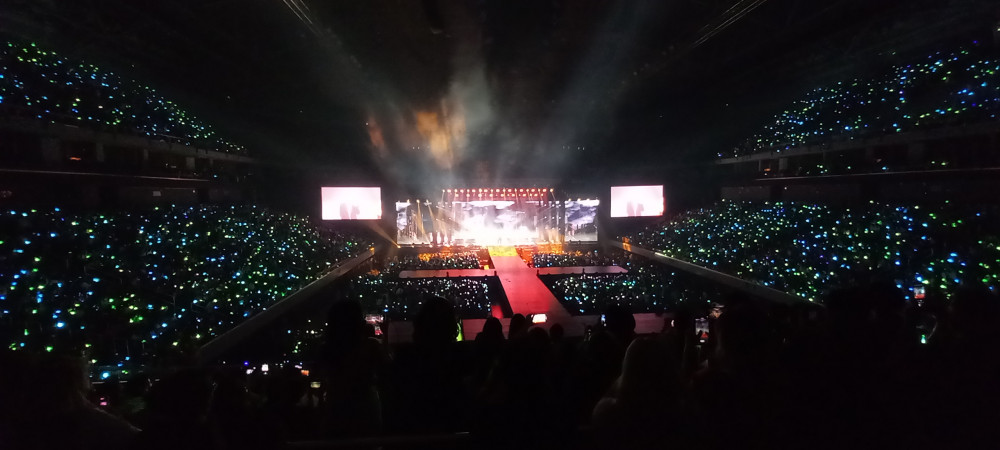 Decked out in a high-fashion complementary suit with his red gloves on, Jackson Wang hit the stage next alongside his dancers with a spectacular performance of his newly released single "Cruel," which segued into his stellar performance of "Blow," tracks from his upcoming album 'MAGIC MAN,' which is slated for release on September 9.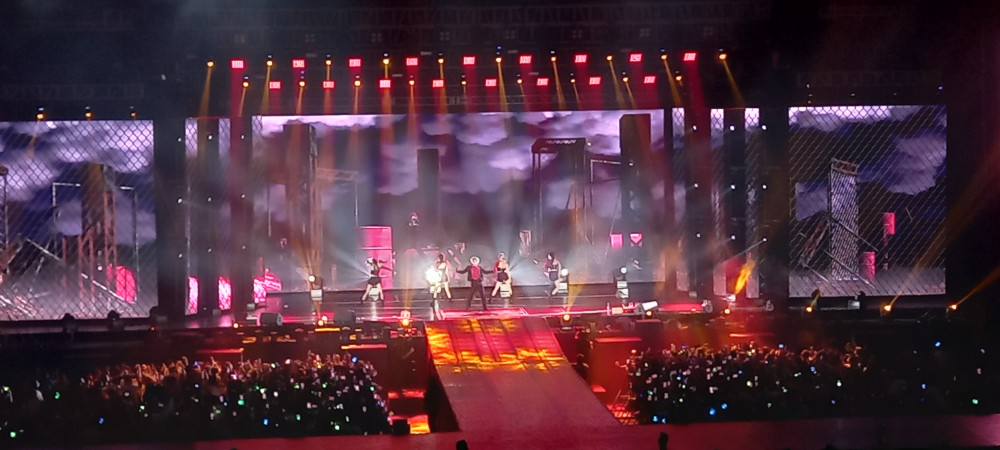 During the small talk session, Jackson expressed his joy at being able to perform again, saying, "It's my first time here as a solo artist." When asked if he has any memorable stories of his Filipino fans from his previous visit to the Philippines, Jackson replied, "First of all, the passion is just on another level. When they cheer for you, you know they mean it."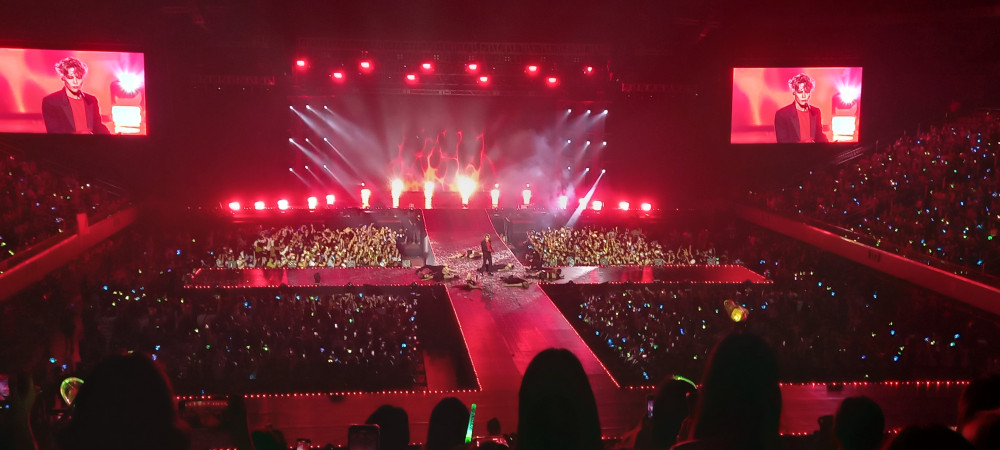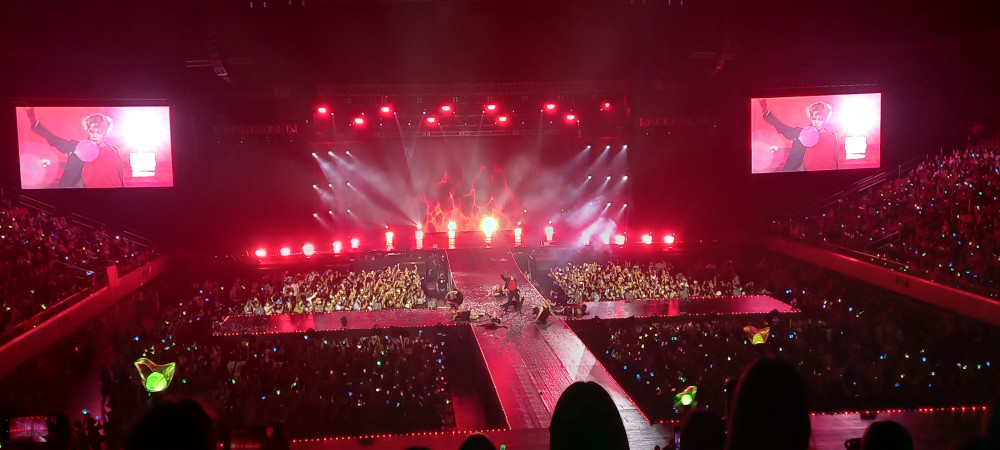 Jackson also shared an amusing scene from his Coachella performance last April, where he was the first K-Pop solo artist to perform on the main stage. He claimed that because he was nervous, he forgot to spit out his chewing gum, which remained in his mouth throughout his set.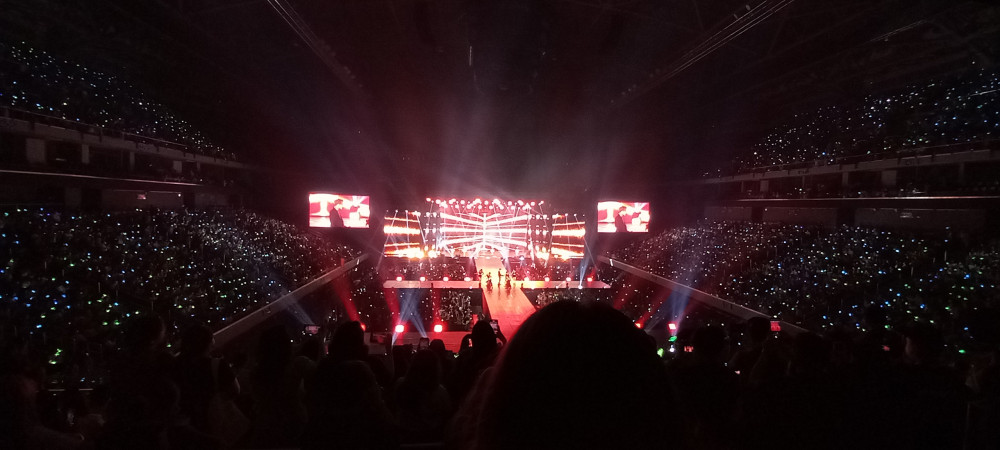 When asked what the most important aspect of producing his own music is, Jackson stated, "For me, it's like finding your own route, 'cause everybody is different." When asked about his thoughts on the film industry, he said, "Me as a singer, I want to jump right into it. It's an industry I want to get into."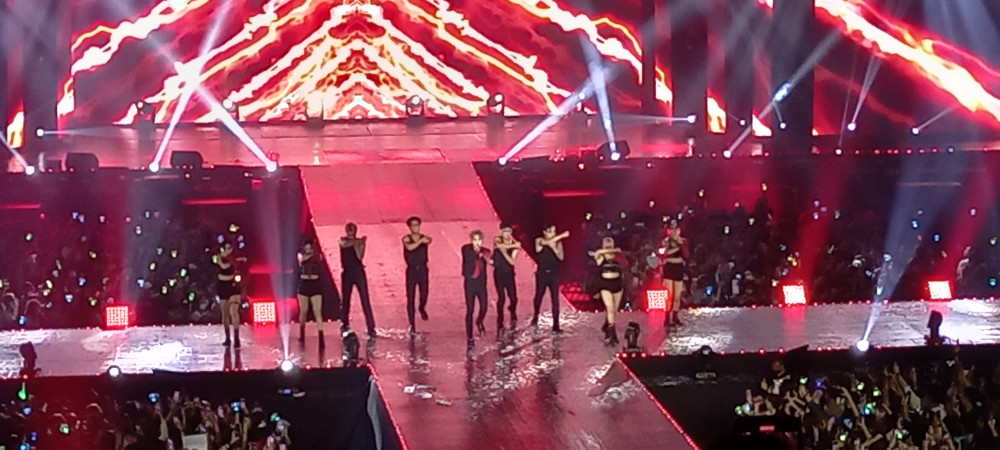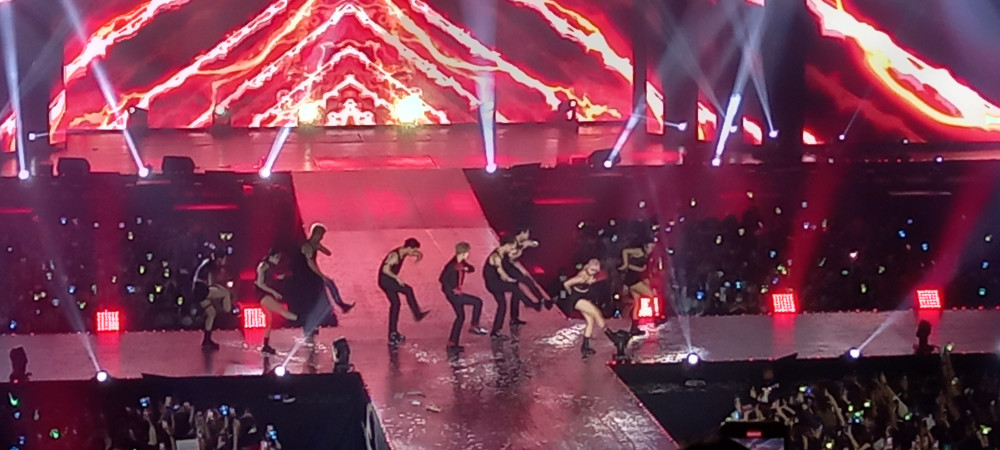 Jackson then delivered one-of-a-kind performances of his recently released singles "Blue" and "Drive It Like You Stole It" from his upcoming highly anticipated English-language album 'MAGIC MAN,' exuding his endearing charms. Jackson transported fans into a magical universe with his unrivaled dance synchronization and sexy choreography. He finished his set with his slickly produced song "100 Ways," along with his otherworldly stage presence and the song's pipping synths, it was a totally unforgettable performance as he also took off his jacket, sending the crowd wild.
Every performance and segment was entertaining. I'm sure everyone went home brimmed with joy. The billowing smoke and pyrotechnic effects complimented the artists' performances. The stage layout was recommended because the artists were able to get up close and personal with the audience. TREASURE, BamBam, and Jackson gave their all-out energy throughout the show, and each artist shone with their distinct performing abilities.
Special thanks to PULP Live World for bringing TREASURE, BamBam, and Jackson to the Philippines!