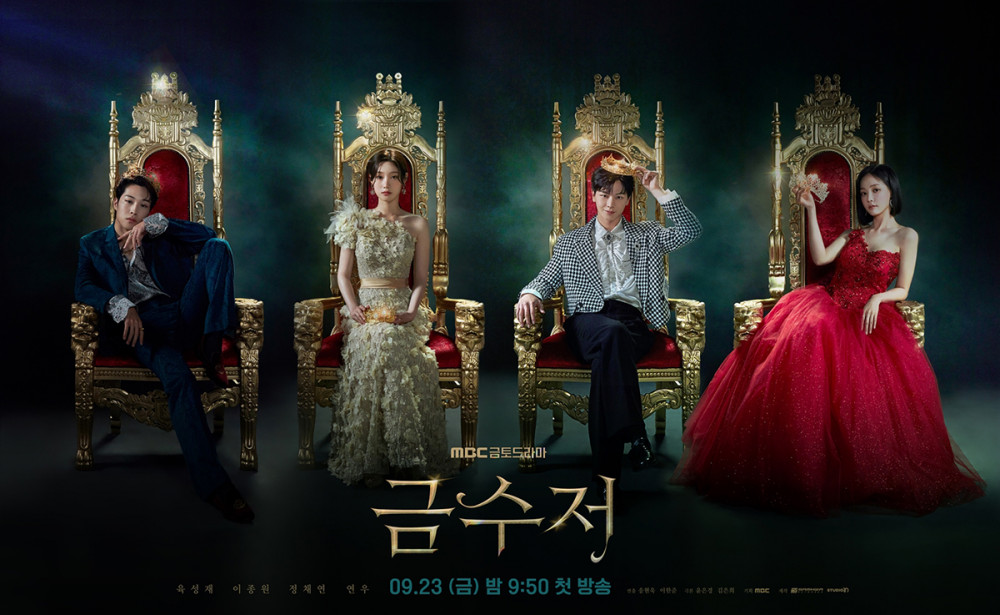 MBC's upcoming Fri-Sat series 'Gold Spoon' has revealed a stunning new teaser poster featuring BTOB's Sungjae, Jung Chae Yeon, Lee Jong Won and Yeonwoo.
In the teaser poster, the four lead characters of 'Gold Spoon' sit on four gold thrones, symbolizing the wealth that they are born with, or soon become associated with, in the story.
Based off of a webtoon series of the same name, 'Gold Spoon' tells the story of a young man who was born into a poor family. One day, he discovers a gold spoon which allows him to change lives with that of a friend, one who was born into a very wealthy family.
Viewers should pay particular attention to how each character is treating the gold crown given to them along with the throne seat. First, Lee Seung Cheon (Sungjae) is caught in the moment right before he places the crown on his head, a sly smile on his face. Next to him, Na Joo Hee (Jung Chae Yeon) holds the crown delicately in her lap with a serious expression. On the other hand, Hwang Tae Yong (Lee Jong Won) is the only character who is not holding the crown with his hand. The crown sits on his head as if it belongs there, while Tae Yong wears an almost bored look on his face. Finally, Oh Yeo Jin (Yeonwoo) holds the crown in her hand without much care, her pose indicating a relaxed posture.
A story of four youths and their encounters with wealth, family, friendship, etc, MBC's 'Gold Spoon' is coming next month on September 23 at 9:50 PM KST! Will you be watching?