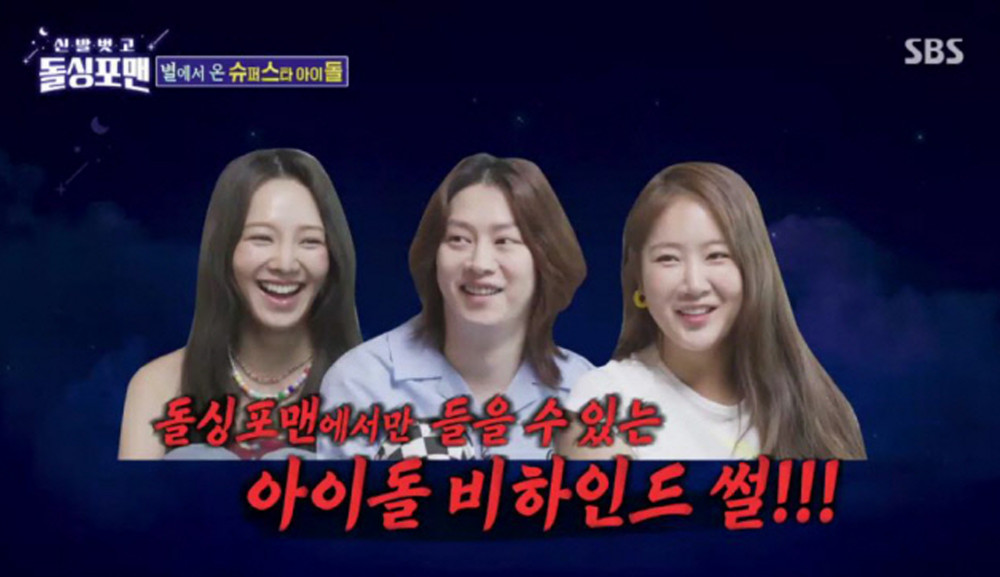 In the July 5 episode of 'Invitation From Bachelor Agains,' Girls' Generation's Hyoyeon, Super Junior's Heechul, and SISTAR's Soyu appeared as special guests and shared some of the behind stories of being in the K-pop idol world.
In this episode, the three veteran idols shared some stories that go on in the idol industry, such as feuds between members and dating rumors. Heechul started the story by saying, "Since we've been sharing about the good things, let's go around and share what was really difficult, annoying, and tiring when being an idol." In response, Soyu shared a rumor that circulated about SISTAR because of the strong image the group had.
She explained, "In the early days, SISTAR's image was so strong so there were so many different rumors about us, such as 'They went to get cigarettes with their full makeup on,' and 'they were at a bar drinking with men.' But she continued saying, 'That's around the time when we stopped going out and even if we drank, we only to places where the company knew about."

She also started sharing the truth about the speculations that people have, thinking that idols would date freely when they go on tours overseas. She explained, "Many people have a preconceived idea that idols would date freely when they go on a K-pop tour overseas together because they would stay in the same hotel. However, female and male idols stay on different floors and there are security guards on each floor." But Hyoyeon added, "But we would know a guy idol is on the girls' floor if you leave airdrop on."
Additionally, the three idols also shared about the time when they had fought with their fellow members. Hyoyeon revealed that she had a conflict with Taeyeon not long after they debuted. Heechul made everyone laugh by saying, "Wasn't it an actual fight, not just a conflict?" In response, Hyoyeon explained, "We didn't fight with our fists or anything."
Soyu also shared that she had a bit of a conflict with member Bora because of a misunderstanding. She elaborated, "There was a time when we were picking stage outfits. I picked an outfit first and went to the bathroom but when I came back Bora was wearing the one I picked. So I asked the stylist, 'Didn't I pick that one first?' and I think Bora heard it. But I can't tell her to take off the clothes so I went out to get some air and cool off. It was at that moment when the wind blew and the door slammed behind me."
When she came back, Bora had taken off the clothes and told her, "No matter how upset you are about the clothes, you shouldn't slam the door like that. You just wear the outfit." Soyu explained that they later talked it over and resolved the misunderstanding quickly.
Meanwhile, 'Invitation From Bachelor Agains' airs every Tuesday at 10:10 PM.