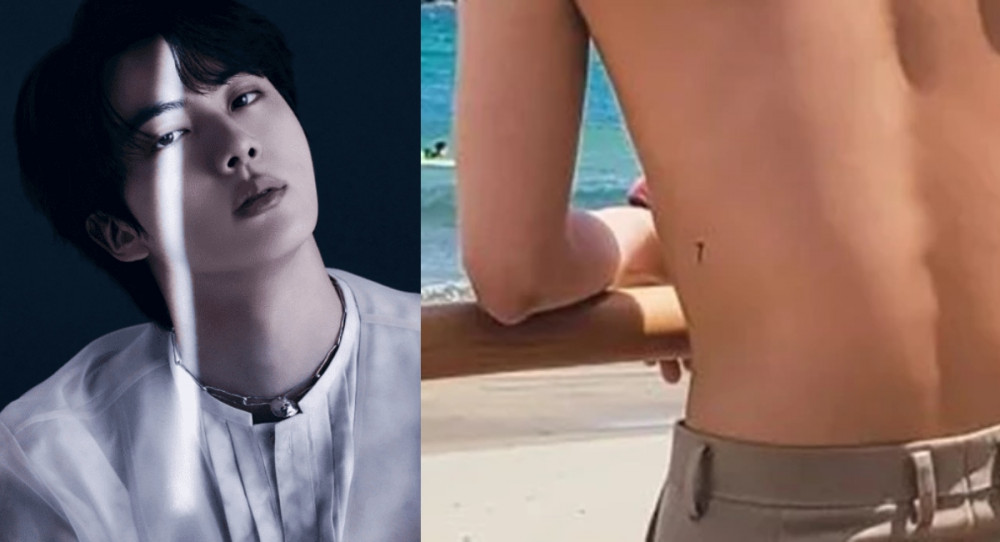 BTS's Jin surprised both ARMY and the BTS members themselves with his recent Instagram post!
On June 26 KST, the idol took to his personal Instagram to post a pair of photos captioned with "I also uploaded my friendship tattoo." The photos show a topless Jin with his back faced toward the camera, enjoying the view of the ocean in front of him. On the left side of his torso, BTS's friendship tattoo – a small '7' to symbolize the group's seven members – can be seen.
The BTS members were among the many who interacted with the post, leaving comments and cracking jokes over the shirtless photos.
"Why the sudden 'tah-dah'?" Suga asked before Jin asked him if he had plans to visit Jeju Island too, adding that it only takes a minute to get a ticket.
"Oh, I was really shocked! I thought you weren't wearing anything on the bottom too," RM commented, referring to Jin's khaki-colored pants. Jin responded, "It'd be illegal if I did that."
J-Hope reacted with laughter, saying "Holy moly!!!" and adding a playful chain of fire emojis and an applause one.
Meanwhile, on the same day, BTS secured their 8th music show win for new single "Yet To Come" on SBS's 'Inkigayo.'
Check out the Instagram post below!