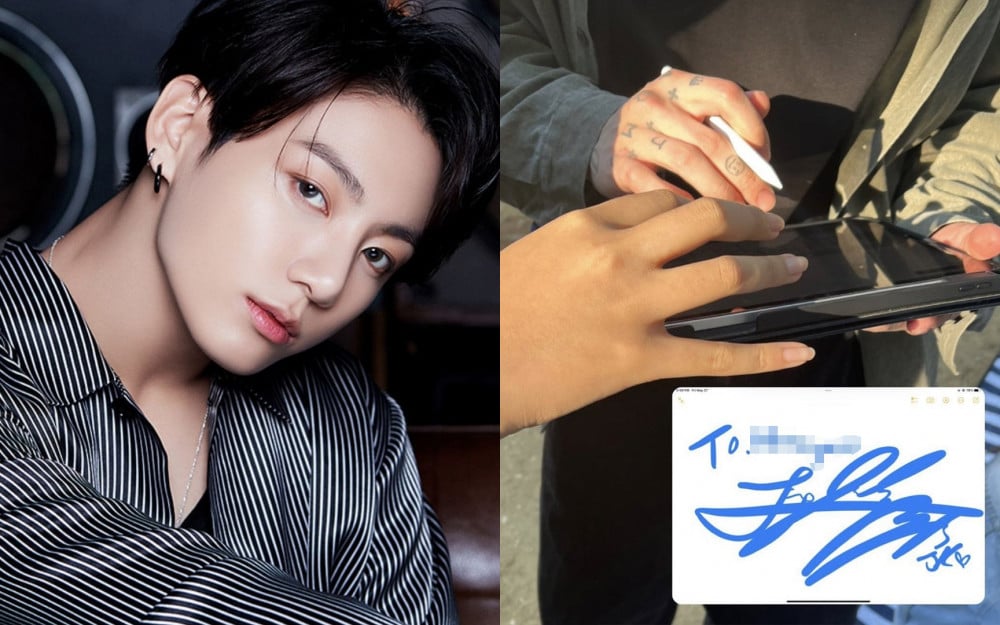 Recently, a tweet has gone viral as a fan claimed she met BTS's Jungkook at a music festival in Seoul.
The netizen explained that she attended the Seoul Jazz Festival 2022 on May 27 when she came across a global K-pop group member. She elaborated that she was watching a performance when she noticed the person behind her was humming the melody to the song and was doing so beautifully. When she looked back, she realized the person looked like Jungkook, and the person also had a piercing on his lower lip. At first, she wasn't sure, so she went to ask her friend. Her friend suggested she looks at his hand tattoo to confirm if the person sitting behind them was Jungkook.
When she checked that the tattoos matched, the person who was humming behind her was indeed Jungkook. The fan waited until Jungkook got up to leave and asked for a signature. She then posted a photo of Jungkook's hand and the signature she received from him.

Other fans are envious that this lucky fan was able to meet Jungkook in person but also praised her for waiting until Jungkook decided to leave to ask for his autograph. According to the fan who met Jungkook, she didn't want to disturb him or make him feel uncomfortable, so she waited until he was leaving. The fan also stated Jungkook gave her a high five or "hi touch" and asked her where she was from. When she said Thailand, Jungkook greeted her with "sawatdeekab" (Hello in Thai) and "Khobkunkub" (thank you in Thai).
Some people have all the luck!