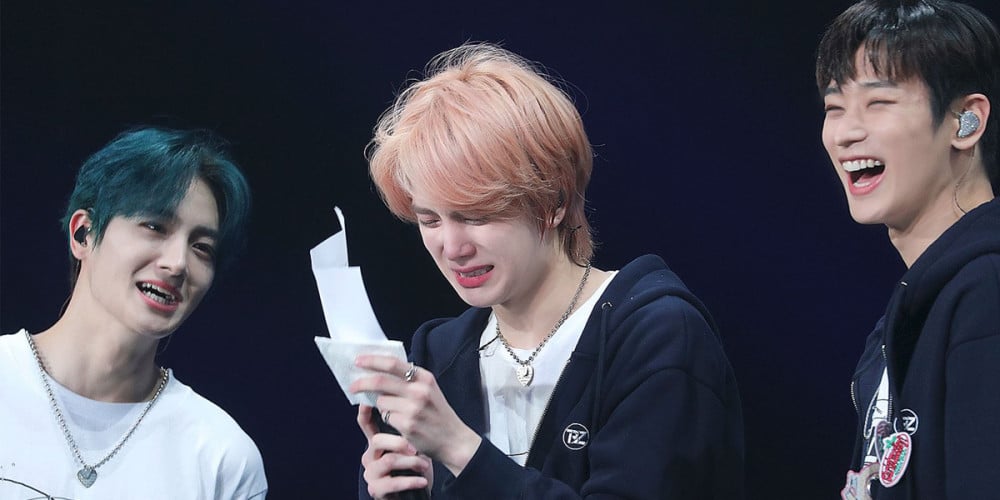 This past weekend from December 3-5, The Boyz celebrated their 4th anniversary with fans during a fan concert, 'The B-Zone'.
The occasion marked The Boyz's first in-person solo concert in approximately 2 years and 11 months, making it all the more meaningful for the gropu and their fans.
On the final day of the fan concert shows, The Boyz members opened up to their fans with their sincerest closing remarks. In particular, The Boyz member Younghoon even prepared a speech which he printed out on paper, so he could read it to the fans.
However, well-known by fans for being prone to emotional bursts of tears during concerts and fan events, Younghoon once again faced a difficult struggle with himself as he began choking up, only a few sentences into his speech!
Jooyeon: "Isn't this the same thing that happened like two years ago?"
Hyunjae: "It's okay, it's okay. Stay calm. You can do it!"
Younghoon (cranky): "There's too much left to read!"

Hyunjae: "It's more meaningful if Younghoon reads it. Come on, hurry up and read it."
Jooyeon: "Here, I'll hold it up. You read it."
Yonghoon (cranky): "No! I really can't read it!"
Eventually, Hyunjae had to read Younghoon's speech for him, while the camera remained focussed on Younghoon. The members all commented, "He is so cute. Have you ever seen anything cuter?", and more.
Watch the full, adorable clip from The Boyz's 'The B-Zone' fan concert, below!