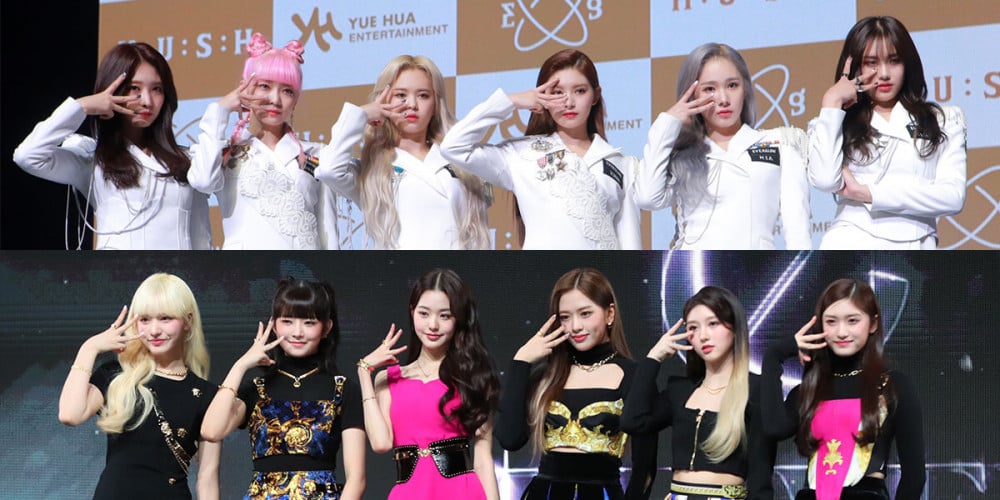 Back on December 1, Starship Entertainment's highly-anticipated new girl group IVE debuted with the release of 'ELEVEN', as well as a title track of the same name. On the same day, girl group EVERGLOW also returned with the release of their 3rd mini album 'Return of the Girl' and title track "Pirate". But it turned out, the release date of their albums wasn't the only thing IVE and EVERGLOW had in common, according to netizens!
In the case of rookie girl group IVE, the members stood in front of the press and revealed their group introduction for the first time ever during their debut showcase, also held on December 1. The introduction begins with "Dive into IVE!" and also includes a hand gesture, where each member holds her three middle fingers sideways to represent the 'E' in IVE.
Coincidentally, girl group EVERGLOW uses a very similar hand gesture for their introductions. EVERGLOW's introduction begins with, "Ready, all light!" and features the same hand gesture - three fingers held sideways - when the members say "Hello, we are EVERGLOW!".
Watch the two groups' introductions for yourselves, below.
How did netizens react? Some commented,
"Since they have the same number of members, I thought that they were photos of the same group at first."
"The group that debuted later should change it."
"What idiot forgot to do their research before giving them that intro?"
"IVE should change theirs."
"That 'E' symbol is like EVERGLOW's signature hand gesture."
"For a lot of groups, their greetings are a trademark. Can't believe they didn't do proper research of their own market.

"There's only a limited number of gestures you can do with your hands and fingers. I'm sure this isn't the first time something like this has happened, and it won't be the last."
"You can't blame the IVE members, they weren't the ones who came up with it."
And more. Did you notice the similarity between IVE and EVERGLOW's introductions?