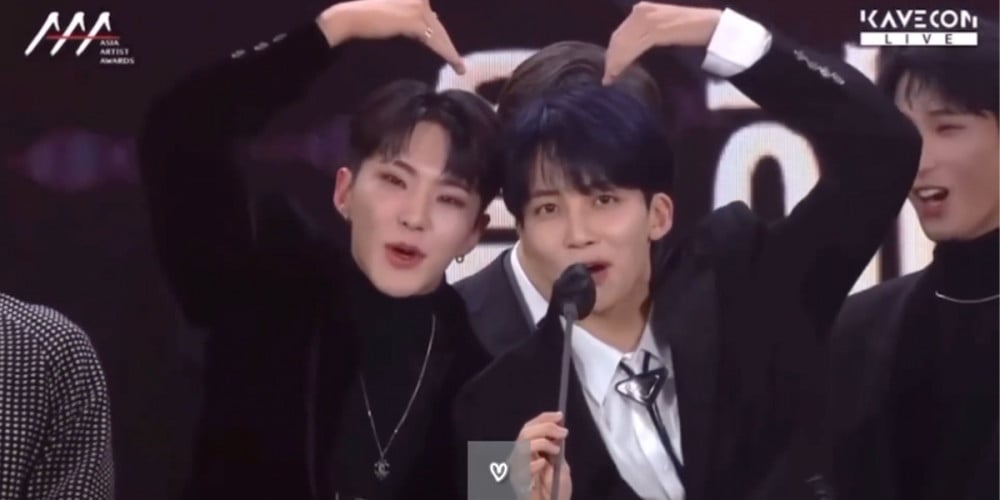 On December 2, Seventeen received the prestigious 'Singer of the Year' award at the '2021 Asia Artist Awards'!
After accepting their award, the Seventeen members stepped up to give their speeches in various languages, including Korean, Japanese, and English. The member who was in charge of delivering a thank-you speech in Japanese was member Hoshi!
However, when his turn actually came around and Hoshi stepped up in front of the microphone... he forgot his memorized speech!

So how did Hoshi save himself? The idol said instead, "I'm sorry! If I can't get it right next time, I'm a hamster!"
While the rest of Seventeen, as well as the audience members, burst into laughter, Junghan joined Hoshi in front of the camera to save the day(?).
Junghan wrapped up the Japanese thank-you speech by saying, "Carats, please take good care of us next year as well. Next year, I hope to meet you at our dome tour!"
After the ceremony, Hoshi explained during his ride home why he was especially nervous for his memorized speech. He revealed, "I memorized that speech for two days. I can do it perfectly if you asked me to now... but earlier, when I came up, it hit me that I was actually way more nervous than I thought. It was our first time attending an in-person award ceremony in so long, and with an audience there. The audience was made up of fellow artists, and I realized that there were actually a lot of Japanese members sitting there. So I kept thinking in my head that I shouldn't make any mistakes. I wanted to make it natural. But in the end, all I said was 'I'm sorry'."
Netizens reacted to Hoshi's cute spur-of-the-moment comment during the ceremony with comments like,
"He said 'I'm sorry!' so confidently kekekekeke."
"But wasn't he already a hamster kekekekeke."
"He's not a hamster, he's a tiger!!!!"
"You know he means it if he went as far as to say that next time, he'd be a hamster kekekekeke."
"Everything Seventeen does is so funny kekekekeke."
"That's okay, our little baby tiger kekekekeke."
"The Ha.Ha.Ha.Ha got me kekekekeke."
"Junghan, the same member who also said, 'I'm sorry, I will do it next year' is now saving Hoshi kekekekeke."
"Is he fake crying kekekekeke."
"The members are so savage kekekekeke. They're all laughing at him kekekeke."
Congratulations again to Seventeen for their awards at the '2021 Asia Artist Awards'!