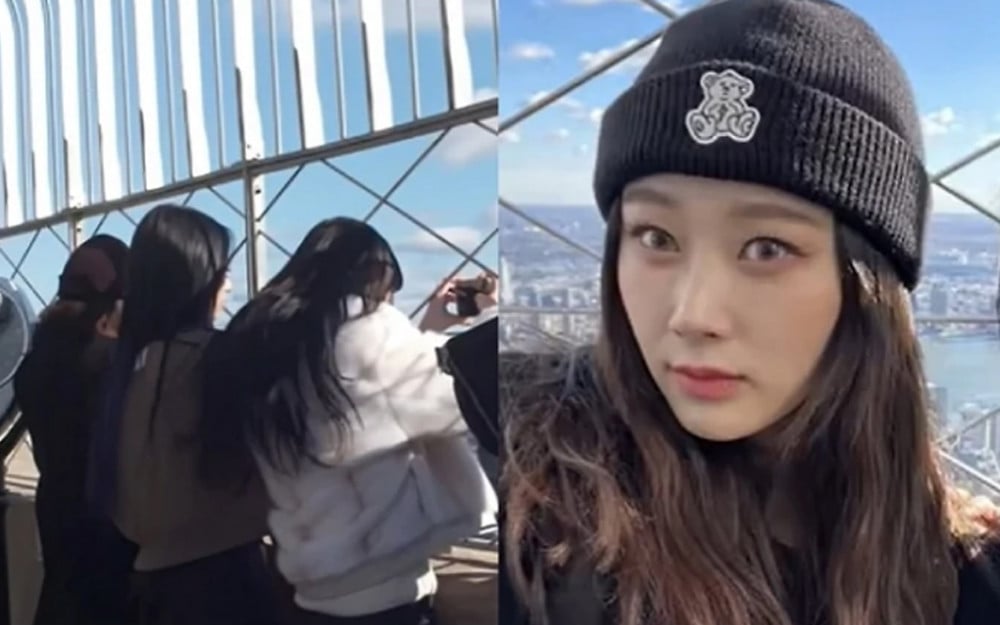 Aespa's Giselle is at the center of attention for her remarks once again. The SM Entertainment girl group, aespa, participated in a vlog video while visiting New York City. During one scene, Giselle was heard making a remark about suicide that is bringing criticism.

On December 11, Vogue magazine uploaded a vlog video of the girl group's trip to New York. The girl group was seen visiting the observation deck of the Empire State building in the video.

While looking over the view of the city, Giselle made a controversial remark saying, "I'm really going to commit suicide if my phone drops." Although Vogue translated it as "I would die if my phone drops," in the English subtitles, Giselle was clearly heard using the word "suicide," which the netizens are taking issue with.

A few netizens criticized that her word choice was improper, carelessly referencing suicide and taking a serious issue too lightly. Soon, there were various videos being shared on multiple Korean online communities, causing heated debate among the online community users.
Some netizens expressed their disappointment and commented, "I hate those comments that refer to anything suicide or death, such as I'm going to go to Han River, or it'll give you cancer. I'm really disappointed she speaks like that," "She didn't even say, 'I would die,' she said 'I would commit suicide.' Really questions the type of people she's been around to speak like that," "Her speech was very insensitive for sure," "That's a really bad slang, I think she wasn't aware they were recording the audio so she spoke that comfortably," and "Her image is ruined for me."
However, there were still other netizens who stated that they understood why she would have spoken in that way since it's how teenagers talk these days. Netizens who were in support of the idol commented, "I understand, she's young and the young kids speak like that these days," "I think it's an issue she did phrase her sentence like that but I think the video editor should have really edited that part out," "I think people would have a problem with anything she says," and "I guess she didn't realize how serious that phrase is since she's not Korean. Maybe she'll never use it again."

Meanwhile, this is not the first time Giselle has been at the center of a controversy over her remarks. She had previously apologized after mouthing the N-word while singing a pop song back in October.