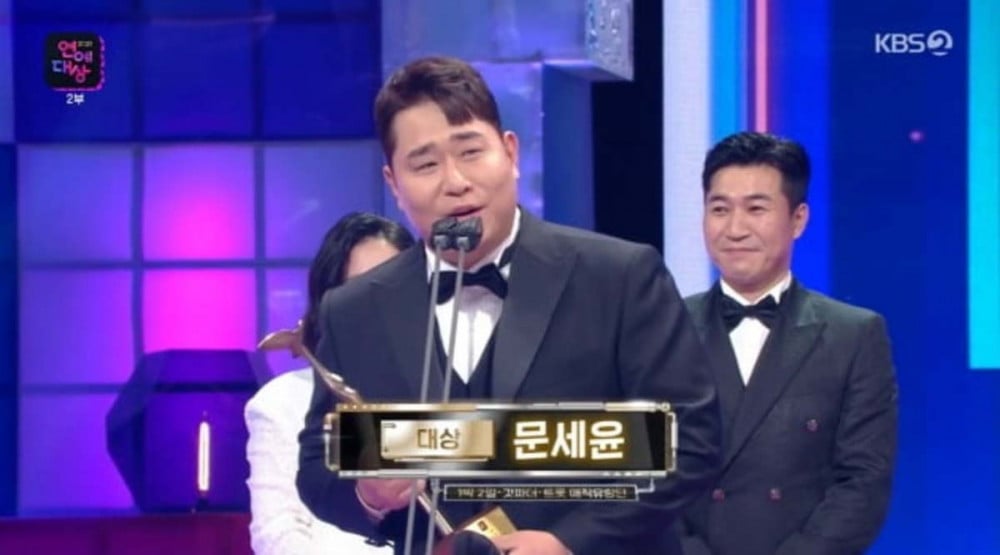 Comedian Moon Se Yoon thanked Kim Seon Ho after winning Daesang at the '2021 KBS Entertainment Awards' for his role in '2 Days & 1 Night'.

The '2021 KBS Entertainment Awards' took place on December 25th, celebrating the talk, variety, reality, and radio shows that aired on KBS over the past year and stars in those shows.
Moon Se Yoon, who also hosted the awards show, has won Daesang for the first time since his debut in 20 years.
In his acceptance speech, he said, "I really don't know what to say. I didn't know Santa would also visit me after visiting my kids this morning. I was told I don't really have luck for awards but I was lucky enough to have so many valuable relationships in my life that I didn't need any award. I believe I couldn't have made it this far without people who held hands with me when I was about to collapse."
He continued, "I am worried if I could bear the weight of this award. I'll do my best nonetheless."
He also didn't forget to thank Kim Seon Ho while thanking the '2 Days & 1 Night' cast members. "I also wanted to thank Seon Ho, though he can't be here together at the moment."