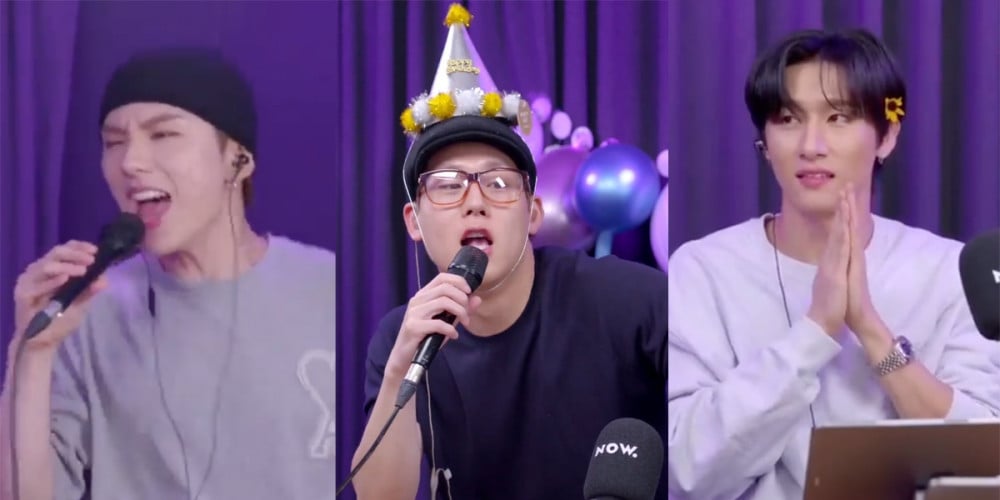 It looks like the MONSTA X members had no trouble celebrating member Jooheon's birthday with a bang!
On the October 6 broadcast of the Naver NOW. radio program 'Midnight Idol', Jooheon appeared as the guest of the day and greeted his group members, DJs Kihyun and I.M.
On this day, the MONSTA X boys decided to celebrate Jooheon's 27th birthday with, well, a party!
Earlier this year, Jooheon went viral for his energetic cover of aespa's "Black Mamba". Well, a few months have passed, and Jooheon's favorite song has now changed from "Black Mamba" to "Next Level"! So naturally, the party got heated up when Jooheon put on "Next Level" on the karaoke, and Kihyun also jumped in as the chorus and the back dancer. (Meanwhile, I.M's just like, "Whaaa..?")
Jooheon and Kihyun's fiery "Next Level" cover is garnering massive attention once again, as netizens commented, "I was waiting for this day to come kekekeke", "I.M what's wrong kekekekeke", "I wanna go to the karaoke with MONSTA X kekekeke", "They killed it! Kekekeke", "Jooheon, why are you so angry kekekeke", "I cried from laughing too hard when I watched this yesterday", and more!

Happy birthday, Jooheon!