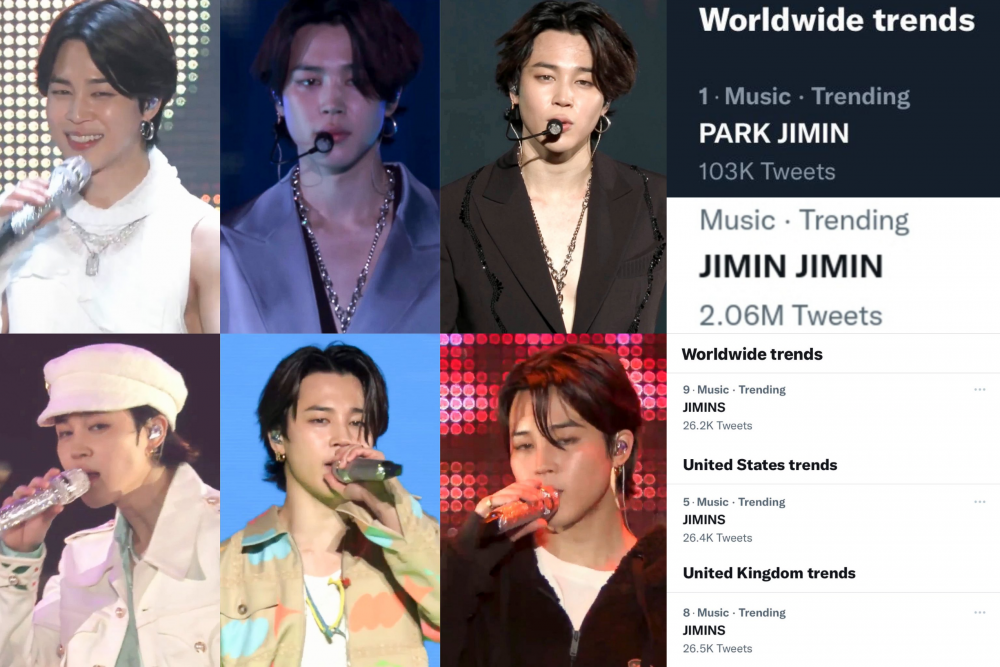 BTS's Jimin always comes alive on stage and this was evident on the 24th of October at the much anticipated BTS Permission To Dance On Stage Concert.
From the day it was officially announced that BTS' fans were going to have the privilege of yet another online concert with the band, the anticipation was building and with every teaser and countdown the day was drawing ever so near. When the day finally arrived at 6:30 KST all were ready and judging from the setlist which contained their latest hits and the down memory lane goldies like Blood, sweat and tears, Save me Fake love, I need you and more, they were indeed up for a splendid time.
The concert kicked off with the energetic title track from MOTS 7 album, ON to get everyone's energy up and dancing along. With every song and performance of their hits BTS drew attention with overwhelming and mysterious charms from the stage sets to the outfits worn. Jimin in particular stood out and held the fans' attention with his performance while looking like a graceful and sexy black swan with his long black hair, all black ensemble and only a body chain covering his upper body. This was enough to get fans excited and their reactions were honestly relatable.
Park Jimin is indeed one of the best performers in K-POP and the concert was proof it, in every stage he delivered more than a hundred percent executing every powerful and graceful move with precision and perfection. He properly showcased the sexy and cute concepts, blessed listeners with honey vocals which touched their hearts, all while looking like an angel fallen from the heavens. At the end of the superb concert, Jimin gave a word of comfort to fans promising to meet them again soon. He also urged them to be careful and keep warm at the onset of the cold weather.
Before and after the concert,Jimin was gracious enough to visit fans. In the first ocassion he welcomed fans to have a good time by sharing one of his sweet moments and in another expressed his gratitude and love for them. Fans were so happy to see Jimin active on Twitter and they showered him with praises and appreciation for his incredible performance which led to JIMINIE trending at 10 worldwide and 8 in the US, 지민이두 (Jimin too) and 우리 지민 (Our Jimin) trended in South Korea along with Thank You Jimin and more.
As a result of the incredible display by stage commander Jimin, he ended up being a hot topic among fans and even verified accounts on social media. He trended with several tags and key words like OMG JIMIN, JIMIN WTF, SLEEVELESS JIMIN, #방탄소년단지민 and others. Worldwide PARK JIMIN was #1, #5 Jimins #10 Jiminie and JIMIN JIMIN went on to surpass 2M tweets making Jimin the most mentioned member on this day.