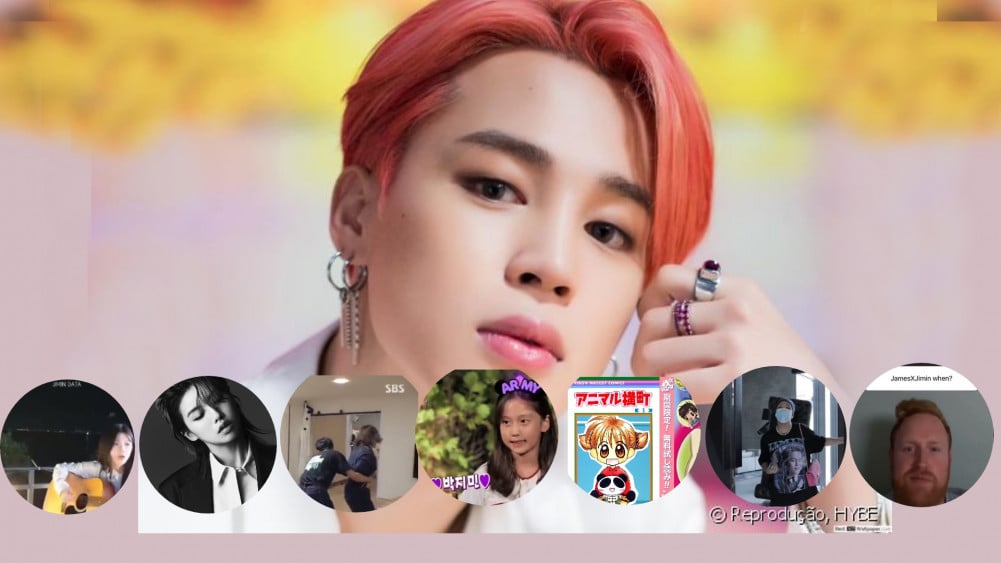 Jimin has established himself as a top artist with his heavenly vocals, mesmerizing dance moves, and incredible song-writing, composition, and production skills. His solo songs hold records on all the music streaming platforms as well as in sales. For instance, 'Promise' is the most streamed song of all time on Soundcloud and has the biggest 24-hour debut record on the same platform.
'Filter' holds the biggest debut record for a Korean solo on Spotify. It is the most-streamed Korean solo on YouTube and also the most-streamed BTS solo song on Melon, with the biggest debut for a Korean solo on the platform for the year 2020. It is also the only solo song from MOTS:7 to have sold over 300,000 units in the US so far, and the b-side track with the most number ones in the history of iTunes. 'Christmas Love' holds the record for the biggest debut on YouTube (audio) for a Korean solo. What is more, his self-written, composed, and produced song 'Friends' has recently been confirmed to be among the soundtracks for the upcoming Marvel movie 'Eternals,' said to be played in a whole scene. These are just but a few of his individual achievements. Jimin also stands out in group performances, always going viral among locals whenever there is a live performance on American television shows or award shows.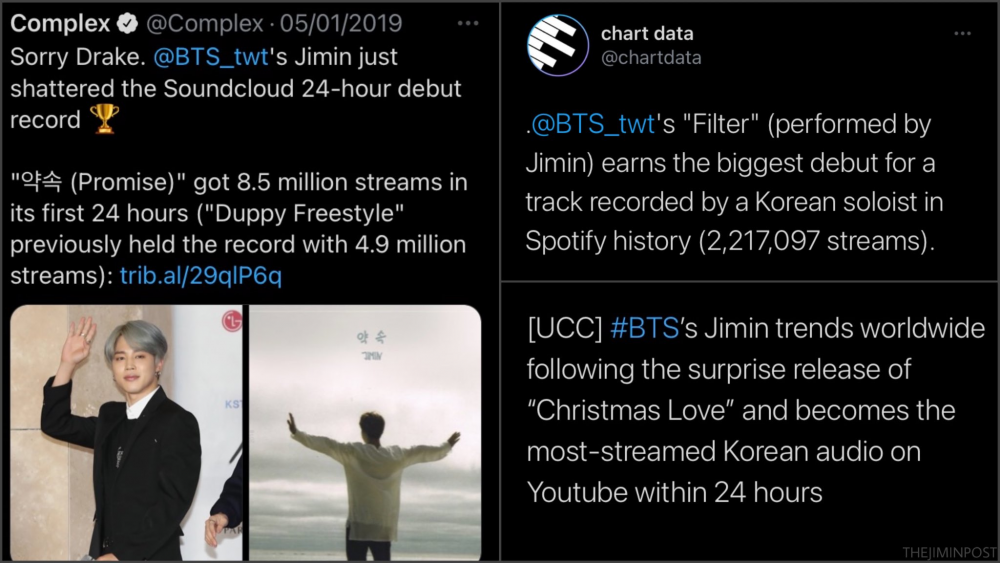 Image credit @ArmyInter_

As an individual, he holds the record for the first and only idol to top the brand reputation ranking for 34 consecutive months and 36 months overall. He also holds the record for the first and only male idol to rank first in the now discontinued Gallup Korea's most preferred idol survey and added another record to this by ranking first for two consecutive years. Google trends data also shows that he was the most searched BTS member in the past year and the past five years in the 'celebrity and entertainment' and the 'news' categories, and Fashionbiz, a leading Korean fashion magazine names him as the reason behind BTS' global ambassadorship deal with the biggest luxury fashion brand in the world, Louis Vuitton. His individual hashtag #JIMIN is the most used individual hashtag in the globally popular app Instagram and the second most-viewed individual tag on TikTok. His popularity is astounding both domestically and worldwide.
With all these achievements, and that too without an official solo debut, it is no surprise that he and his work are constantly referenced in television shows, and by celebrities, even now making it to blockbuster movies in Hollywood with A-list celebrity cast members.
On October 21, it was reported that Jimin was mentioned in a teaser for KBS2 variety show named 'The Return of Superman.' The daughter of Kim Taegyun, a renowned Korean baseball player, said she is Jimin's fan. Various other cast members from the show have previously expressed their admiration for Jimin and said they are also his fans.
Another celebrity, Hayoung, also showed her liking for Jimin a few weeks ago. Hayoung is a vice-captain, lead vocalist, and main dancer in Fromis_9. She posted a cover of Jimin's solo song 'Serendipity' on the group's official Instagram account, for her birthday. She also sang the same song in her Vlive broadcast for her birthday. She is not the first idol to cover the song, it is highly popular among rookies and other idols, and even American artists such as Shawn Stockman have covered it, and Khalid has shown to be a great enthusiast of the song. Serendipity has had a huge impact, being such a beautiful song in lyrics and melody, coupled with Jimin's heavenly vocals.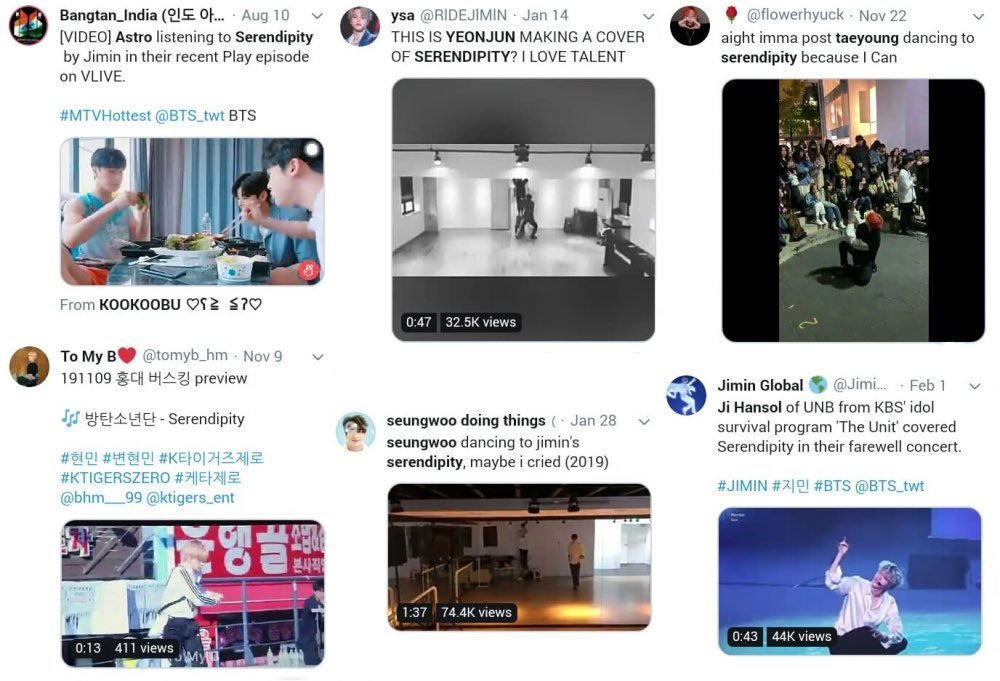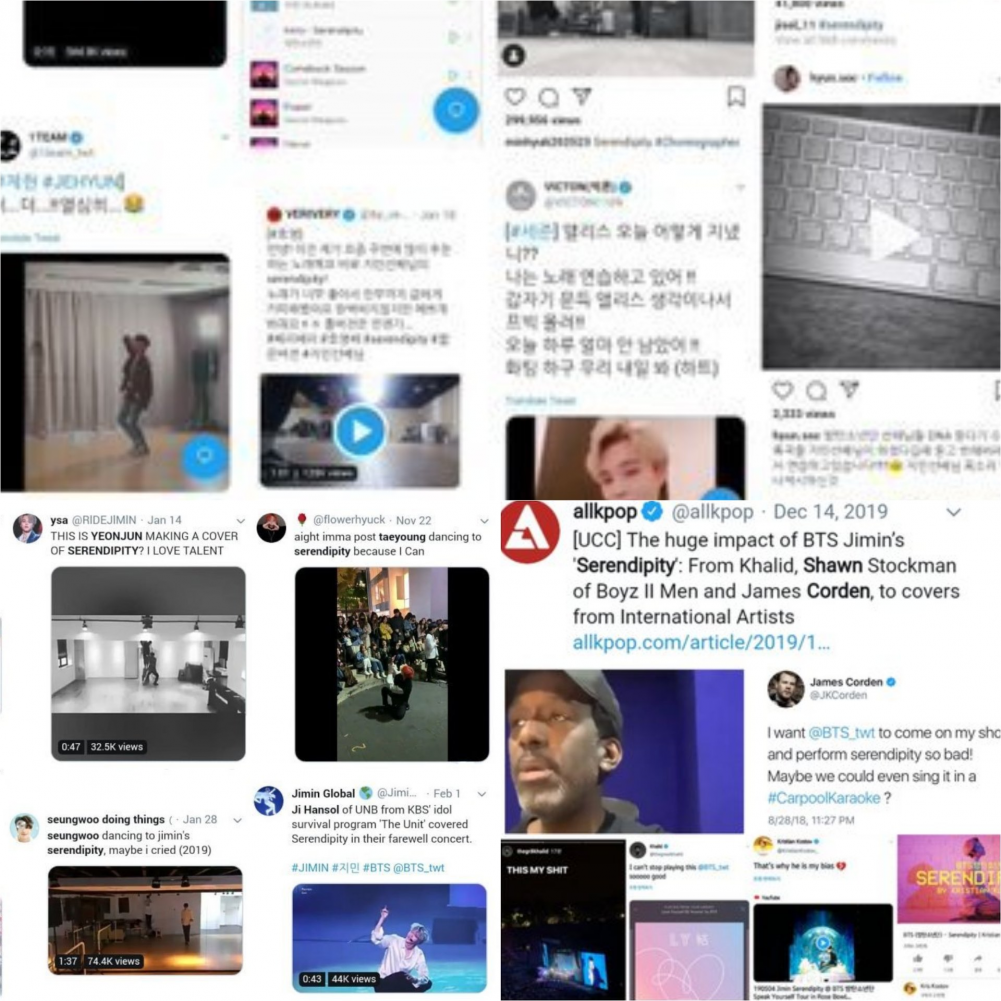 Credit for images: @pjm_jm13

Jimin's self written, composed, and produced song 'Friends, was also featured in a variety show aired on SBS, 'Need for Womance'. The song was used as background music during the match between An Sal and Gwangju Women's University archery teams. Friends previously earned a nomination for Song of the Year on GAON Music Awards, making it the first ever member-produced BTS song to earn a such a nomination on the awards, and it recently became listed as a soundtrack in the upcoming 'Eternals' Marvel movie. Jimin's song-writing, composition, and production skills have seen his work record all kinds of success both nationally and internationally.
Aiki, also known as Kang Hye In, a world-renowned South Korean dancer and choreographer, who is also a participant in the highly popular Mnet dance competition show 'Street Woman Fighter', posted the Hyundai #ExpectingGen1 challenge video by Jimin, Suga, and Jin, on her Instagram account. She had just recently liked Jimin's post on BTS' official Instagram account, demonstrating her affection for Jimin.
On the international scene, Gavin James, an Irish singer-songwriter mentioned Jimin as he was answering questions from his fans on Instagram. A fan asked when he would collaborate with Jimin, and he said nothing was planned yet but invited Jimin to reach out for some collaborations.
Previously, Jimin had sung one of Gavin's songs 'Nervous' on a Vlive, and Gavin got to learn of it and thanked him on Twitter. Since then, it has been a regular occurrence for him to mention Jimin and express his desire to do some songs with Jimin.
Japanese celebrities have been confessing their liking for Jimin in large numbers as well, the latest addition being Ryo Maekawa, a producer, winner of the Shōgakukan award, and manga artist commonly known for her work in 'Animal Yokochō. This is the manga that won the 2006 Children's Best Manga on Shōgakukan awards. When asked who her bias was, she said she had a special liking for Jimin as he stands out in her opinion. Other Anime and manga artists who have stated Jimin to be their bias include Aya Kanno, Megumi Han, Reiji Okamoto, Who-Ya, and Sho Ayonokoji, among others. Jimin is extremely popular not just in the anime and manga world, but in Japan in general.

Jimin also made an appearance on the Philippine ABS-CBN talk show 'Reina NG Tahanan,' when the host, Vice Ganda, who is also a comedian, actor, and singer, wore a t-shirt with Jimin's face on two occasions, to the show and on a recent vlog.

There is no denying Jimin's impact both as an individual and as an artist. He is recognized far and wide for his outstanding skills, talent, and persona, along with his positive influence on his fans. He does deserve all the recognition from celebrities and television shows domestically and globally for the star that he is.