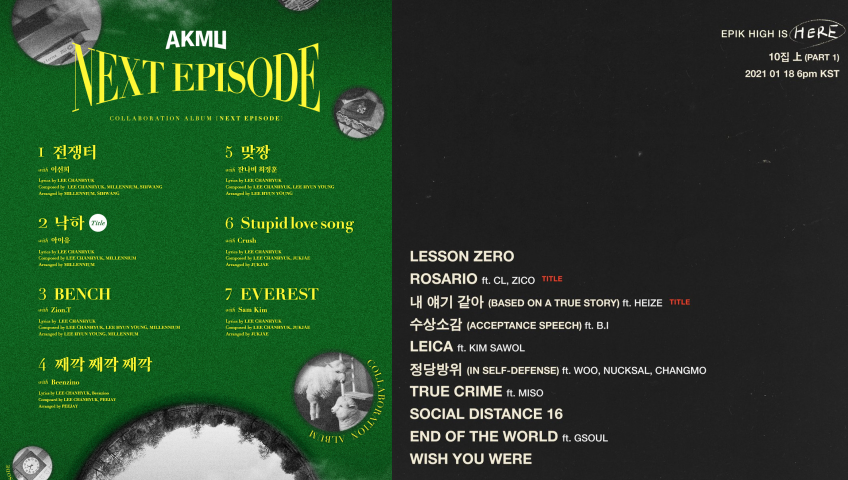 One thing that livens up 2021 is the seemingly endless inflow and outflow of creative juices of our favorite K-pop figures. Since the beginning of the year, we have been waking up to one comeback after another. Some give us standout singles, but if we're a little luckier, we get an extended play or full album ready to satisfy our auditory senses.
Every now and then, if the K-pop deities play their cards right, these tracklists even include collaborations we never knew we needed at this moment. Check out these albums and E.P.s that not only boast of the main artist's talent but also feature some major musical symbiosis with guest names that spiced up our 2021.
Next Episode by A.K.M.U.
It's simply impossible to make this list without talking about the sibling duo's comeback work that justifies, once again, why they sit among the ranks of top-tier figures in the industry. Next Episode is a splendid tapestry of Chanhyuk's lyrical and musical edge, as well as Suhyun's peerless pipes, uniquely weaved into trademark styles of seven other artists.
Opening the tracklist strong is the hauntingly beautiful Hey Kid, Close Your Eyes with Lee Sun Hee, which takes the tone of an adult speaking to a child about this war-torn life. Sustaining the momentum is Nakka with I.U., the [long overdue] collab that serves unadulterated vocals manifested in every syllable. The upbeat Bench with Zion T. is followed by an anthem of those who want to lead a carefree life and forget everything.
Midway, Tictoc Tictoc Tictoc with Beenzino keeps listeners hypnotized with well thought out repetition that mirrors the intended theme of the songwriters. Next Episode with Jannabi's Choi Jung Hoon marks the second half of the album with a slower tempo but heavily emotional narrative. Carrying on with the heartbreaking tales, this time in the context of long-gone romance is Stupid love song with Crush. It tells of breakup songs that evolve into nothing more than a melody as the audience memorizes it and the singer moves on from the pain. Rolling the curtains down with a grand finale is Everest with Sam Kim, which will leave you with high spirits and much-needed push to conquer that seemingly impassable mountain before you.
4 Only by Lee Hi
For our listening pleasure, Lee Hi unveils her first album since leaving Y.G. Entertainment, and it showcases smart choices of collaborators, seamlessly fitting her fresh brand in this era. Three out of ten tracks in 4 Only incorporated the magic of three rappers.
The studio album starts off with the subtle-sounding but deeply moving Savior that features former labelmate B.I., with whom she first worked with on her 2019 single No One and his 2021 release Daydream. In this voice-driven track, B.I. is also credited as lyricist and co-composer. Halfway through, Yoon Mi Rae shows up as a vibrant complement to the singer's soulful texture in Red Lipstick. It's Lee Hi's entry to the currently flourishing retro trend in K-pop, and she's killing the game. We love how her A.O.M.G. family flaunts full support by showing up in the MV! She keeps the vibe gentle yet entrancing in H.S.K.T. with Wonstein, where they dress up as high schoolers to complete the adorable youthful romance direction they're taking.
Epik High is Here (Part 1) by Epik High
Korean hip-hop icon Epik High has always been exemplary in terms of musicianship and choosing who to team up with for their projects. More than performers, Tablo, Mithra Jin, and DJ Tukutz are known as thoughtful storytellers whose releases are always nothing short of profundity - and Epik High is Here (Part 1) mirrors that. Seven of the ten titles in their 10th album feature artists who have the same command in their craft.
The first collab song to appear on the list is Rosario with CL and Zico, which poses a sharp statement and is rightfully deserving of its monster takeover of music charts. Based On A True Story with Heize is a subdued and gripping narrative of shared pains. In Acceptance Speech, B.I. - powerful as always - shares the stage with the group as they confess harrowing realities of life and people. Kim Sawol plays the contrasting perspective to Epik High's sentimental lines in Leica.
Featuring Woo, Nucksal, and Changmo, In Self-defense delivers unforgiving, no-holds-barred thoughts straight from rappers who have all influenced the scene. Miso joins the collective in the muffled and almost faint-sounding True Crime, which speaks of how society views love and how it's supposed to be seen as: love is love. End of the World with G.Soul carries on with the thought-provoking stances on religion, while also openly craving love regardless of what is happening.
Yellow by Kang Daniel
Kang Daniel continues to dominate the scene as an all-around soloist who is hands-on with everything - from writing songs to founding the entertainment company Konnect Entertainment. After dropping both Cyan and Magenta in 2020, the Produce 101 alumnus and former Wanna One member completes his color trilogy project with the 2021 E.P. Yellow. He teams up with guest names for two of the five songs in this project.
Omega Sapien takes part in the somber Misunderstood, where they both tell struggles they've been through and how out of these come whispers that leave them helpless and alone under the spotlight. The E.P. aptly concludes with understated hopefulness in Save U, on which Wonstein worked with him. It's not the typical upbeat, feel-good music; Kang Daniel instead keeps it light and easy and pairs it with a conversational tone addressed to his past self.
Querencia by Chungha
Querencia is Chungha's first full-length album since becoming a soloist in 2017, and it is worth the wait. The title is of Spanish origin and is usually used in the context of bullfighting; it is a particular spot in the ring where the bull feels most secure. She likens this staggering 21-track work into her safe haven. It parades a golden lineup of guest artists, from international ones like Moroccan-Dutch DJ and Record Producer R3hab and Puerto Rican rapper Guaynaa, to homegrown talents Changmo and Colde.
The Side C section begins with a pre-release single. Featuring rapper and producer Changmo, Play screams "Chungha" all over - from its tropical pop direction to the performance showcased in the MV. Her vocal color is effortlessly compatible with the entire vibe of the dance track, and Changmo is just the perfect companion to thicken the layers of sound even more. Singer-songwriter Colde joins her in Lemon, where she softens up the tone a bit but manages to keep it engaging with its low-key groove. With its well-formulated K-pop and Latin combo, it stands as one of the catchiest works in this project and possibly an instant favorite to listeners.