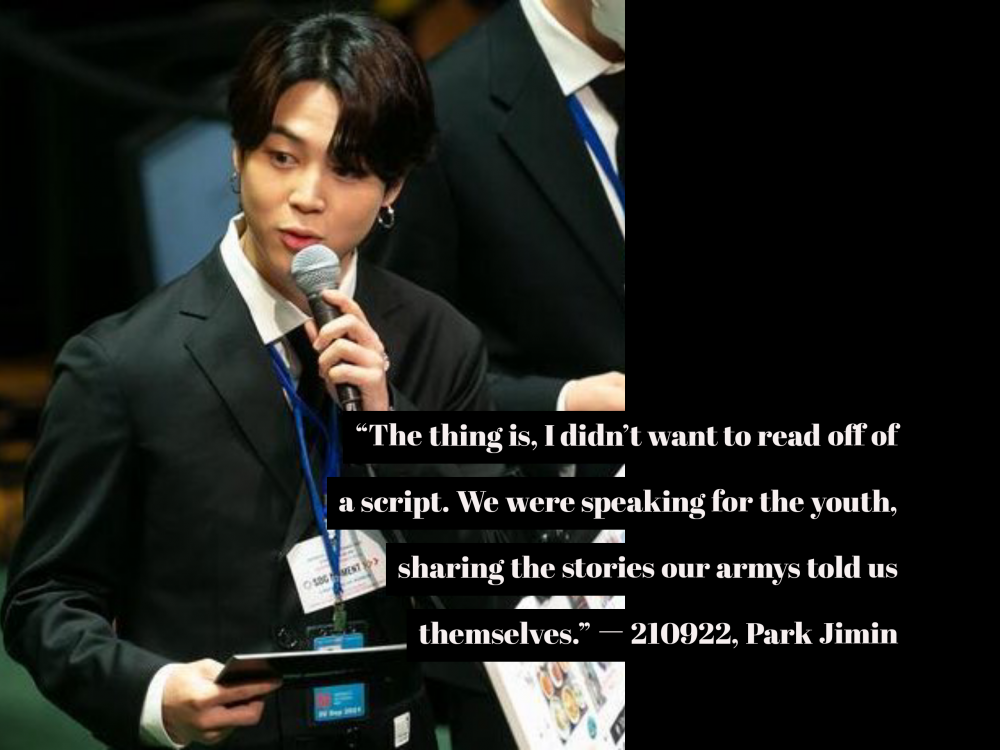 BTS' Jimin is often praised and seen as a role model for the youth thanks to his high emotional intelligence and genuine love and concern for others.
On the 22nd of September, BTS met with fans on VLIVE to commemorate the Chuseok festival and talk. Jimin revealed the reason behind his pause when giving his speech at the United Nations General Assembly session.
The members all talked about how hard they worked on practicing for the big day, including perfecting their speeches in representing the youth. While they all worked on their scripts to deliver monumental messages, Jimin mentioned how he woke up at 3 AM to go through it again for an hour and even memorized it on the previous day. He said this is what helped him smoothly navigate through it.
The fact that he put in such effort for such a special occasion drew admiration from fans who were equally touched when they realized that he did that in order not to read off the script, because according to him, it was important to speak for the youth and share stories for the ARMY genuinely and from the heart.
Although it had been years since he had stood before dignitaries to speak, Jimin delivered an excellent speech that touched hearts. Despite being nervous, he was thanked and lauded for showing his humanity by Melissa Fleming, The Head of Communications and Chief Spokesperson for the United High Commissioner for Refugees (UNHCR). The high-ranking UN Official has in the past praised Jimin for his words of wisdom about front liners and children during the pandemic.
All in all, fans were impressed with his genuine dedication, a show of leadership, and thoughtful messages. Along with the tag #BeLikeJimin, they posted lovely messages to praise him and show their love for the idol. The hashtag even ended up trending on Twitter with over 11k tweets.
Check out all their reactions and sweet messages below: