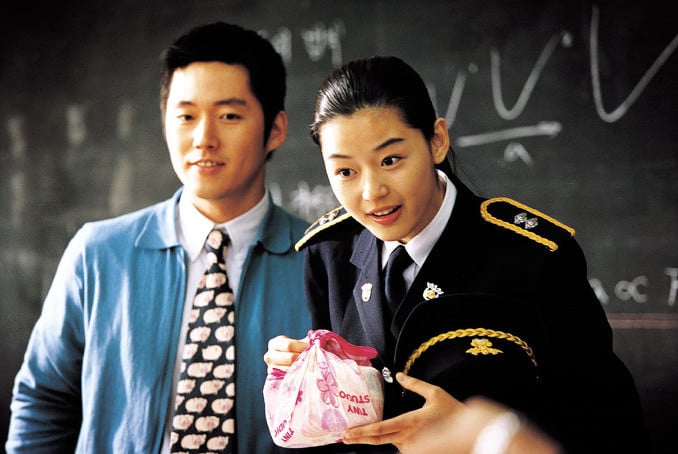 There are love stories that do not need 16 episodes with one hour each. While dramas offer a long, unique journey with the characters by making you glued to your screen for at least a day, movies provide a much shorter but equally sweet trip within two hours or so.
The 2000s saw the rapidly increasing reach of the Hallyu wave across Asia with its two main players: K-drama and K-pop. However, some who had delved beyond these two know that even back then, Korean entertainment had so much more to offer, and they found it in the form of films. Check out these timeless gems that are guaranteed to wake those butterflies in your stomach - but will make you ugly cry at the same time.
The Classic (2003)
Weaving a tale of two couples from different generations, The Classic is a pure and endearing recollection of first loves and heartbreaks. The modern side of the story shows Ji-Hye (Son Ye-jin) being drawn towards Sang-min (Jo In-sung), whom her friend likes. In parallel with this, flashbacks show that her mother Joo-hee (also played by Son Ye-jin) was also caught up in a love triangle of her own in her youth. As Joo-hee and Joon-ha (Cho Seung-woo) fall hard for each other, her promised marriage to Joon-ha's friend keeps them from being together. Created by My Sassy Girl director Kwak Jae-young, everything about this movie echoes what its title suggests: a classic equation of a charming pair with excellent chemistry, iconic scenes that the audience would remember for years, dreamy locations, and a replay-worthy soundtrack.
Windstruck (2004)
If you're in for some roller-coaster adventure of emotions, be sure to add Windstruck to your watchlist. This is also the work of Kwak Jae-young. It starts off with Myung-woo (Jang Hyuk) chasing after a thief who stole a woman's purse. Thinking that he was the snatcher, police off-duty Kyung-jin (Jun Ji Hyun) captures Myung-woo and takes him to the police station. Though their first meeting isn't an ideal way to start a relationship, what followed were more encounters that will leave you laughing, falling in love, and crying all throughout. For My Sassy Girl fans, another thing to watch out for is its hints on what seems to be a prequel of the 2001 blockbuster.
A Moment to Remember (2004)
Unlike other couples, Su-jin (Son Ye-jin) and Chul-soo (Jung Woo-sung) managed to overcome existing hurdles early on in their relationship, such as contrasting social status and backgrounds that are deemed questionable by society. After firmly holding their ground during the dating stage, they decided to take things to another level with marriage. Their newly-opened life as husband and wife eventually gets into a rough patch with the consequences of Su-jin's glaring forgetfulness. One of the most remarkable Asian films of its genre, A Moment to Remember, is a perennial piece that can consistently move its viewers regardless of whether they are watching it for the first or the nth time.
Love Phobia (2006)
True love knows no age. For Jo Kang (Cho Seung-woo), his earliest memory of it can be traced way back when he was still a kid when a girl in a bright yellow raincoat enrolls in class and gives a heads up about her "curse." She says whoever touches her is sure to attract bad luck, but this doesn't stop him from staying by her side. A decade after her sudden disappearance, the now grown-up Ari (Kang Hye-Jeong) reconnects with him. Jo Kang remains enraptured by her fairy tales but soon learns the real story behind Ari's quirks. Cleverly bringing into play UFOs and aliens, Love Phobia unravels unexpected turns and shows what it truly means to wait for someone you hold dear.
A Millionaire's First Love (2006)
Confident that he will be inheriting his family's generational wealth, Jae-Kyung (Hyun Bin) is the quintessential arrogant young heir who lives without an ounce of responsibility or concern with the people surrounding him. As he turns 18, he is informed that his grandfather's fortune can only fall into his hands if he graduates from Boram High School in Gangwon Province. Eager to get those millions, he goes along with the deal and moves to the countryside against his will. Jae-Kyung struggles with the new setting but also unknowingly finds himself taking an interest in Eun-whan (Lee Yeon-hee), a seemingly innocent girl belonging to the same class. With its skillful cast that is best suited for the characters, A Millionaire's First Love is a heart-wrenching ride of youthful and life-changing romance that will have you bawling your eyes out the entire night.