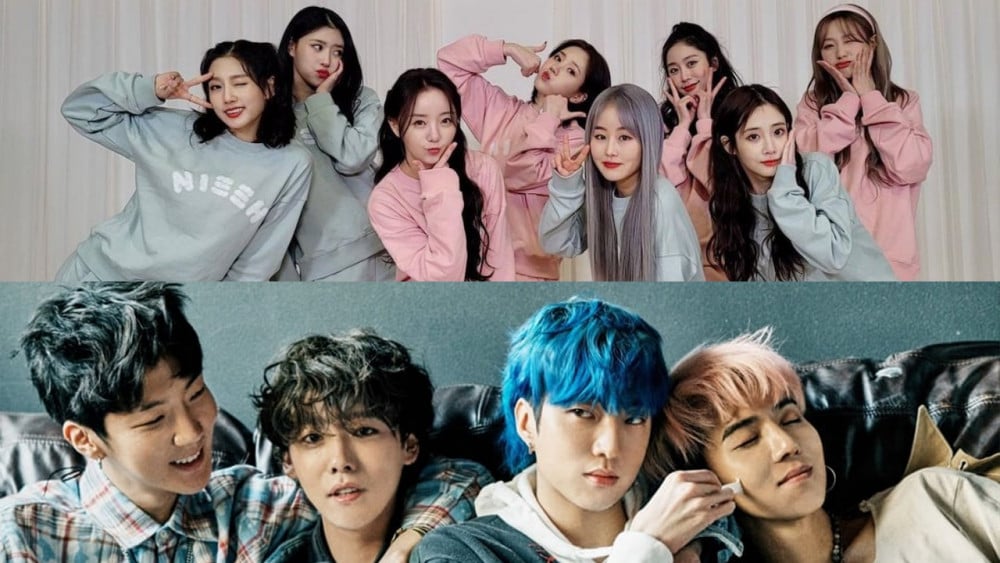 In the K-Pop industry, artist-agency contracts are usually 7 years long. This means that after 7 years, artists have the choice of either renewing their contract with their existing company for another set period of time or terminating the contract and moving on to sign with a different company, or even setting up their own independent agencies.
This process becomes more complicated in the case of K-Pop groups, especially when there's a difference of opinion between members. Some might want to renew their contracts, while others might want to terminate them. This would imply that the group's future hangs in the balance. While for some groups like GOT7, not renewing their contract has not meant disbandment at all, for others, it sometimes unfortunately does. Alternatively, in the case of MAMAMOO, Wheein has terminated her contract with RBW Entertainment but has signed an extended agreement to participate in group activities for the next two years. As such, each K-Pop group's future, once they near contract expiration, varies on a case-to-case basis.
Here are the K-Pop groups that could be nearing their contract expiration dates.
LABOUM debuted in 2014 and enjoyed newfound popularity in early 2021 when their 2016 song 'Journey To Atlantis' started rising on music charts after being featured on 'Hangout With Yoo.' The group recently started promotional activities for the same in June of 2021. However, if their contract was a 7-year one, it is due to be re-negotiated soon. If their recent success and strong fandom is anything to go by, LABOUM might very well be renewing their contracts.
LOVELYZ had a powerful comeback with their seventh EP, 'Unforgettable' in 2020, and even though they haven't had a comeback this year yet, they have remained active nonetheless. The members have pursued solo activities, in either acting or otherwise, and have established themselves as valued artists in the industry. Having debuted in 2014, they will probably be discussing their contract soon.
Red Velvet is currently on the eve of the most highly awaited comeback of the year, 'Queendom,' which is all set to be released on August 16, 2021. Without a doubt, this comeback is going to shake the industry. However, 2021 is also the year that the members, except for Yeri, might reach the end of their contract term with SM Entertainment. At the same time, as we know from EXO's contract with SM, some SM groups sign longer contracts than the standard of 7 years, with some signing for 10 or even 13 years. Considering the full force with which SM Entertainment is prefacing and promoting 'Queendom,' it wouldn't be a surprise to find out that Red Velvet also has a similar longer contract.
SONAMOO is truly one of the most underappreciated gems of K-Pop who lost out on their deserved success because of wasted potential owing to poor management and lack of promotions from their company. Fans are afraid that the group might reach the end of their contract before they get the chance to have a proper comeback but are also eager about the future of the members' careers, were they to leave TS Entertainment.
UNIQ has been on a hiatus since 2018 when it comes to group activities. However, the members have freely explored their strengths through solo endeavors in various fields such as acting and music. Even though they haven't had a group comeback yet, UNIQ and UNICORN are still very close to the members' hearts, as was evident from Yixuan's celebratory song for their 6th debut anniversary, 'Remember The Day When We.' Assuming they signed a 7-year contract, their contract is supposed to be expiring soon. It will be interesting to see whether UNIQ will renew their contracts, go their separate ways or resume group activities under different labels.
One of the most highly debated groups when it comes to contract termination/renewal is YG Entertainment's WINNER. Fans are divided about whether they think WINNER will renew their contracts or make a collective exit like GOT7. Either way, the WINNER members have expressed their strong intentions to stay together as a group multiple times, so it is safe to say that WINNER isn't going anywhere.