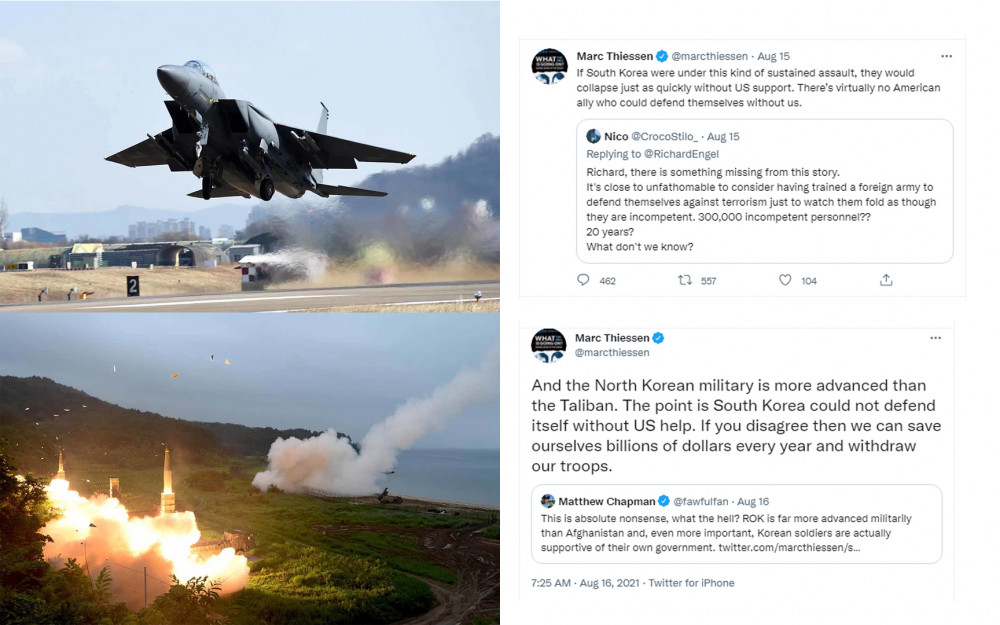 Will South Korea really be like Afghanistan if the U.S. troops withdrew?

Marc Thiessen, a Washington Post columnist who wrote a speech for former U.S. President George W. Bush, said on Twitter on August 16 that "If South Korea were under this kind of sustained assault, they would collapse just as quickly without US support. There's virtually no American ally who could defend themselves without us."
His writing immediately drew opposition as many argued against the columnist's claims and stated he is out of touch with reality.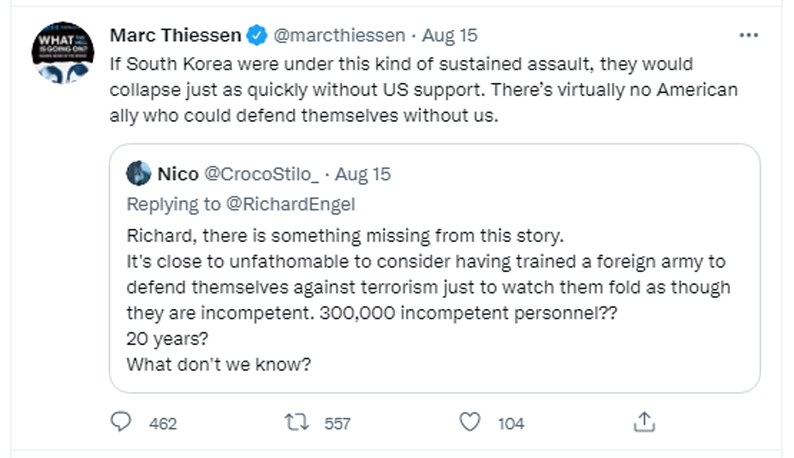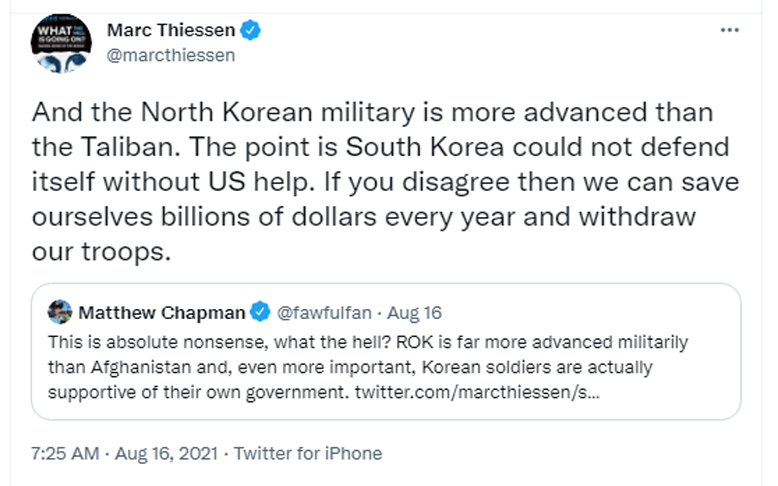 Many argued, "What a huge insult to the South Korean people. The south might not win the war but they would fight for sure," "Anecdotally, ROK Marines I met in the field were about that life in a way hard to overstate. Speaking broadly, South Korea has a sophisticated, modern, versatile, equipped, and highly-trained military (with mandatory commitments). Afghanistan isn't even remotely comparable," and "This. The OP has displayed a proud lack of knowledge of the cultures and societies of developed Esat Asia and rural middle Asia. The honor culture of Korea is far from the warlord feudalism of Afghanistan. The Koreans are solid."


Another Twitter user wrote, "This is just stupid, The RoK Army would kick the living crap outta the DPRK Army. As late as the 1980s, one of the reasons for the U.S. presence on the DMZ was not only to keep the North coming South but to keep the South from going North."

One Twitter user who is speculated to be Korean also wrote, "Haha. All male adults in South Korea are retired from the military. We maintain 600,000 active and 3.5 million reserved services personnel. This guy knows nothing."


In fact, there is a reason behind this backlash. Many military experts know that South Korea has a highly-trained military with advanced technological weapons. North Korea isn't highly trained, and much of its military equipment comes from the 1950s era. Therefore, experts predict that although South Korea will suffer from some catastrophic losses as Seoul is so close to the North Korean border, the South Korean military would definitely defeat North Korea. Also, according to a report released in January by the Global Fire Power (GFP), a U.S. military evaluation agency, South Korea's military power ranks sixth in the world. Japan (5th), India (4th), China (3rd), Russia (2nd), and the United States (1st) are the only countries that have superior military power over Korea. This report said North Korea ranked 28th in military power.

In other words, South Korea's military power is not weak enough to compare with Afghanistan's. There are some experts who even state that "South Korea would likely lose if it fights against military powers such as Russia and China, however, these countries militaries in turn would not be able to operate after fighting against South Korea."