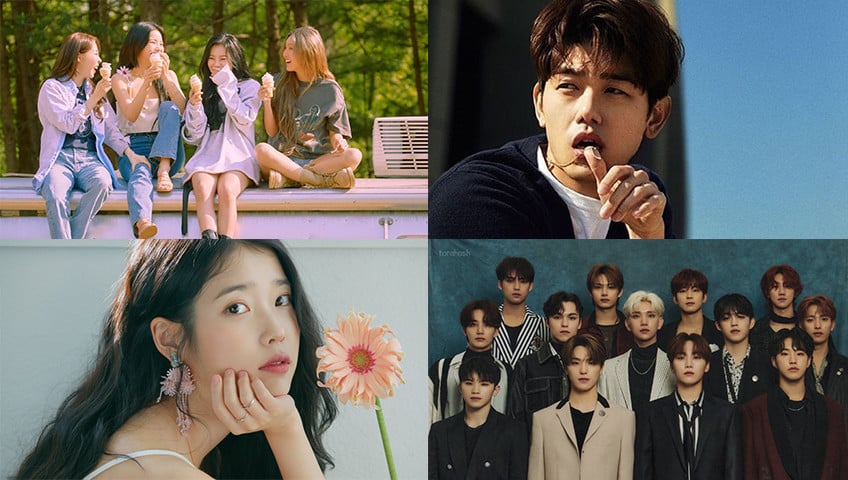 It's one thing to listen to a song for the first time and instantly get hooked, but it's also another thing to hear it in a different light and fall in love all over again.
Get ready to have your ears refreshed, as we listed down some crowd favorites rendered in live and stripped-down versions by K-pop's best.
I'm Different by HI SUHYUN
Probably one of the YG family's smartest decisions is producing a collab of Lee Suhyun and Lee Hi. Both artists have excellent command over their music and know exactly how to make their voices stand out yet blend smoothly at the same time. We love how much confidence they exude in this performance from Begin Again Korea, not to mention their chemistry with the band!
Honestly by Eric Nam
For days when we're looking for something to bob our heads to while wrecking our hearts out, the original upbeat version of Honestly is just what we need. But for our 2 AM soft-hour playlist, this one from Youtube Music Night Seoul may be our best bet. Playing it raw to highlight the helpless pain in the lyrics, Eric Nam delivers deep-seated feelings straight into our souls with his laid-back sound.
Eight by IU feat. Suga
IU and Suga's eight has won Best Collaboration in the 2020 Mnet Asian Music Awards (MAMA), as it should. While we remain hopeful that they'd get to be on one stage in this lifetime, right now, we are carried away by IU's acoustic version of the song, complete with Min Yoongi's lines executed with her own soft, angelic style.
Wind flower by MAMAMOO
When it comes to live performances, Mamamoo is a league of its own. As vocal queens of their generation, we can always trust Solar, Wheein, Hwasa, and Moonbyul to bring us a stunning stage, be it a full band arrangement or a stripped-down set-up. The only thing we don't like about this Wind flower version is that it's only 1 minute and 29 seconds long - we need a full version!
Heaven by Ailee

This representative K-pop powerhouse carries a new kind of magic whenever she's behind the mic. Because of her excellent ear and precision in singing, Ailee can manage not to stick to what she normally does in a song and creates a new experience for the audience each time. In this performance, she brings Heaven on earth with her exceptional skills, taken up a notch with Lee Mu-jin's delicate presence.



Adore U by Seventeen
Six years into Seventeen's debut, Adore U still holds a charm like it was just released yesterday. This acoustic project rightfully showcases the strength of their vocal line, which is among the primary factors of their rise to popularity in the industry. Their involvement in the creative process makes the group even more attractive - in fact, this version was arranged by Joshua!
Gee by Girls' Generation

There are a few songs that need no introduction, and Gee is one of them. While there's no denying that the original bubblegum pop version has made a mark in K-pop history, we just love how Taeyeon seemed to enjoy and chill to this rendition with the rest of the Begin Again team.