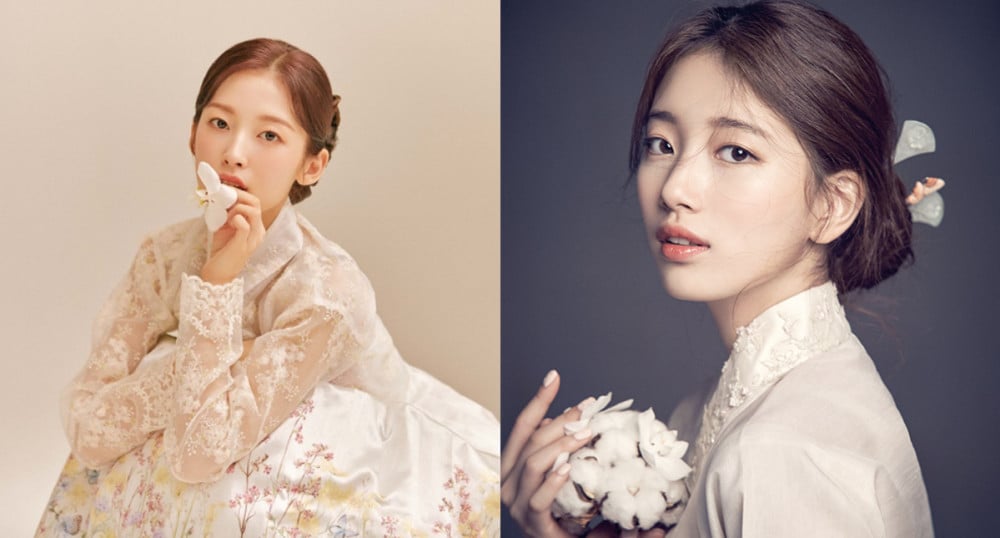 Oh My Girl's youngest member Arin paid homage to Suzy, in elegant hanbok (Korean traditional clothes) for her '1st Look' pictorial shoot.
'1st Look' magazine's 10th anniversary edition reinterprets legendary pictorials from its past editions. Here, Oh My Girl's Arin was selected to recreate Suzy's original pictorial. In the newly released pictorial, Arin reinterpreted the elegant and delicate atmosphere from Suzy's '1st Look' pictorial published back in November 2015.
Arin, who often picked Suzy as her role model, stated, "This is a pictorial that I have always thought was really pretty, so I was happy I was able to reinterpret it. Because Suzy sunbaenim is so beautiful, I was a bit burdened, but I think I was able to express [the pictorial] in a different color". When Arin was asked what she would say to herself if she could go back ten years, Arin said, "[I would tell myself] 'take care of your health when you are at least one year younger'. If I took care of my health and ate well at an earlier age, I would have been able to grow taller. I think that's one small regret I have".
Arin also showed her affection towards her fans, by saying, "The words that I want to hear the most from people and love hearing are 'I am on your side'. My fans tell me these words when I am burnt out or having a hard time, and their heart of encouragement is so warm and precious."