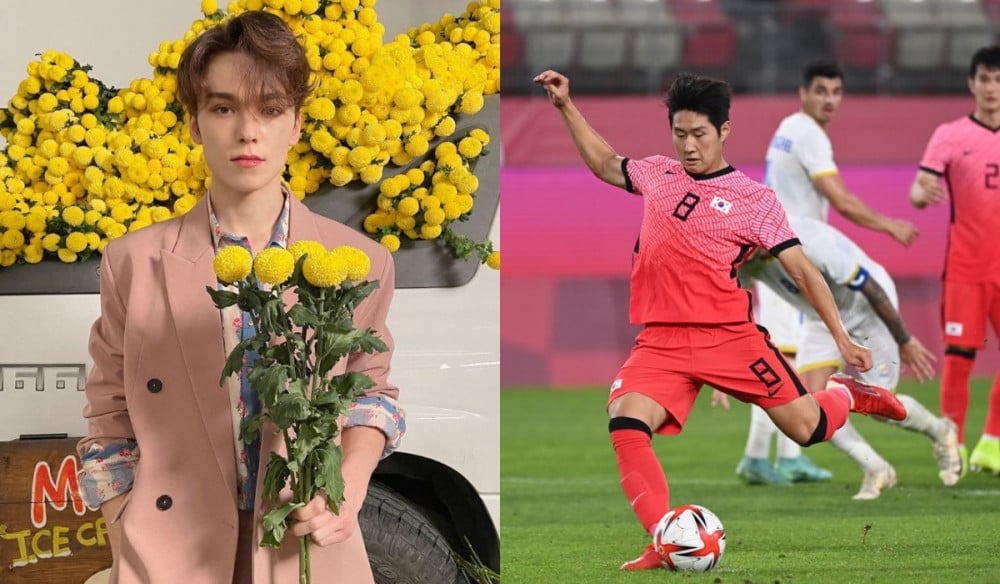 Netizens revisited Seventeen's Vernon's banter with Olympic soccer player Lee Kang In in the past.

On July 25th, shortly after Korea's soccer match at Tokyo Olympics, a tweet with a video clip from the past made its way around the web. In two short video clips, Seventeen's Vernon is seen having a playful banter with soccer player Lee Kang In when they were both kids.
In the first video: Vernon says, "What grade are you in?"
Lee Kang In replied, "I'm 10 years old."
Vernon then says,"Okay then I'm in 6th grade and you are in 3rd grade. Are you better at playing soccer than me?" and they proceed to play one-on-one as Lee Kang In says "Of course".
In the second video clip: Vernon asks, "Kang In!!! Then how??? How can you play soccer so well??"

Lee Kang In says, "You have to be friends with the ball"
Vernon then says, "It's not a human but a thing. How can I befriend it?If I say hi will this thing say hi back to me???"

Netizens reacted: "Omg this is hilarious. That's exactly how Vernon speaks now"
"It's adorable and hilarious at the same time lol"
"How could this be real? lmao"
"Did Vernon use all of his goofiness during his time as a know-it-all professor Hansol? Lol"
"lmao This is Hansol Netflix Vernon Choi who appears on all the different universes"
"I love this so much"
What do you think?