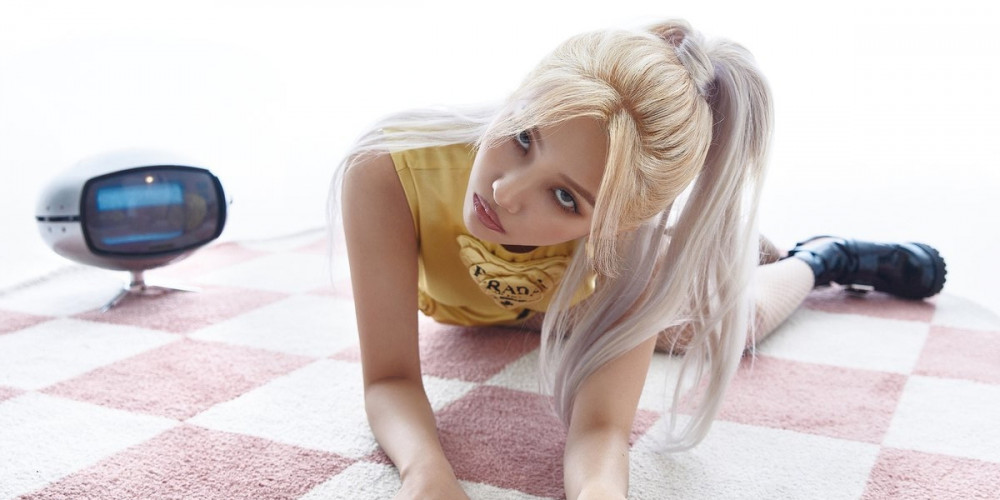 (G)I-DLE's Soyeon, currently gearing up for her solo comeback with her 1st mini album 'Windy', took part in a stylish, eclectic pictorial for the July edition of 'Vogue' magazine.
During her interview, Soyeon explained the meaning of the character 'Windy', which is also the title of her 1st solo mini album. She said, "These days, having a made-up alter ego is trendy, but Windy is a little different. She is one of the many alter egos that live inside me. She is carefree like the wind, and does not care what others think."
Is Windy someone Soyeon wants to be like? She answered, "Ever since I was young, I followed the rules to the letter. When my mother told me not to go play today, I didn't. During my trainee days, all I did was go to practice after school, and then I headed straight home. I thought that in my twenties, I would want to go out and have more fun, and maybe also date. But I'm just not that type, and I don't like to drink either, so I found I couldn't do that. One of my mottos is 'Live like the wind', but it's meaning is a little different from having fun without a care in the world. My new album 'Windy' depicts both my current twenties, and the twenties that I dreamed of."
What was Soyeon's twenties like, so far? "Something that my friend once told me became part of my lyrics. It goes, 'Even if your eyes are teary, the sun still rises'. You can't always be happy. In your twenties, at times it feels like you're gonna become something, but other times, you feel like you've gone nowhere. Despite that, even in your twenties when nothing seems to go your way, the sun still rises each day. For example, the (G)I-DLE members and I were always anxious about how well we performed on the charts with each album. 'LATATA' did well, but 'Senorita' did not, and we thought back then, 'What if this is the end?'. We received a lot of love for 'Lion', but 'Oh My God' was a little rough, and then we started gaining more ground with 'DUMDi DUMDi'. We had our rough times, and our good moments. Even when there were people saying, 'Soyeon isn't doing it anymore, she's a failure', I still managed to get my punch in. I believe that even if there are hard times, there will be sunny days."
Finally, Soyeon also described another alter ego character of hers. "When I was younger, I was worried about becoming an adult. Adults seemed way too realistic, like they had no imagination or dreams. I always said, 'I want to live in the cartoons', but the adults just waved it off. I was being honest though. I'm still the same today. All of my friends like Windy will always be with me as well. There's another friend, whose name is Yeon Ha. Yeon stands for lotus, and Ha stands for summer. Yeon Ha wears hanbok. She lives in the past, but she also lives with me in the present. She is good at wielding a sword and has superpowers."