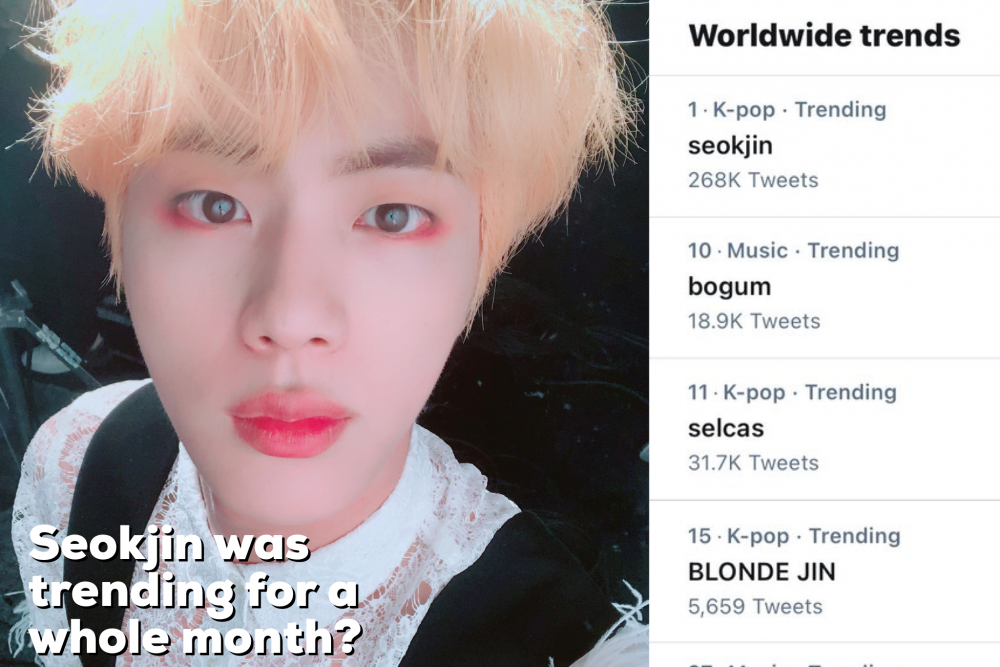 Today, April 10, Seokjin trended #1 Worldwide once again, the third time in the last 30 days. He posted 13 selcas on Weverse at the same time making fans very excited. Fans started saying it feels like Seokjin is trending for a whole month! Let's find out is that really so!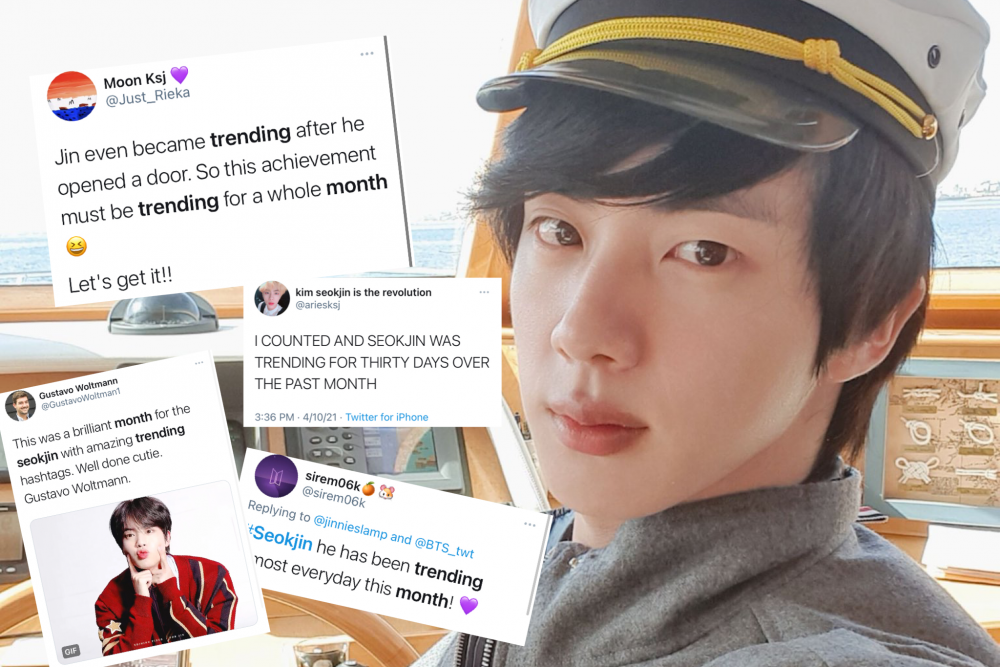 210410 - SEOKJIN trends #1 Worldwide with some other keywords trending as well.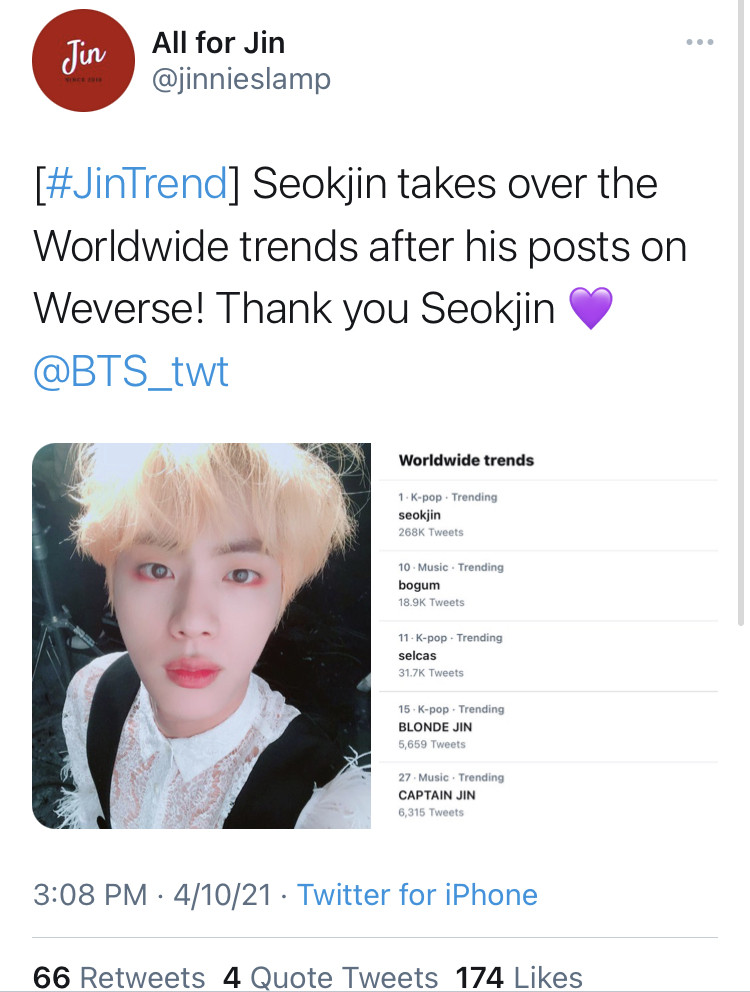 210409 - "Kim Seokjin" after Visual of the Year voting contest.
210408 - "Epiphany" trends after its performance being televised.
210407 - A tag for EatJin trends.
210404 - WE LOVE YOU JIN takes over.
210403 - Seokjin trends again.
210402 - ACTOR JIN was still trending because of Film Out release.
210401 - Seokjin is the only member trending Worldwide and in 30 countries after Film Out release.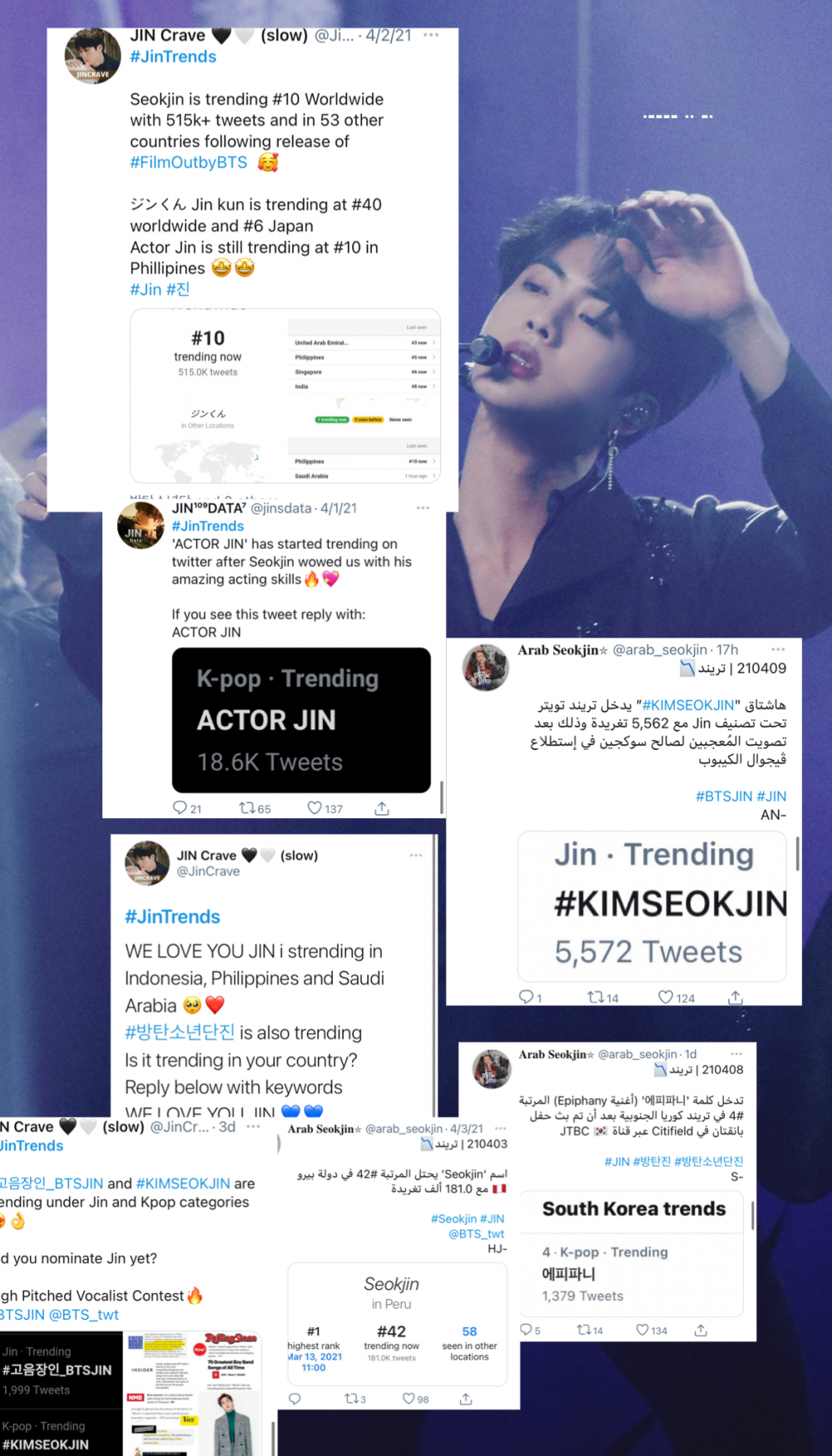 That's already 8 days out of 10! Let's see how many times Seokjin trended during March.
210330 - in 3 countries overall!
210329 - after the new interview he was trending again.
210328 - Jin and his song Moon were trending because of videos posted to BTS Twitter.
210325 - Seokjin was trending #2 Worldwide and in 45 countries. Actor Jin was also trending.
210324 - He trends again and a tag #WeLoveYouJij goes along.
210323 - Seokjin goes viral for another short video and trends in 13 countries.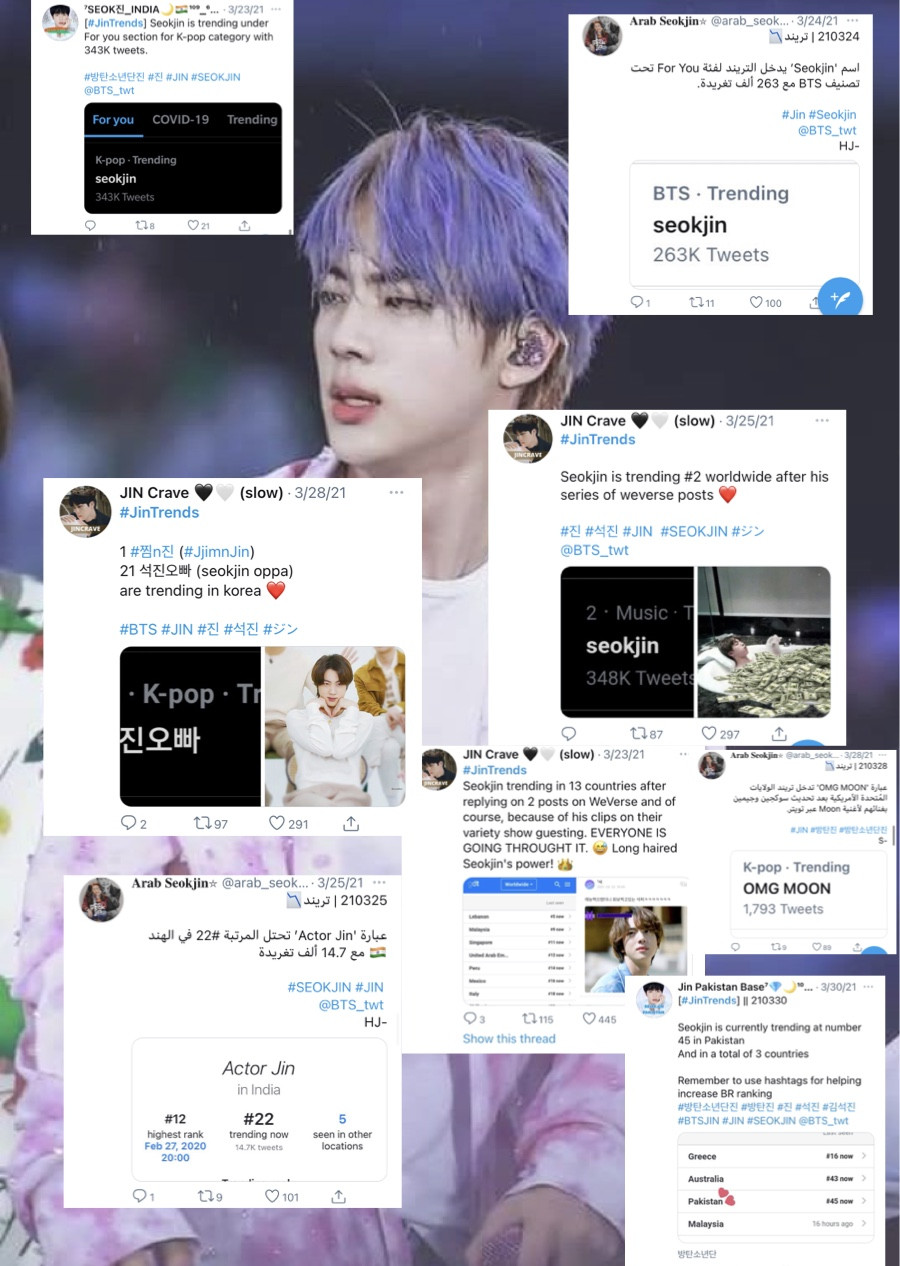 Let's continue!
210322 - Kim Seokjin is trending in multiple countries after YouQuiz.
210321 - #MelonKingJin is trending after he becomes the only member with 2 songs achieving over 2M unique listeners.
210320 - Melon achievements of Seokjin and his name are trending.
210318 - He trends for 48 hours.
210317 - Seokjin goes viral for his visuals after the YouQuiz preview and trends around the world!
210315 - Jinnie and Kim Seokjin are trending!
210314 - #WeLoveYouJin trends with 132k tweets!
210313 - #WeLoveYouJin trends for two days straight.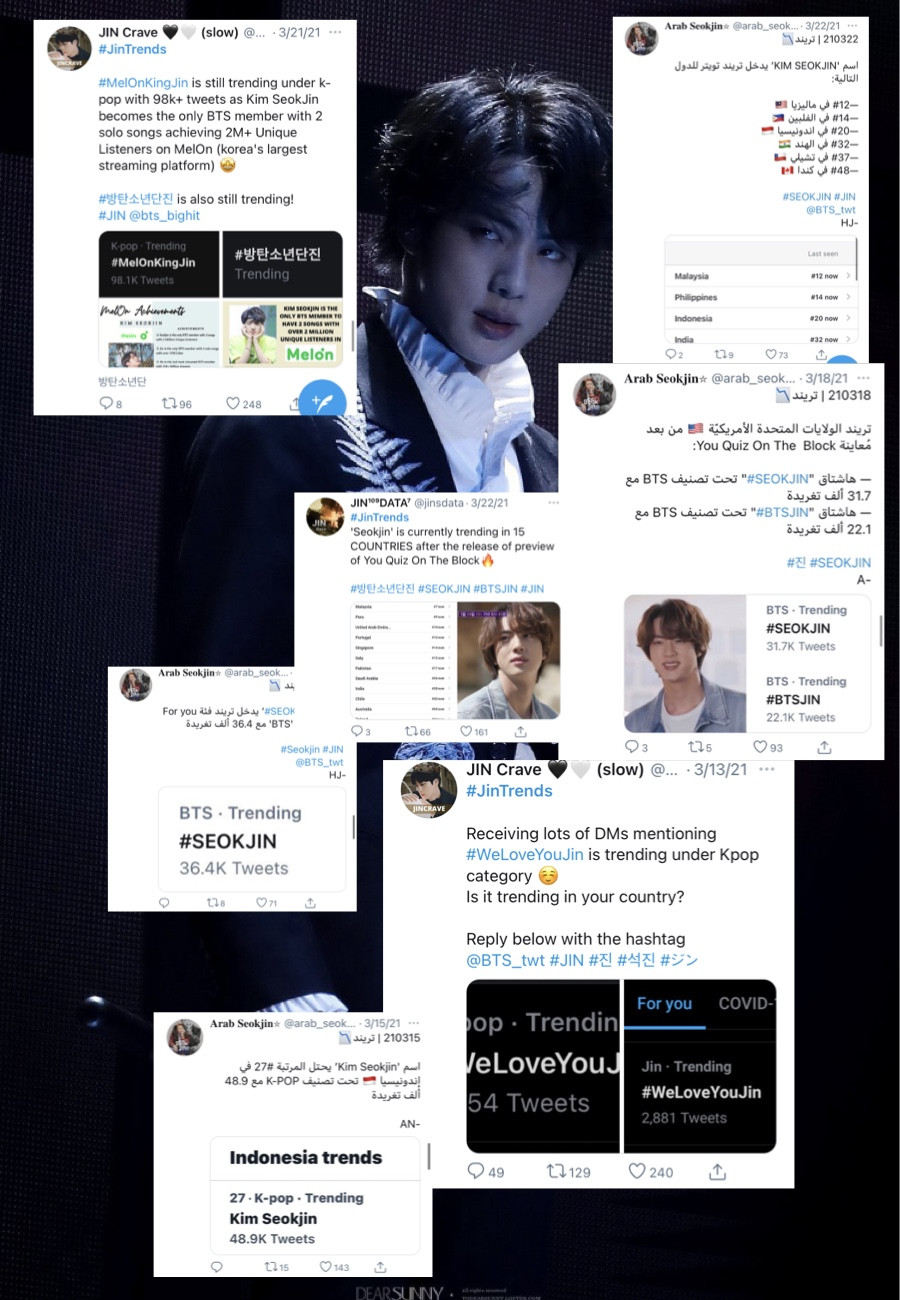 Do you think he didn't trend more than that? Wrong!
210312 - #100DaysWithAbyss trends.
210311 - We Believe In Jin is trending!
210310 - JinHit and Kim Seokjin are taking over.
210309 - fans trended Treat Jin Fairly.
210308 - he was trending across the world again.
The first week of March he was trending as well!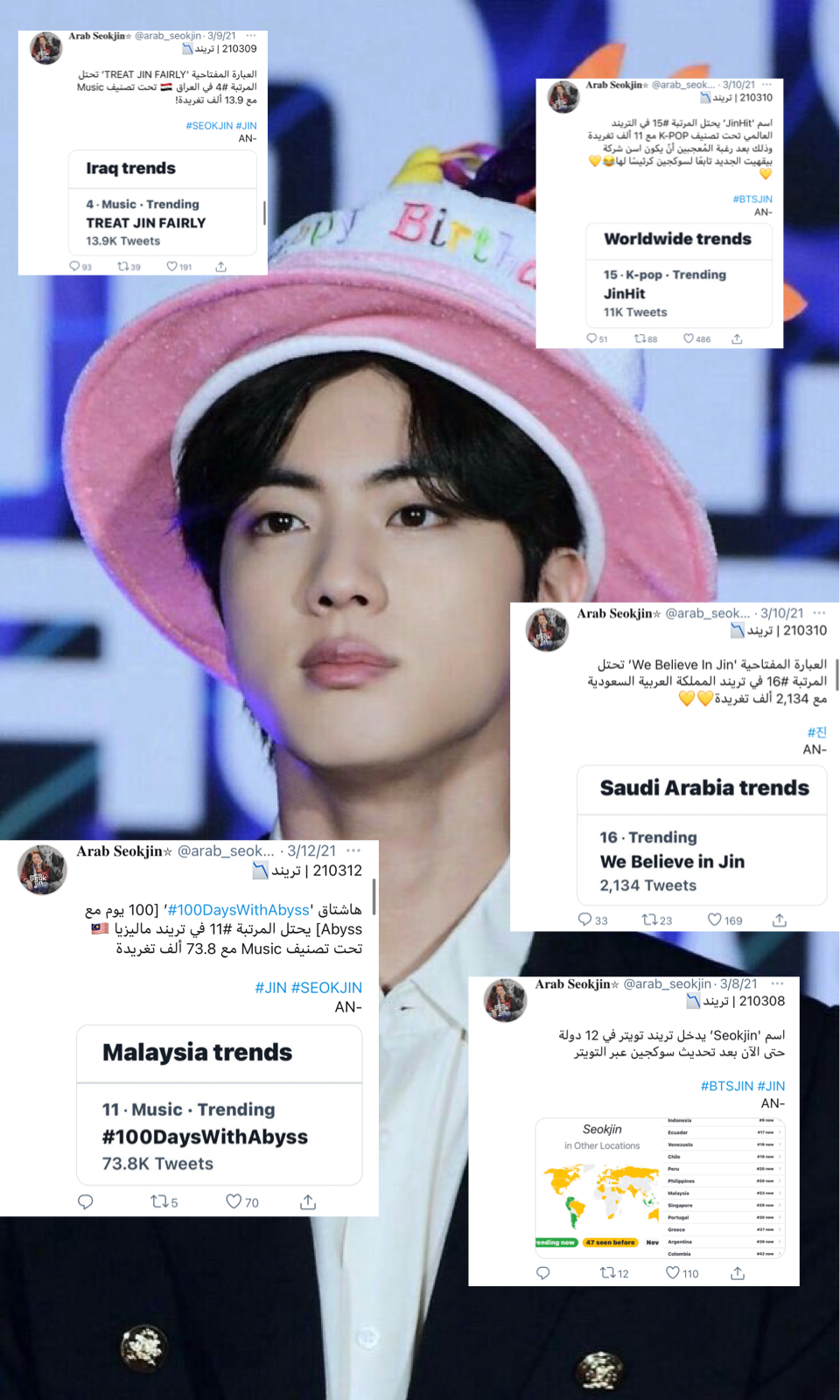 It goes on! Let's count now!
All in all, during the past 31 days Seokjin was trending for 27 days! Nearly a whole month! What do you think about it?