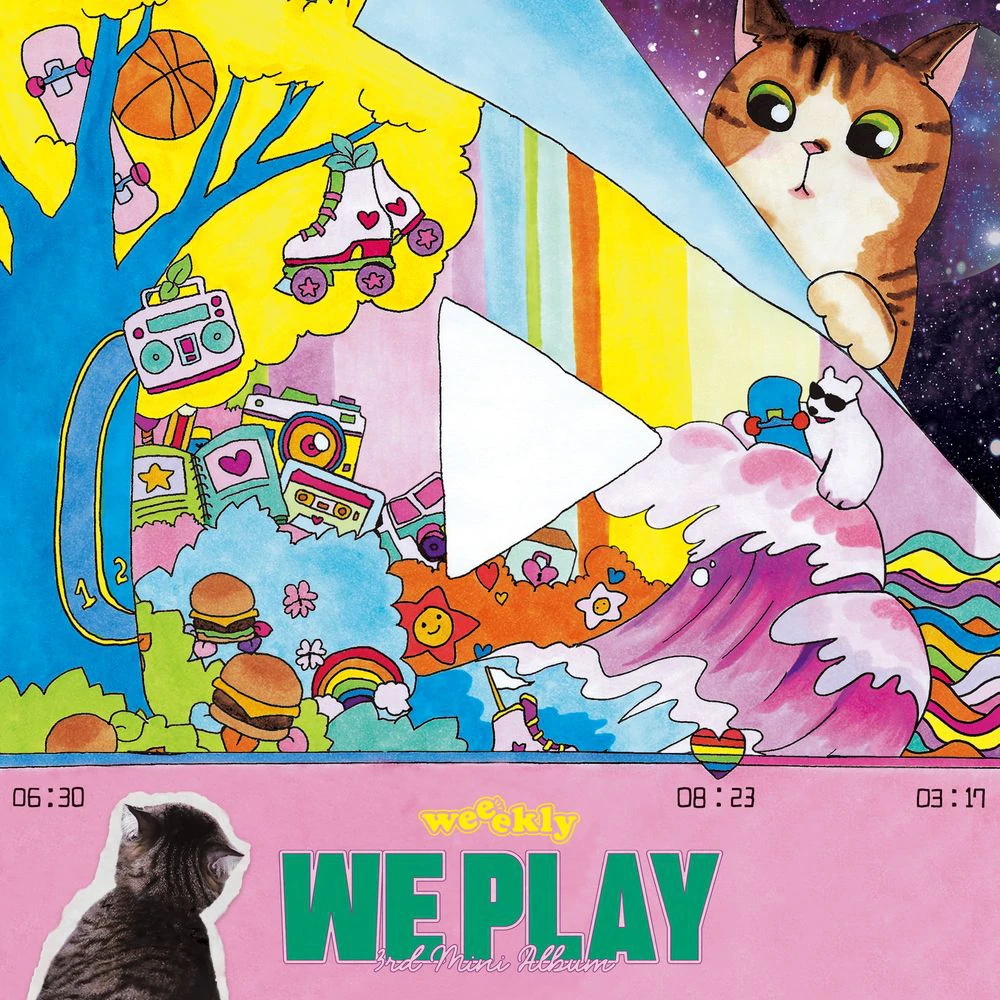 [This review reflects the opinions of the author and not necessarily those of allkpop.]
Track List:
1. Yummy!
2. Lucky
3. After School
4. Uni
5. Butterfly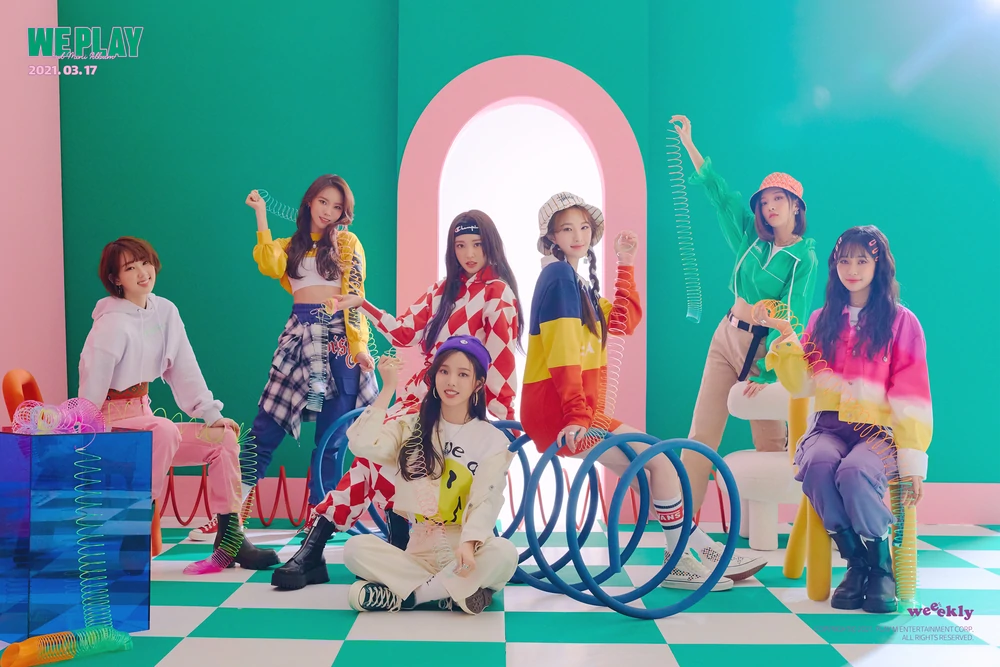 PlayM Entertainment's rookie girl group, Weeekly, have returned with their third mini-album release, We Play. This album features five new high-energy songs to start your Spring off on the right foot! The album begins with "Yummy," a playful pop song with a dynamic crescendo. The vocalists of Weeekly use their innate cuteness and warm singing voices well to really bring this bouncy pop song to life. With strong beats and youthful vocals, "Yummy" is a great indication of what this album has in store. The next song, "Lucky," offers us airy and translucent vocals that are just as fresh as the deliveries in "Yummy." The song is fun, and the switch-ups that occur on the beat are frequent. Harmonies are sweet and joyful, and the concept overall is effortlessly catchy and pleasant.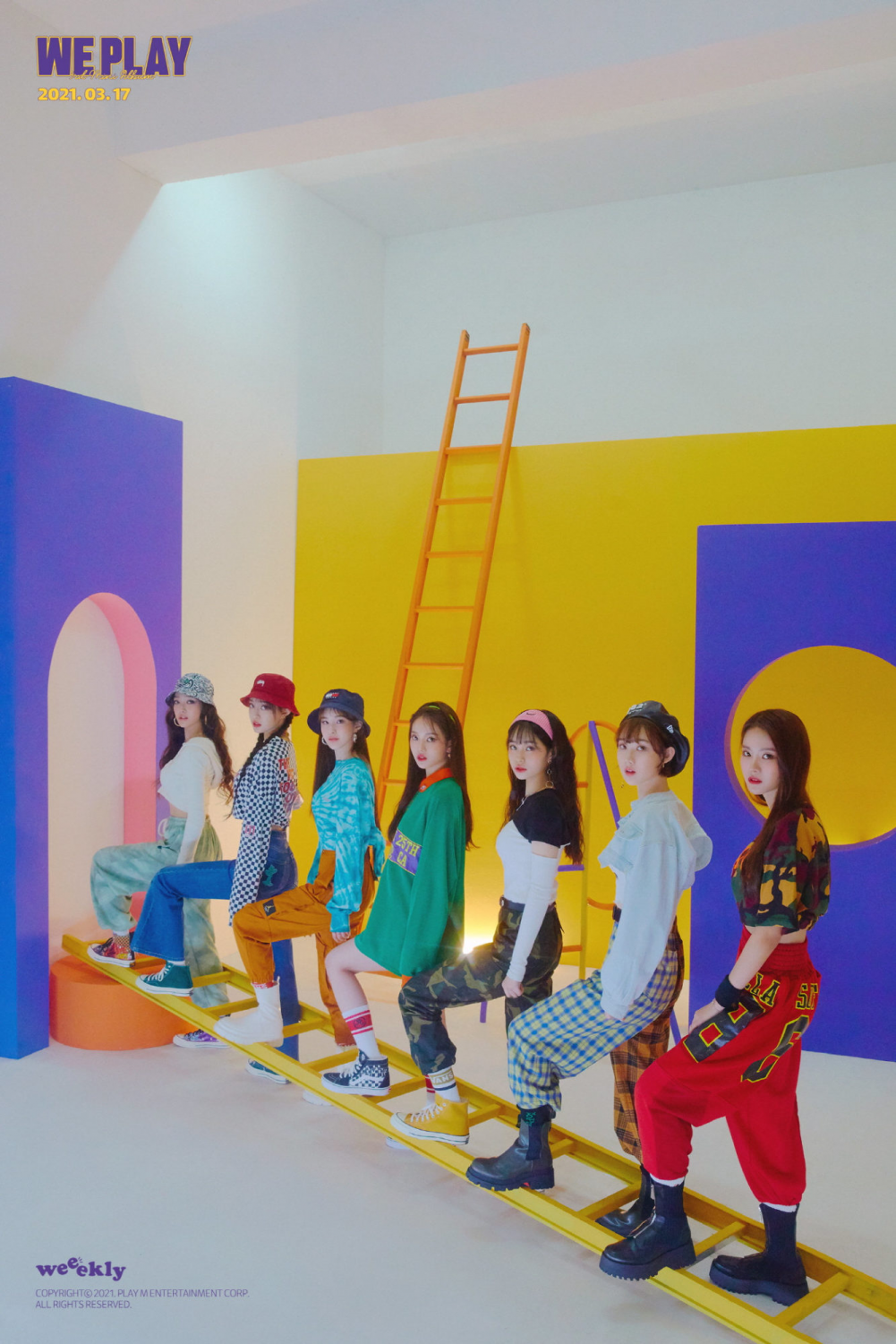 The group's chosen title is track 3, "After School." This title is a playful pop song with sweet and fairy-like vocals. "After School" is charming with a chorus that hits just right despite the song's overall frenetic energy. Weeekly's harmonies are no joke after their vocal performance on this single. Track 4, "Uni," has a chanting opener that leads into a poppy sweet sound. The song gives me the same energy that debut Red Velvet had with its mix of chaotic and strange arrangements intermingled with poppy, sweet vocals. While this song was not my favorite on the album- I can see the appeal.
The album concludes on "Butterfly," a downtempo pop song featuring a softer, almost ballad-like vocal performance from the group. However, "Butterfly" is unique in that there is none of the boring melancholy that a typical ballad has. Instead, the album opts to end with a soft and palatable pop song that solidifies that the entire album is pop-focused. This release is the first real attempt I've seen from Weeekly to really start honing in and developing their signature sound.

MV REVIEW
Weeekly's "After School" MV is, as you guessed it- school-inspired! Though, the cute twist is the focus on their skater girl appeal. I commend the choice to go a different route than the typical hyperfeminine and girly concept in styling. From Stussy clothing to skateboards and skateparks, the girls are delicately styled to have a more alternative and boyish appeal- something I commend the group for doing. Though it feels like a small choice, this showcases that female idols do not have to tap into their physical appeal and corny aegyo to pull off a cute and upbeat concept. "After School" is fresh and fun with carefree energy that's perfect for the season.
MV SCORE:
MV Relevance…..8
MV Production…..9
MV Concept……..8
MV Score: 8.33
ALBUM SCORE:
Album Production…...8
Album Concept……...8
Tracklisting…………...8
Album Score: 8.0
Overall: 8.17