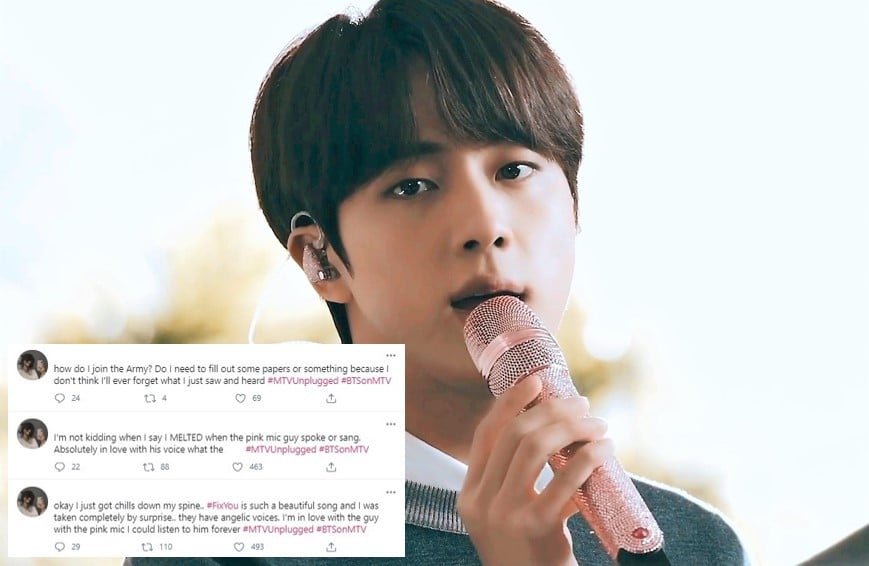 (BTS Jin amazed fans and non-fans with his performances on MTV Unplugged)
On February 24, 2021, BTS made their highly anticipated appearance on MTV Unplugged. MTV Unplugged is a renowned music program broadcast by MTV, featuring live shows in acoustic music format. BTS performed several songs from their latest album, 'BE,' including Telepathy, Blue & Grey, Life Goes On, and Dynamite. They also made a cover of Coldplay's song Fix You.


BTS performed really well, making fans enjoy and happy watching them. And Jin once again amazed fans with his excellent singing ability and visuals.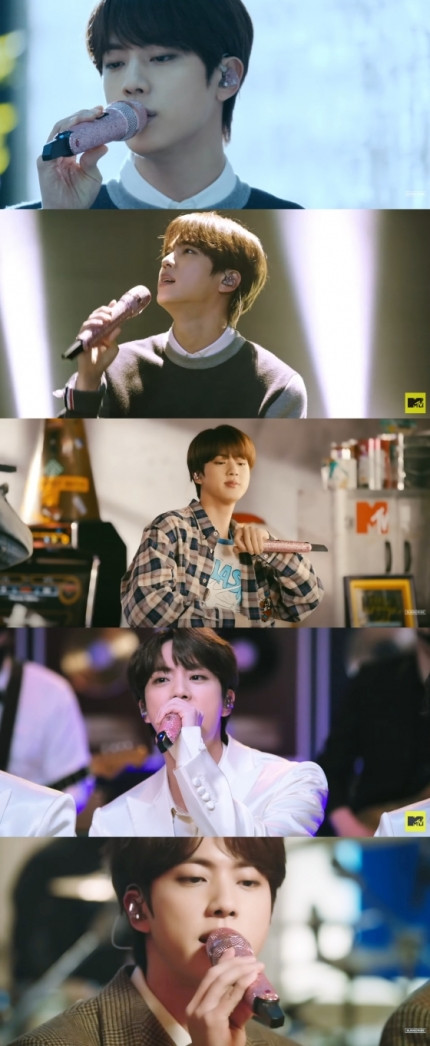 (Image source: here)
In particular, for the song 'Fix You,' Jin has included the song in his playlist since long time ago. Fans are delighted to know that he is able to perform one of his favorite songs now. This is MTV's review on Jin's vocal range: He dexterously slipped from lower harmonies to his breathy falsetto with a trademark smile. Coldplay should be proud of these guys.


Jin can always perfectly convey the feelings and emotions of the song through his voice. As he sings the part 'And I will try to fix you,' he brings solace to anyone who is going through a tough time.
In fact, even non-fans couldn't resist his angelic silver voice and superior visuals. They asked about the guy with the pink microphone, who was none other than Jin and made the words 'the guy with the pink mic' and 'Seokjin' trending on Twitter. Jin caught the attention of non-fans and made them a new ARMY.
Not only on Twitter, comments on YouTube and theqoo are also filled with talk about the beauty of Jin's voice and visuals.


Everyone just naturally fell in love with Jin. He stole hearts with his vocals and visuals. Welcome to the new ARMYs. It starts with 'who is the guy with the pink mic,' and then you realize there is no turning back!