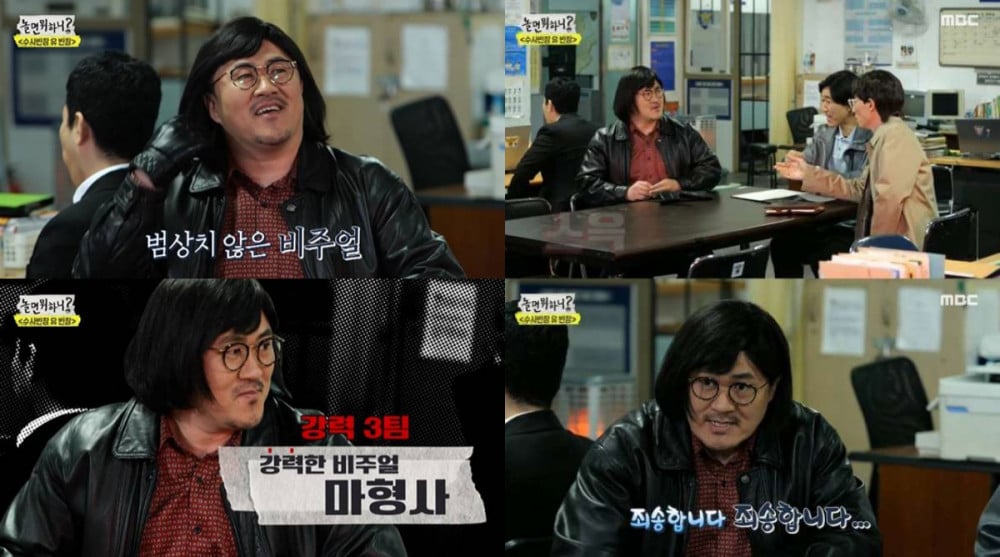 On the February 2 broadcast of MBC's 'Hangout With Yoo', Defconn appeared dressed as a new alter ego character, 'Detective Ma'.
However, after the broadcast, netizens began attacking the musician/TV personality via the community board on 'Hangout With Yoo's website, claiming that Defconn had "no right" to play the role of a detective even on a variety show.
In the past, Defconn confessed to having been involved in a group fight as a high school student during an appearance on MBC's 'Knee-Drop Guru'. According to Defconn, "I was involved in a big group fight. We were all arrested by the police, and I almost went to trial but in the end, came to a settlement with the families of the victims." Afterward, Defconn dropped out of high school and took the GED exam to finish his education.
Based on this story, some netizens are now claiming that Defconn must have been sent to a juvenile detention center after dropping out of high school. Many flooded the community board on 'Hangout With Yoo's website with comments like, "How can a former juvenile delinquent jokingly play the role of a detective?", "A former juvenile delinquent shouldn't be on TV", and more.
In response to the situation, Defconn's label SM C&C has issued the following statement:
"We have confirmed that numerous accounts of false, malicious rumors are being spread online involving our artist Defconn. These posts contain severe, one-sided claims meant to attack and degrade our artist, as well as false information. As Defconn revealed in the past, Defconn was involved in a group fight with his friends in his youth. However, he apologized sincerely to those involved and reflected on his actions, and has since lived diligently in order to become a better person to his family and acquaintances. The rumors accusing Defconn of going to juvenile detention and dodging mandatory military service are false."

SM C&C concluding by warning strict legal action against the continued spread of malicious comments and false rumors involving Defconn.