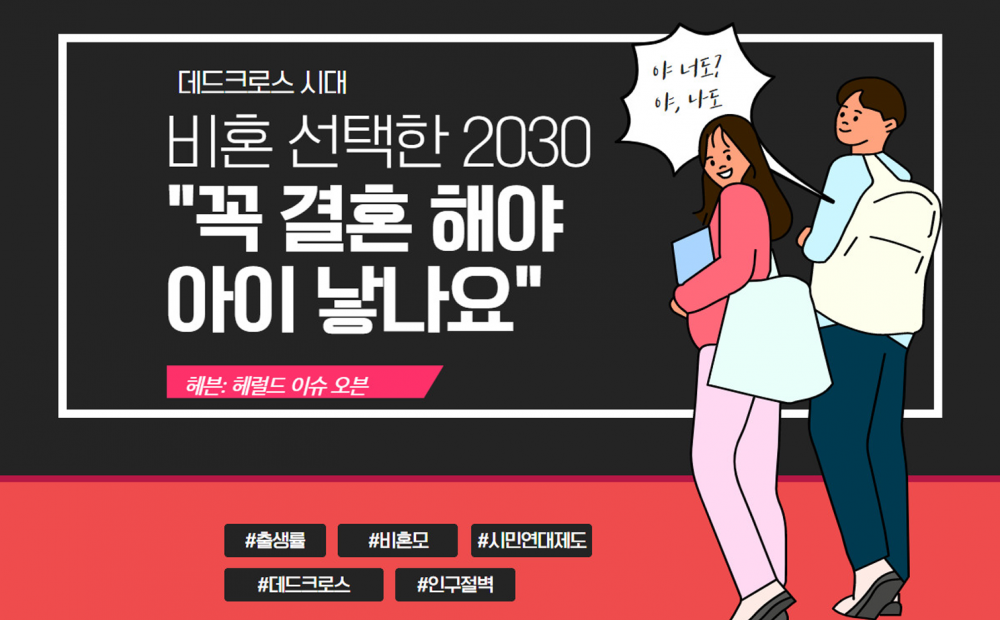 Recently, it has been found out that one out of four people in their 20s and 30s choose not to marry and voluntarily stay unmarried.

According to a December 2020 survey conducted on 1,025 unmarried men and women in their 20s and 30s by Job Korea and Albamon.com, a job searching site, 24.8% said they wouldn't get married. However, the reasons for not getting married were slightly different for different people.
Men in their 20s cited "economic factors" and "individual happiness" as reasons for their choice to not marry, while women cited "to break away from the patriarchal system."

Kim Min Joong (a pseudonym), a 25-year-old man who works as a freelancer, said, "I decided to be single because it's even difficult to live by myself. If I was married, my wife and I would both need to work unless I make enough money. Then, it would be difficult to raise children and work at the same time."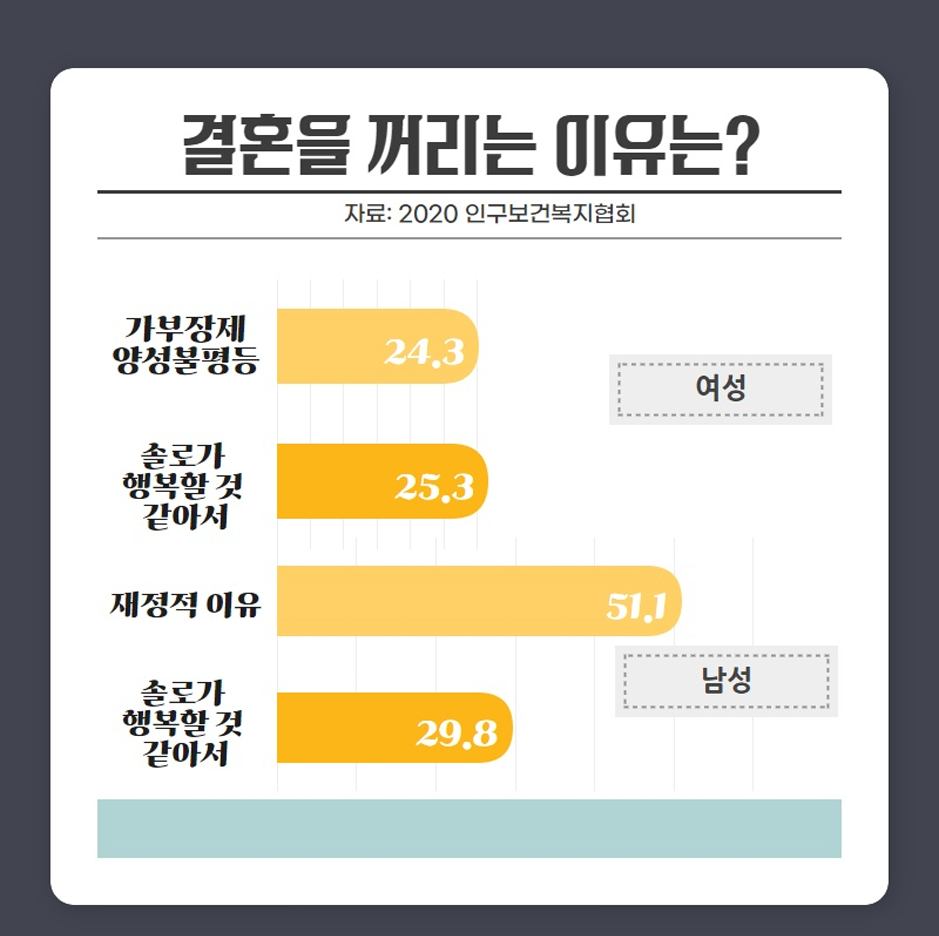 Kim Ji Hyun, a company woman (age 25), stated, "I don't want to get married because I don't like the social role in the patriarchal society that will be given to me such as a 'daughter-in-law who is like an actual daughter' when I get married." Mrs. Hong (26) is a company woman who explained, "I am working at a company too, but the social pressure is that I need to take the paternity leave from my company since I'm a woman. I realize that there are very few people who can break this stereotype."

In fact, according to the 2020 Population Health Commission, 51.1% of men said they did not want to marry "because they thought it would be difficult to meet the conditions for marriage in reality," and 29.8% of men stated, "because they would be happier living alone." On the other hand, 25.3% of women stated, "because they think they would be happier living alone," and 24.7% of women replied, "because of the culture of patriarchy and gender inequality."

Last year, Korea entered the era of a death cross in which is more people have died than the number of births. The primary cause of the low birth rate problem was directed to young people who were not married and chose not to get married.

However, those who wanted to stay unmarried had no right or choice to have children. The choice to stay unmarried launched a debate when TV personality Sayuri chose to have a baby without being married.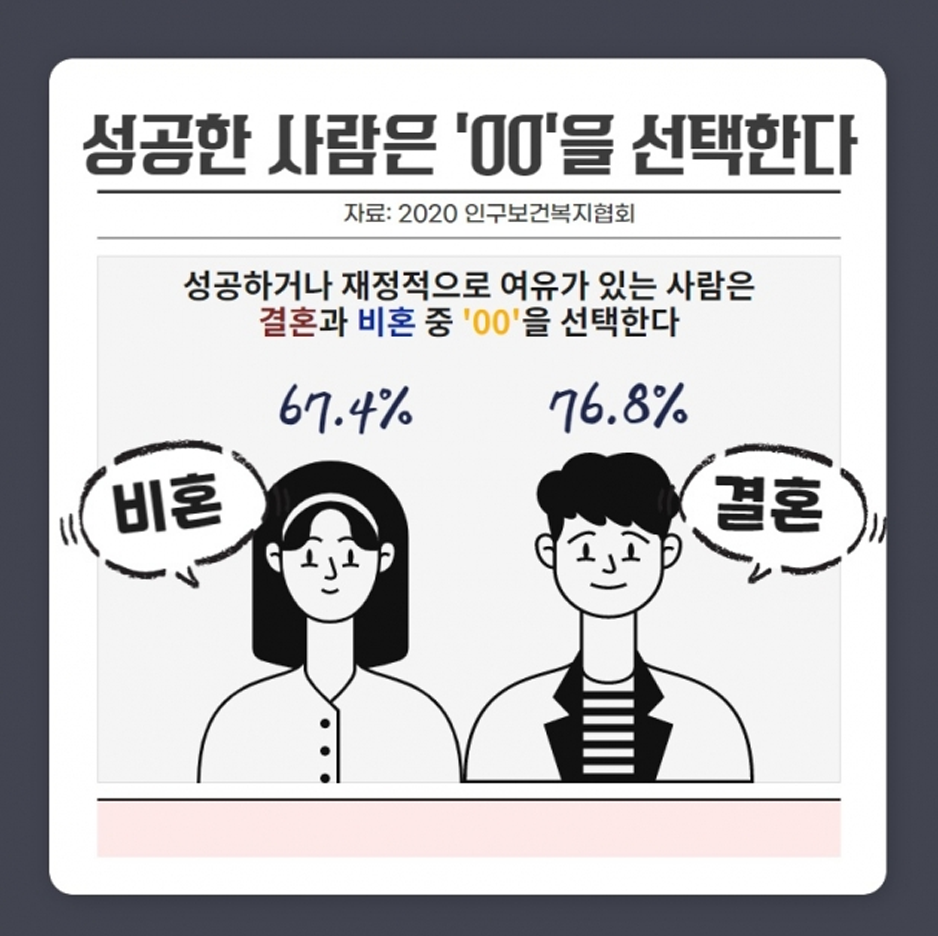 Ms. Hong stated, "We need to separate marriage from birthrights so that we can solve the low-birth rate problem." She criticized, "since the government still holds on to the formula that only those who are married can give birth and register their child in the family registry has caused the low birth rate for more than a decade." She further explained, "Of course, we have a desire to reproduce, but our society does not guarantee the right to be a single mother."

Ms. Jang also stated, "We need a new type of family community outside of the 'normal family' consisting of 'mothers, fathers, and children,'" pointing out, "If people have the ability to have children, they should be able to, and be given institutional support and awareness to improve the societies view on children who are born without a father being seen as a child with a sad family story."


In fact, there is a growing tendency among young people to prefer a looser and more freedom-seeking "companion" system instead of "marriage."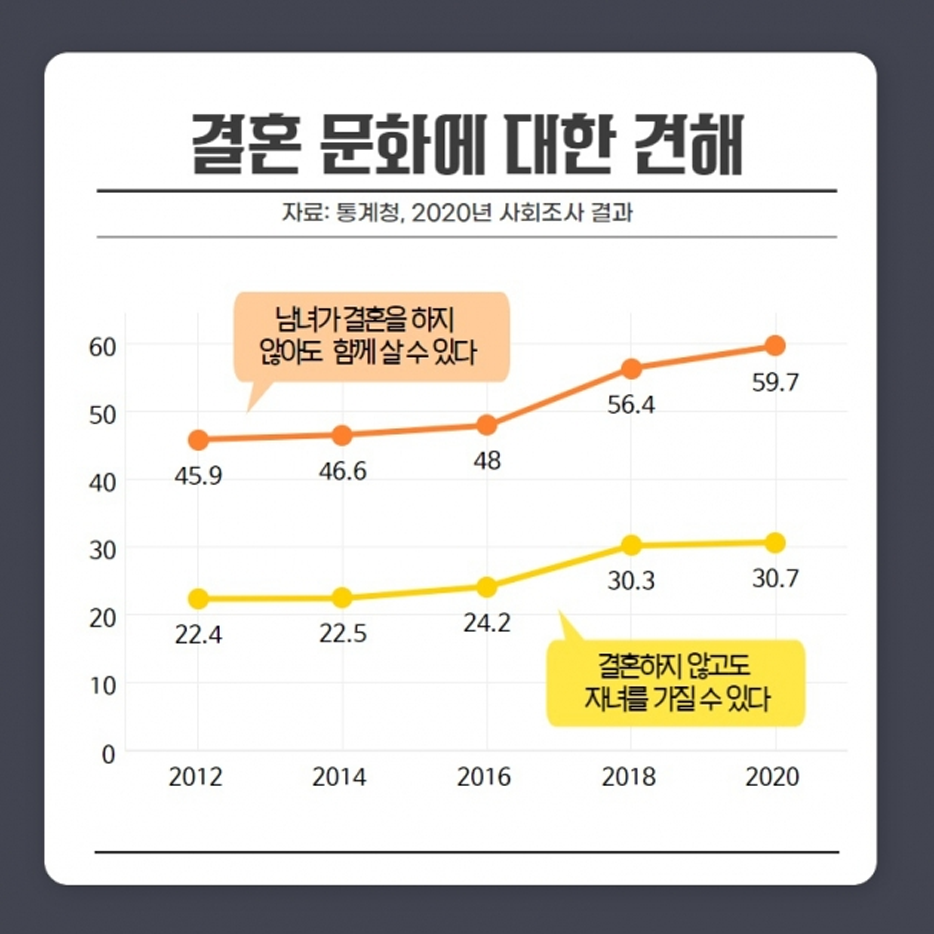 According to the 2020 National Statistical Office's social survey, 59.7% of people think they can live together without getting married, which has been steadily increasing since 2012. Furthermore, about one in three people thought they could have children without getting married.

Young people in their 20s and 30s who chose not to marry also shared the need for a new cohabitation system. Like France, it is necessary to have a civil solidarity contract (PACS) in which unmarried couples receive social guarantees equivalent to couples who are married, and 'cohabitation légale' introduced by some European countries such as Belgium. The Citizens Solidarity Agreement, introduced in 1999, combines the flexibility of cohabitation with the benefits of being married. It provides benefits such as income tax reduction between couples who signed the contracts.

Ms. Kim stated, "I don't want to get married, but I do think of cohabitating and forming a different kind of family. I don't want to create a risk of a complicated legal process such as splitting property/assets due to divorce."

Ms.Jang also said, "As a substitute for marriage, cohabitation should be actively encouraged. I don't think it's a national benefit to increase the number of households with just one person, but we should actively embrace new forms of family composition beyond gender, members, and age."

Likewise, many young South Koreans are seeking new forms of families.