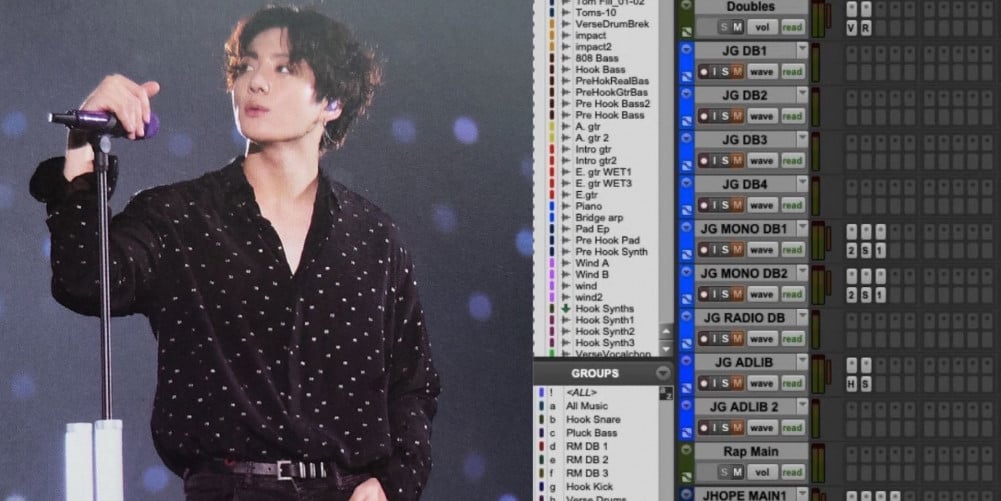 'Magic Shop' is a beautiful song popular among ARMY and casual listeners. It is produced by Jungkook (main producer), Hiss Noise, and ADORA; composed and written by Jungkook, Hiss Noise, RM, DJ Swivel, Candace Nicole Sosa, ADORA, J-hope, and Suga. The song is the first production by a BTS member to reach 100 million streams on Spotify.
DJ Swivel breaks down the song in his Youtube video "In The Mix: BTS - Magic Shop." There is a part where the breakdown of a harmony is shown, and ARMY were left speechless by four (yes, four!) different styles of background vocals sang by Jungkook to create an exquisite harmony in the song. The versatility of his wide vocal range receives high praises not only by fans but also by DJ Swivel.
Some of the fans' comments:
"He sang the same line four different ways and all four sound so beautiful. How can he even do that? Vocal king for a reason."
"I love this. It's nice for people to see how much work goes into the vocals, how many layers of sound Jungkook alone can create, making it even more impressive that Jungkook can sound so much like the track when he sings live. The man works his a** off for their music."
"Remembering what I said about blending? Jungkook is a master!! Also, how perfect is his isolated vocal? His pitch is impeccable. He also shows here that he can handle not only low or high harmonies but really tricky middle ones, too!"
"BTS discography would not be the same without him. His voice flows through each song, supporting and adding so much flavor and stability and depth to every verse. He's incredible. I wish BH would show us more of his work."
"Our main vocal in 4 different pitches. He can be a choir by himself, and it'll sound like REDEMPTION."
"What's better than one jungkook singing? That's right, multiple Jungkook's singing and harmonizing together."
"Not to mention, he wrote and produced this song. So, so clean. Magic shop, love is not over, and Still with you are the kind of songs we're gonna get in jjk1. IMAGINE"

ARMY are also impressed with the number of vocal works Jungkook put into the song, including lead vocal tracks, doubling, background vocals and ad-libs. In 'Magic Shop,' there are 6 tracks of lead vocals, and 2 of them are Jungkook's (marked as 'JG MAIN'). There are also doubling tracks marked as 'JG DB,' which is Jungkook doubling for lead vocal tracks sung by other members. Jungkook also sang 2 ad-libs tracks marked as 'JG ADLIB,' and there were a total of 12 background vocal tracks sung by the Main Vocalist, marked as 'JG BGV.'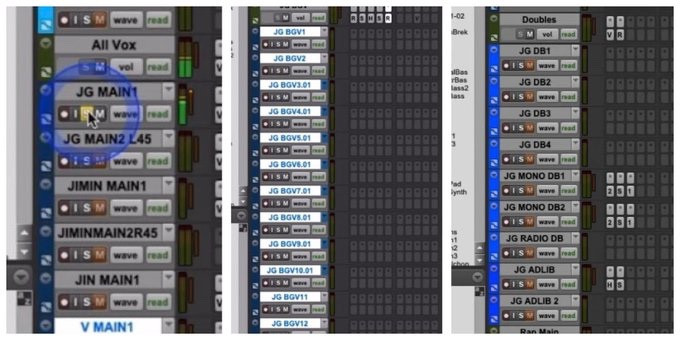 Image credit: @peachcrushJK

The amount of expertise and hard work Jungkook put into each BTS song truly earned him the Main Vocalist position of the biggest band in the world right now. He fulfills all expectations and lives up to his title as the #1 Billboard Hot 100 and Grammy-nominated singer.