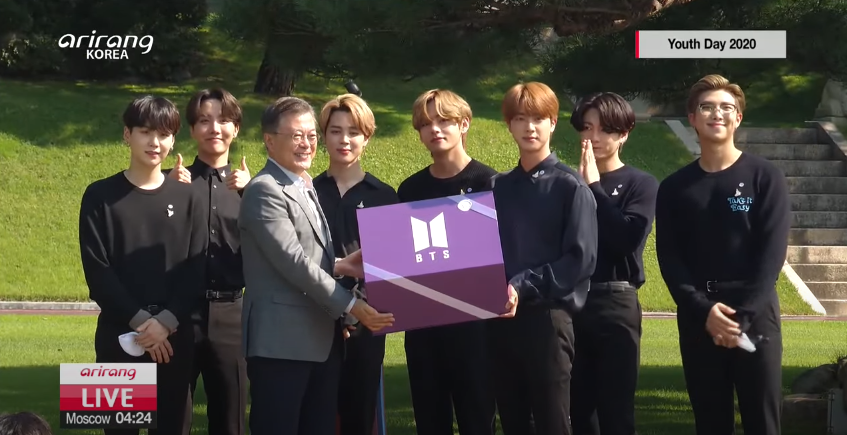 On September 19th, 2020, BTS —as representatives of the younger generation—attendedthe first "National Youth Day Celebration Event" of South Korea which was held at the Blue House. Previously, it has been declared that the third Saturday of September is designated as National Youth Day.

Each of the BTS members speaks in turn. In a calm voice, Jin delivered his speech when it was his turn. "Just past twenty, I had to battle with another reality. Before debut, I thought hard work would always be enough. But after debut, I needed talent more than effort. No matter how hard I tried, it was difficult to catch up with the others, and my self-confidence was hit hard. But suddenly, I realized something. What is my true self? Can't I be more confident of who I am now? Let me trust myself."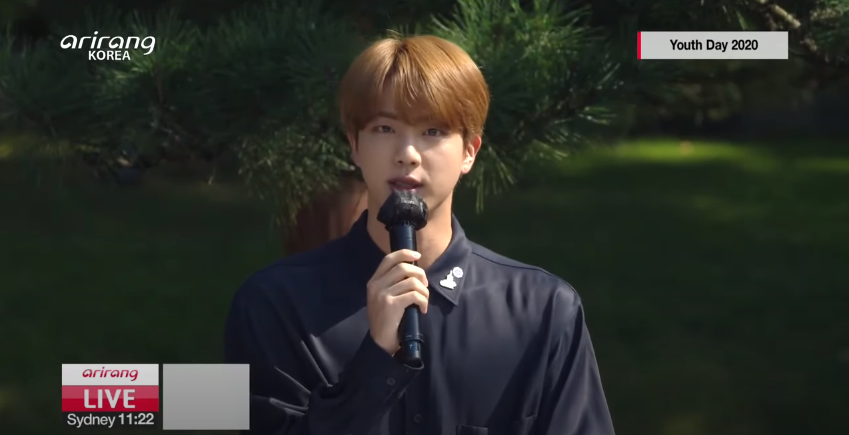 At first, Jin talked about how he feels lacking in self-confidence despite giving his best. But then, he came to the realization that he should believe in himself so that his true self could shine beautifully. It is an important message about trusting ourselves for today's youth, and Jin always has wise and heartfelt messages to share with everyone.

After all BTS members delivered their thoughtful speeches that reflected their own journey, Jin wrapped up the speech with encouragement and support. He said, "Young people of the future, if we meet again in the future, we as adults and you as the young, 'This is the right path.' 'This is the correct way.' 'This is the great life.' 'This is the answer.' These won't be what we say. The young people of Korea have always been strong, extraordinary. What we want is to be by your side so that you can always pick yourself up. So that moments of joy or misery don't define your whole life, just as we refused to give in as BTS in 2020. We will give you the encouragement so that you too can help and lean on each other. Like the youth of yesterday, like the youth of today, as you've always done. I hope you will keep going strong and never stop. I hope you can change the world with the power of your thought and in turn become the beacons to guide the young people of the future. BTS will always cheer for the young people of Korea. Thank you."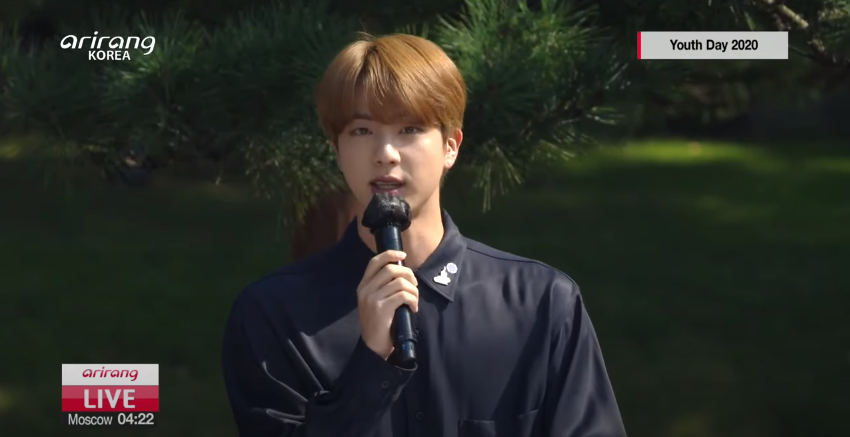 BTS also prepared their special gift in a purple box. It is filled with their musical achievements, memories, love, and gratitude to fans, and a special message for young adults in the future. The box will be displayed at the National Museum of Korean Contemporary History and will be opened in 19 years (2039), as the age of 19 marks the start of young adulthood according to Korean law.
After the event, Jin trended on TheQoo which is the largest K-netizen community. They praised Jin's eloquence and appearance in delivering his speech.

He is also still trending on Pann, another big K-netizen portal, even though the event ended hours ago. Netizens were very impressed with him.
Watch BTS's full speech with English subtitles below (BTS first appears at 15:07).