Red Velvet had the first day of their 'La Rouge' concert today in Seoul. To show her support, MAMAMOO's Moonbyul sent a food truck to the site.

Red Velvet's manager (@yongdeokkoo) posted a video on his Instagram story captioned "Mamamoo! Moonbyul-nim thank you!". The banner says "Seulgi-ya~ I've prepared this! For you! - from Byul-unnie".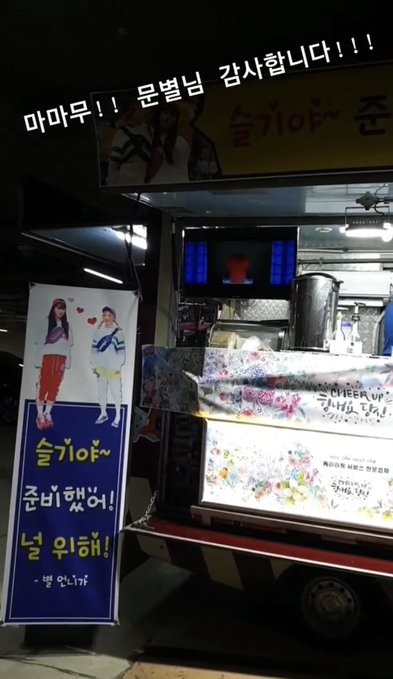 The two idols have had a well-documented friendship as they talked about their groups exchanging numbers on radio and variety shows. They also worked together in 'Idol Drama Operation Team' and Seulgi even featured on Moonbyul's solo debut song 'Selfish'.
Seulgi (@hi_sseulgi) later tags Moonbyul (@m_v.film) on her Instagram story to show her appreciation. The caption reads "Sweet Moonbyul-unnie".